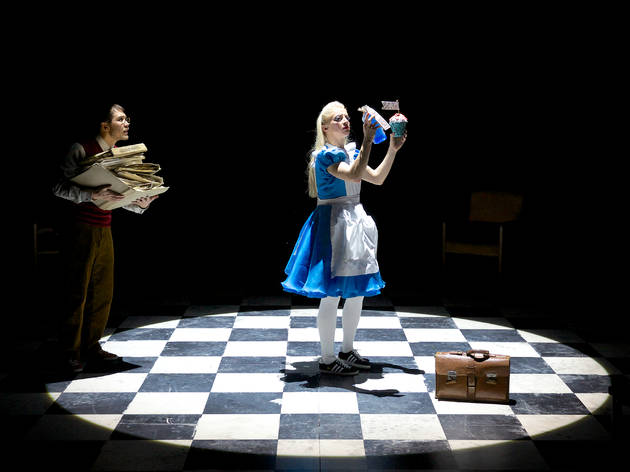 1/7
© Alice Pennefather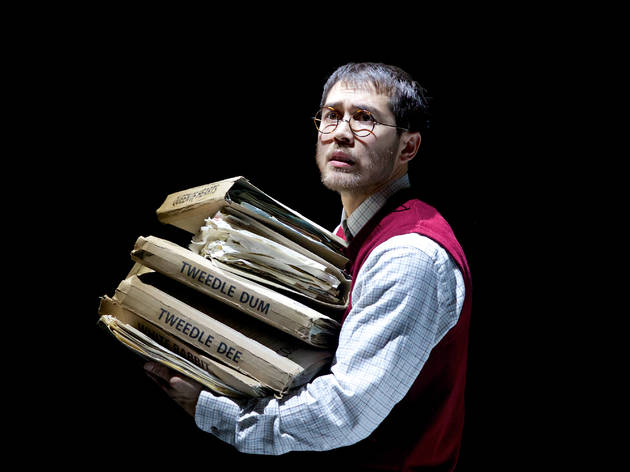 2/7
© Alice Pennefather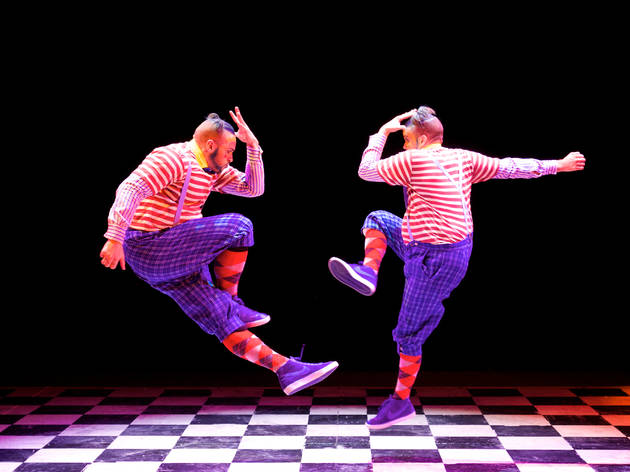 3/7
© Alice Pennefather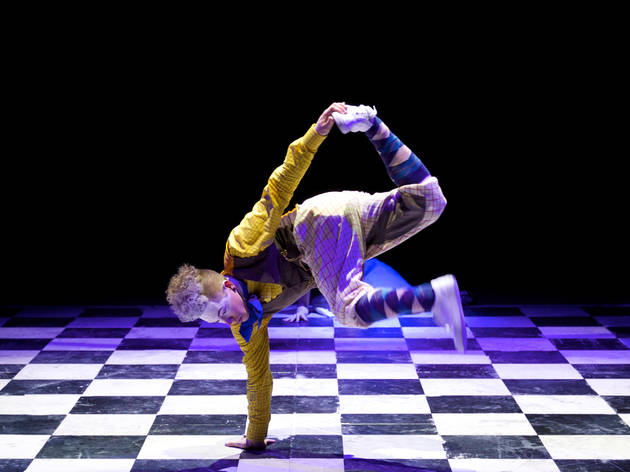 4/7
© Alice Pennefather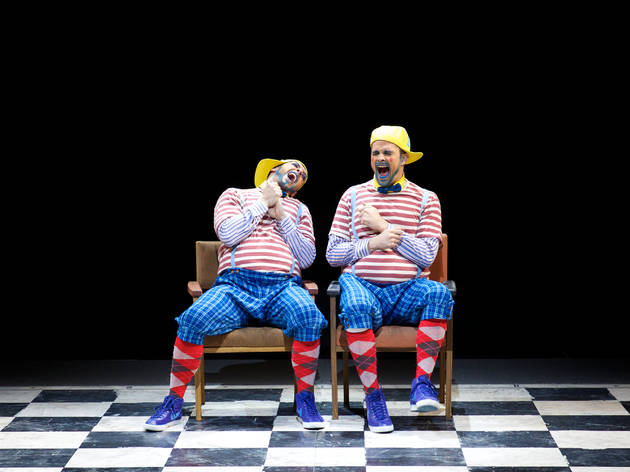 5/7
© Alice Pennefather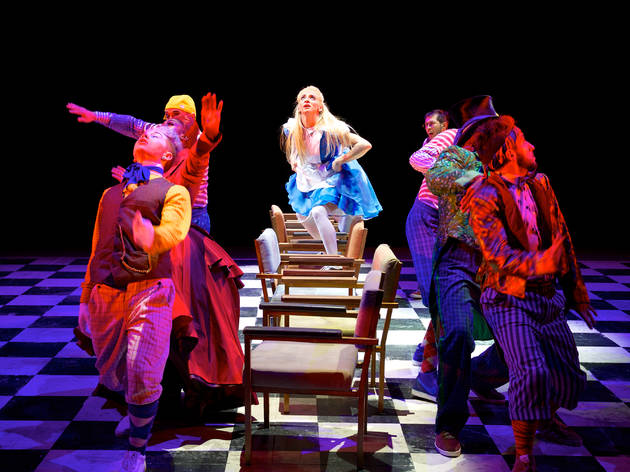 6/7
© Alice Pennefather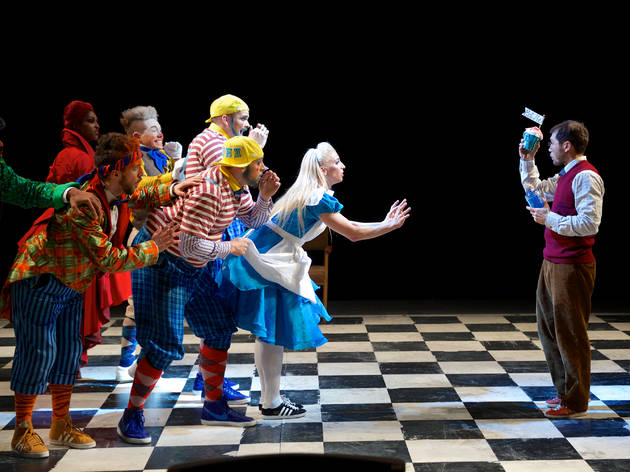 7/7
© Alice Pennefather
Fun hip hop dance reworking of Lewis Carroll's Alice stories from ZooNation.
'The Mad Hatter's Tea Party' will play the Roundhouse from December 2016. This review is from the 2014 run.
The Mad Hatter is a dude with a tall hat and rasta dreads, the Queen of Hearts is a dominatrix with a twitch and red glitter eye make-up, and the Dormouse is a rodent chillin' on something that's definitely not tea. Welcome to ZooNation's hip hop dance reincarnation of 'Alice in Wonderland' and 'Alice Through the Looking Glass', a show that takes you into a Wes Anderson-style gothic asylum and introduces you to a beguiling crew who think they live in Wonderland.

There's one level on which it seems slightly facile to reimagine Lewis Carroll's philosophical lunacy in an institution. Yet any initial irritation at the concept becomes subsumed as ZooNation brings its hugely infectious eccentricity to bear.

On a black-and-white floor that evokes a chessboard, a psychotherapist called Ernest (Tommy Franzen) encounters the patients who need 'fixin' '. These include: Tweedle Dum and Tweedle Dee, aggressive pot-bellied brothers in baseball caps; the White Rabbit, a young boy with obsessive compulsive disorder; Alice, a girl with rhythm but no sense any more of who she is; and the Cheshire Cat, a fat bloke in a straitjacket and a wheelchair with a fixed grin.

Kate Prince's production takes a while to settle into its stride and it's notable how much more electrifying the evening becomes when the street dance rhythms are pulsing. The dancing is tightly disciplined throughout, but the sheer physical agility needed to execute some of the hip hop moves is breathtaking – whether it's Isaac Baptiste's slick-hipped fast-footed Mad Hatter, or Corey Culverwell's White Rabbit's sideways flips through the air.

The live band provides a surreal synthesis of music ranging from zipped-up Bach to full-on hip hop – the lead singer Elliotte Williams-N'Dure is a sensation, not least when she lets her voice rip through the auditorium. And the song where the animated Dormouse gives a Prince-stye rendition of 'I Keep Fallin' Asleep' has to be seen to be believed. Get your ass down there.
Find more Christmas dance shows in London
Average User Rating
3.6 / 5
Rating Breakdown
5 star:

3

4 star:

1

3 star:

1

2 star:

1

1 star:

1
After seeing some negative reviews, we braced ourselves for an average show. It started off slow, but very momentarily... It was the introduction after all, other than that it was non stop! Quite easily the best show I have ever seen. How the cast manage to keep the energy going is unbelievable. If you like hip hop, R&B, drum and bass, appreciate the 90's or just appreciate beautiful live music/singing/artistry, you are sure to enjoy this. Yes, mental health is the underlying theme, as the title suggests (did noone, until now ever consider the Alice in Wonderland characters a little.... strange????) but I have found that children today are far more accepting and aware of mental illness than the many adults who desperately attempt to sweep it under the carpet. You have nothing to fear. The Mad Hatter's storyline is perhaps the most upsetting as someone has alluded to, however this is touched on briefly and they all move onwards and upwards. Our children, aged 9+ enjoyed it and mostly understood the message. Thanks to the cast and crew for such a great evening!
Having been to all of Kate Princes shows with my daughter and my nieces and as this show was advertised as family fun, we took my 8 year old daughter to the show last night. The first half of this show is totally inappropriate for children below the ages of 13 or 14 and I think the show is very misleading to sell this as a family show. The first half is very focused on mental health issues with portrayal (albeit not in the traditional way) of cancer, physical abuse, and issues with self worth - funnily enough they aren't appropriate for an 8 year old and certainly not family friendly at all. Apparently the second half was more cheery, but we had to leave at the interval as my daughter was distressed as she didn't understand why one of the characters was coughing blood into a hanky! It is a real shame as it was an interesting take on the fairy tale, the band and singing was incredible and towards the second half of the first half, the dancing had warmed up and had got to the normal high standard that I know Kate Prince choreographs. I thought the first 20 mins or so lacked the spark and energy that her shows normally have and also I didn't feel that she was using the amazing dancers to their full ability. If I was rating this having visited the show without my daughter having been there, i would have marked it a 4, but I have marked it down because it is not family friendly at all.
This was the best show we saw this Christmas 2016. Very very enjoyable.
Ps yes themes are adult but will escape most children and even some adults!
So we went to this under the impression that it was 'family entertainment...suitable for all ages' with our children aged 4 and 7. I had a bad feeling about this within the first five minutes of the performance and thought it had to get better, but we (and quite a few other parents) obviously felt the same....very uncomfortable...by the end of the first half when the Mad Hatter is talking about the 'mercury running through his veins' on a darkened stage whilst half-collapsed. So, I am going to give this zero stars, for being so desperate that it has to lie to get people to come and see it. That is my review as a parent who was hoping to take his kids to something cool before they went back to school. Now as for my review as someone who likes, no loves both hip-hop and dance.....if this had been a sixth form review, I would have been really impressed. That about says it all I believe.
Ok, so I have to give it 1 star otherwise the review does not get posted......
We,meaning my wife and two teenager daughters and two other hip hop dancers all aged under 14 went to the lush Royal Opera House in Covent Garden,from the minute you going into the theatre you are immersed in the Mad Hatters world,riddles on the world,tea and cakes in the bar,crazy hats to pose in the mirror with.Then the show starts and POW...a completely different,but enjoyable take on Alice in Wonderland,it takes place in a home for mentally I'll,which basically where all the Wonderland characters have ended up after there experiences.Its the first day for a new psychiatrist and he is introduced to the hip hopping,old school,beat boy,krump ing ,street dancers who are the cast,The bonus if live band and singer ,who are excellent keep you interested and mesmerised, the dancing from some renounced dancers like Turbo,and Lizzie Gough, among other it masterful,the things they can do with a table, or a chair,will have you feet not just tapping but pounding....if you have a pulse and like dance and music ,and actors having fun...that is.If you want,a fun afternoon,where nothing makes sense in this great atomosphere,go along,the party in the scenes after the interval is just pure brilliance,cleverly staged by Zoo Nation,and the wonderfully talented Kate Prince.Would watch this again and again,would of watched it straight after if we could,sadily we couldn't, however if you get the chance before jan 3rd please take it....don't worry about plot etc,,,,enjoy the mood,the dance,the singing,the band, the fun, and lap it up