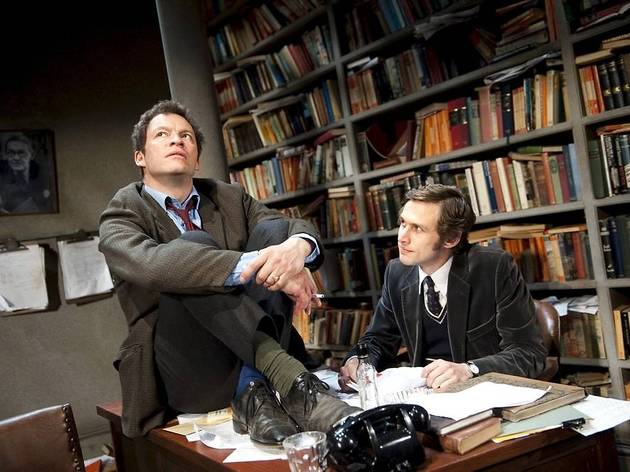 Dominic West was a baby when Harold Pinter first directed 'Butley' in 1971. But Simon Gray's savage comedy about a lecturer in meltdown hasn't aged as well as its new star. West bounds into the title role with intelligence, scorn and tireless panache. But he's too hot to be entirely plausible as this eloquent failure.
'Butley's author Simon Gray obviously put a lot of himself into 'Butley'. Like Gray, whose 'Smoking Diaries' movingly record a life compulsively lived and now much-mourned, Butley knows how to laugh in the dark. As he leaps around his book-lined office, evading his students and bullying his colleagues with virtuoso flair, West shows you
a man whose manic articulacy is the final flare of a brilliant mind which now illuminates nothing but its own decline. But West's Butley seems too energetic to despair – would a man with this ruthless charm and vitality really be deserted by his ex-wife, the gay protégé he loves to dominate and his own self-confidence?
In a West End that doesn't share Gray's book-love, it's a rare treat to hear everyone crease up when Butley notes that his comic downfall observes all the tragic unities. But why revive 'Butley' now? In a decade of civil partnerships and state cutbacks, public sexuality and university teaching of the arts have altered too much for the nuances or situation of Gray's lecturer to strike a chord. Butley's ambiguous relationship with his protégé Joseph seems coy and inexplicit now – though, when Martin Hutson's Joseph finally leaves Butley to choke on his own scorn, both actors fill in the emotional blanks.
The rest of the cast offer strong and all-too-brief support. Paul McGann excels as Reg, Joseph's straight-talking new man. The superb Penny Downie makes you wish Gray had given more time to departmental mediocrity Edna Shaft. Amanda Drew is concisely powerful as Butley's departing wife, 'always succinct even with her knickers down'. But the casual misogyny in that line and others is one of the anachronisms that weigh down the many well-earned laughs in Lindsay Posner's production.