Heads up! We're working hard to be accurate – but these are unusual times, so please always check before heading out.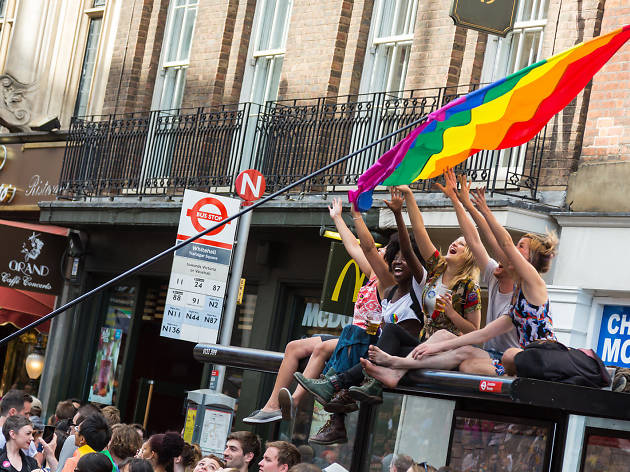 Pride in London 2016: everything you ever wanted to know
London's annual gay pride parade and festival champions LGBTQ+ identities, history and achievements in a carnival of fun and glitter. Here's all the key info
What is Pride?
In London, 'Pride' generally refers to the Pride in London parade which celebrates LGBTQ+ identity on the last Saturday in June (Saturday 25 June 2016). Pride parties take place on the same day across London and there are also Pride parades in other British cities and all over the world.
How long has it been running?
The first Pride weekend took place in New York in 1969. London got involved two years later when a group of around 200 activists from the UK branch of the Gay Liberation Front marched on central London – though not before a dozen drag queens had staged a 'dress rehearsal' the day before, pursued by police. The first official London Pride was held in 1972, with 2,000 people in attendance. Compare that to 2014, when Pride attracted more than 750,000 partygoers.
What happens on the parade?
Over 300 groups and floats (featuring everyone from the cast of 'Ab Fab' to the London Fire Brigade) travel from Baker Street station to Trafalgar Square, where there's a party from 12pm to 8pm with Sinitta, the cast of 'Kinky Boots' and more camp fun. Previous Pride parades have seen a gay Putin riding a tank and a drag Jackie O in JFK's assassination car, as well as gay bikers, roller derby girls and Sir Ian McKellen. But you'll have to turn up to see what's planned this year – everything's a surprise until the parade starts.
What happens aside from the parade?
Tours of work by LGBTQ+ artists at the V&A, debates about homoeroticism in Laurel and Hardy films, drag shows in Chelsea, cabaret at the London Wonderground on the South Bank… these are just a handful of the events taking place in London from 10 June until 26 June as part of the festival leading up to the parade. On the main Pride Saturday there will also be satellite parties like Unison LGBT's in Vauxhall Pleasure Gardens, if you can't or don't want to head into central London. To see the whole programme, visit prideinlondon.org/events.
What does LGBTQ+ mean?
LGBTQ+ is an acronym for sex and gender identities: Lesbian, Gay, Bisexual, Transsexual/Transgender, and Queer. The 'plus' sign at the end indicates that there might be other sex or gender experiences that don't sit neatly under the 'LGBTQ' bit: for example, being intersex isn't the same as being trans or queer.
Why isn't there a straight Pride?
As the cliché goes, every day is straight pride. Straight people are in the vast majority and heterosexuality is accepted all over the world. Nowhere in the world will a person ever have to worry about being sworn or spat at, beaten up, thrown in prison or shot because they're heterosexual. This year more than ever calls for straight people to acknowledge that difference.
How will Pride mark the events in Orlando?
There will be a minute's silence at Pride in London following the tragic events in an LGBT+ nightclub in Orlando, a minute's reflection will be led from the main stage in Trafalgar Square.
Have the Pride of your life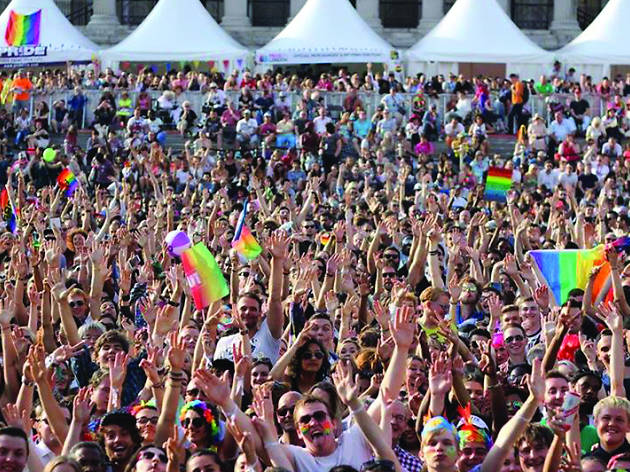 London's Pride parade is massive – one of the biggest in the world. Here are some essential tips before you go