The 50 best music festivals in the world
Discover the biggest and best festivals in the world today with our international festival bucket list for 2018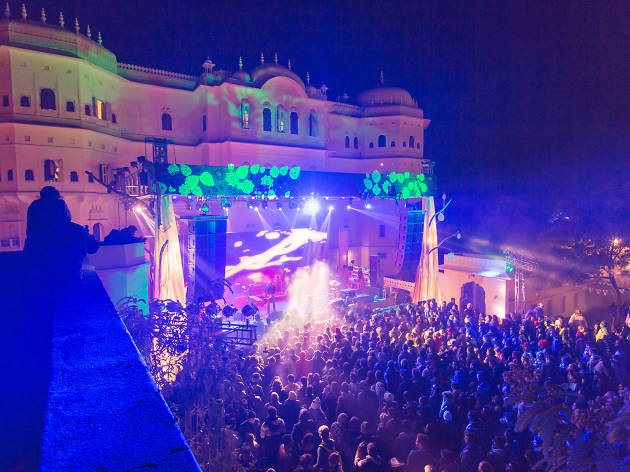 Music festivals have come a long way since the psychedelic wig-outs of the '60s. These days, there's a festival for everyone, even if you've shunned most annual mud-fests in the past because you dance to disco and you don't like rock. Beyond the traditional London, UK and European festivals, there are fantastic international events from California's very Instagram-friendly Coachella to Japan's fabulous Fuji Rock, which prides itself on being the 'cleanest festival in the world'. Here are 50 music festivals to try before you die.
Best music festivals in the UK
Dorset, UK
Festival heaven for: Big kids and little kids
Last year, Bestival had a bit of a one-off blip, with curator Rob da Bank conceding that the sound and tent size was not what they 'wanted it to be'. Not to worry though – we're now promised 'a new era' – and we have a new location in the form of Dorset, which is where the fabulously cute sister festival Camp Bestival is held. The Isle of Wight was a great location for the festival, but we're confident that the same fab vibes from the last 13 years will remain. With a focus on stellar fancy dress and acts old and new, but always happy to have a big ol' party, Bestival is four days of cracking craic. To paraphrase John Donne, no festival is an island; Bestival will coast back into our favourite festies, regardless of being on the mainland.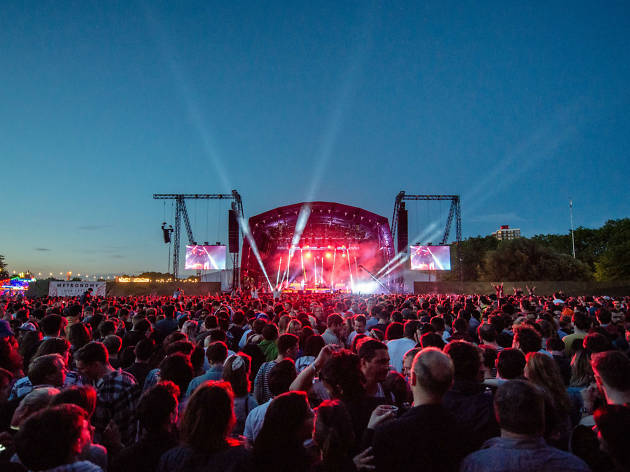 London, UK
Festival heaven for: People who prefer vinyl to Spotify (obviously)
Expanded again to a two-day event (after a year as a one-dayer), Field Day continues to be cooler than a cucumber with a hipster beard and an ironic tattoo. It's a great place to get day-drunk on craft beer after lining your stomach with the latest vegan food in the super-chill Village Green area. But Field Day has serious muso cred too; it's carefully curated to include edgy guitar music, shoegaze, alternative R&B, smart rap, revered DJs and everything else that's in vogue. It also boasts one of the best stages on the UK festival circuit, the Barn, a state-of-the-art hangar with a seriously impressive lighting rig.
Somerset, UK
Festival heaven for: Ageing hippies, middle managers who work in the public sector, old-school socialists
Every summer, when it isn't having a "fallow year" to give locals a break, the Big Daddy of UK festivals commandeers a chunk of Somerset for music, mischief, hippies, healing and a whole lot of cider. It's difficult to convey quite how vast Glasto is, with whole worlds of activity taking place outside the arena as well as an awe-inspiring musical line-up ranging from pop to reggae to rock to dubstep to metal to folk to techno. Everywhere you turn there's vitality to be found – especially if you stumble into some of the more anarchic cabaret tents and stages dotting the woods and fields far from the Pyramid-stage hordes. And in terms of sheer scale, Glastonbury remains untouchable as a pilgrimage for hedonists of all stripes, where all the ley lines of British pop culture converge. Usually, by day four, into an immense, blasted muddy heap on the floor.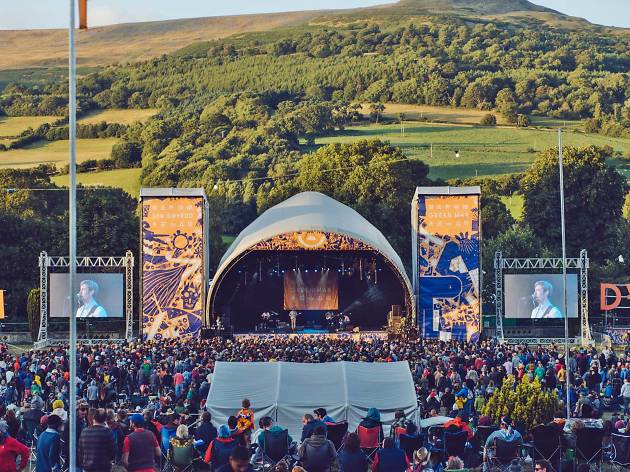 Brecon Beacons, Wales
Festival heaven for: Guardian readers
Now in its fifteenth year, Green Man is as cute as a button. It's got pretty incredible fresh food from every nook and cranny of the globe, 99 ales and ciders in its very own beer festival and eight bars selling all your fave cocktails. Music wise, it's the wet dream of middle-aged Guardian readers (i.e. lots, and lots of Laura Marling).
Suffolk, UK
Festival heaven for: Thirtysomethings reliving their twentysomethings, people still in touch with their friends from university, little Terence and little Annabel
Begun in 2006 and championed relentlessly by the Guardian, Latitude has quickly established itself as Glastonbury's more introverted, genteel little cousin. Set in a lakeside idyll near the sleepy holiday town of Southwold, its instant success has led to a glut of mini-me boutique festivals springing up across the UK in the past ten years. But while many have withered and died in a swamped market, Latitude's family-friendly boho vibe, trademark rainbow-dyed sheep and unchallenged rep as a middle-class paradise have ensured its survival. The enlightened-indie music policy – angled just leftfield enough to see the inauguration of a BBC 6 Music stage in 2013 – shares the limelight each year with an impressive bill of cabaret and comedy acts. Only downside: it's kind of remote transport-wise, almost impossible to get to by any means other than Suffolk cow.
Show more
Best music festivals in Europe
Benicàssim (duh again!), Spain
Festival heaven for: People who can successfully achieve a tan
The Festival Internacional de Benicassim (FIB) or Benicàssim for short, is a perfect combo of holidaying and festival. For the former, you've got the actual titular town 20 minutes away, with a glistening sea to dip into and wash away the toxins of the previous night. For the latter, you've got some of the best guitar music line-ups year in and year out. There's a reason that it's gone from 50K capacity in 2009 to 150K over the whole weekend last year; it's a beautiful festival, in a beautiful location, with lots of beautiful naked people. The days are also made for kicking back and having a chill, since music only starts at 5pm and then goes throughout the night until the next morning. It's officially the best way to get a great tan and listen to the cutting-edge of guitar music; that ain't a FIB.
Novi Sad, Serbia
Festival heaven for: Risk-takers, ravers, nostalgic Serb protesters
Exit Festival has a pretty incredible history; it was founded in 2000 as a student movement to protest and fight for democracy in Serbia. Since then, it's been visited by over two million people from more than 60 countries. And for a good reason – it's located in a medieval fortress for god's sake, and boasts 16 stages with all kinds of stuff going on. Plus, as well as the music, there's a sports area (probably not best enjoyed on a comedown/hangover), chill zones, a zip line and a 3D dance arena. Although it's moved on since its politicised beginnings, it's still got a strong sense of social responsibility attached to it.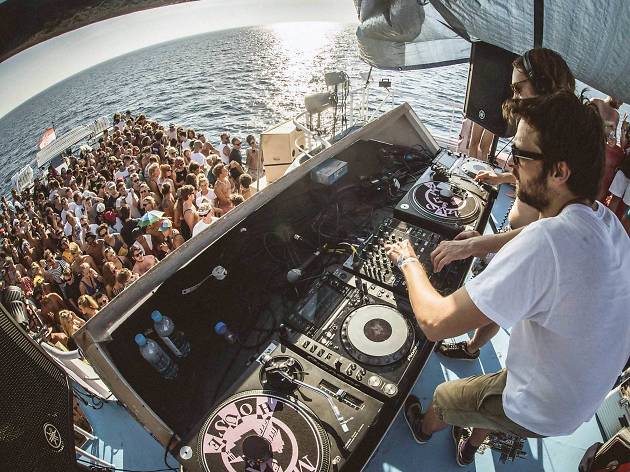 Pula, Croatia
Festival heaven for: Fans of underground music and historical forts
As well as hosting Hideout, Outlook and Spring Break, Croatia is home to Dimensions. Set in the pastel beauty of historical city Pula, it's all about underground DJs rather than big-drop EDM culture, which is always a massive plus. Since it's right next to the coast, you can chill by the beach in the day and get involved with some banging boat parties. It's a pretty special location; it all takes place in a nineteenth-century fort kitted out with all the usual fort trimmings. We're talking a moat, a courtyard, ballroom and a dungeon.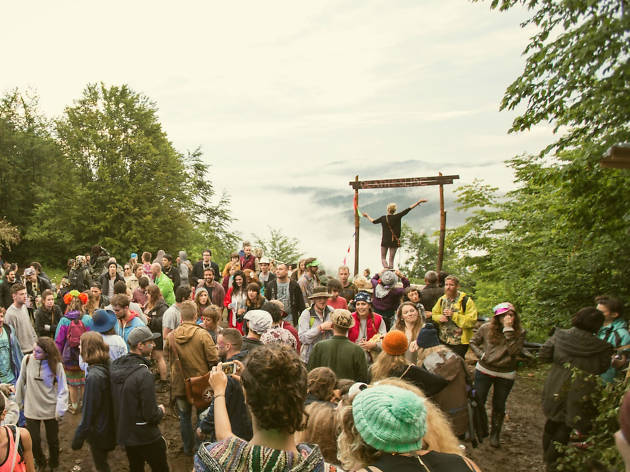 © Jack Pasco
Rhodopes Mountains, Bulgaria
Festival heaven for: Yogis
This boutique festival in the jaw-dropping surroundings of Bulgaria's Rhodope mountain range is your chance to commune with nature to a blissful soundtrack of afterhours house, disco and techno. There's also an honourable commitment to eco-friendly partying: the organisers are committed to sourcing timber shacks, art installations and stages from the local forest. Appearing on those stages are all kinds of live bands: funk, dub, alternative and jazz and, of course, the obligatory earnest men with acoustic guitars. Our tip: stick around for the post-festival pool party, tickets for which are sold separately.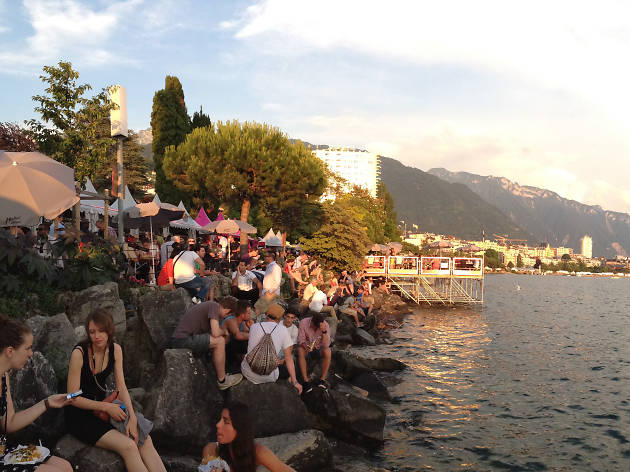 © Flickr / Olivier Bruchez
Montreux, Switzerland
Festival heaven for: People that like to scat
Originally a pure jazz festival for people that like to scat and improvise for copious amounts of time, Montreux Jazz Festival now lasts for an impressive two weeks and includes blues, soul and rock bands. It's a pretty swanky affair, with three competitions being held every year and hundreds of thousands of revellers making the journey to listen to some top-quality solos.
Show more
Best music festivals in USA and Canada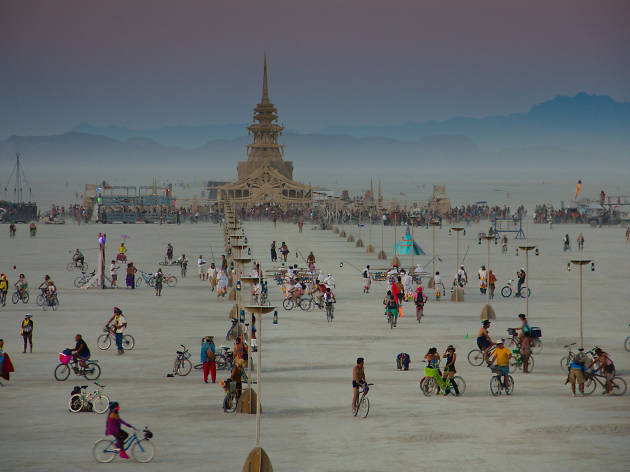 Photograph: Courtesy CC/Flickr/ stuartlchambers
Nevada, USA
Festival heaven for: Deep Web surfers, steampunks, metal sculptors, crystal healers
Undoubtedly, some guy sporting goggles and dreadlocks will tell you Burning Man is not what it used to be, man, before he speeds off in his solar buggy, and he's probably right. Once an off-the-grid bacchanal-slash-art-installation akin to a Mad Max film, the desert party has become a Dionysian ritual for Silicon Valley rich looking to shake off the stress of countless 18-hour work days filled with coding, backstabbing and energy drinks. Still, an inimitable post-modern, cyberpunk, druggy spirit hangs about this remote pop-up on the north Nevada playa. The performing DJs are last-minute surprises – techy producers like Deadmau5 and Tyco – but that's just part of the action in a place that has pyrotechnics and its own laser regulations.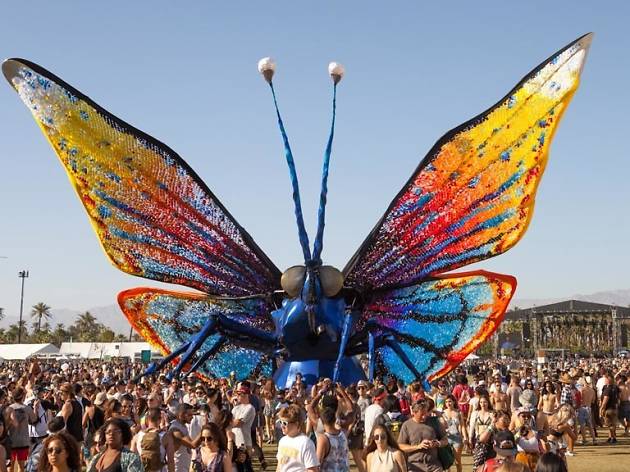 Indio, USA
Festival heaven for: Sun lovers, celebrities, fashion bloggers, those who use the Mayfair filter in Instagram
Deeper down the Coachella Valley, beyond the golf resorts and million-dollar mid-century modern homes, lies Indio, California's new hub for spring hedonism and schmoozing. Held on polo grounds in the desert, Coachella is a camping destination, unlike most urban American festivals, though the sand-adverse seeking five-star shelter can shack up in nearby Palm Springs. Because it hits so early in the year, the two-weekend Coachella has a leg up on competition like Lollapalooza in terms of booking and buzz. It inherently seems like an industry leader, the first to announce big reunions and nab awaited comebacks, ranging from nostalgic critical bait (Ride) to dinosaurs (AC/DC, Steely Dan). Keep an eye out for daytime pool parties, and stock up on hats, water and sunblock. You're going to need to hydrate well before the sun sets spectacularly behind the San Jacinto mountains. After 48 straight hours of vodka and moshing, you can wander east and recalibrate in Joshua Tree National Park. Like Bono.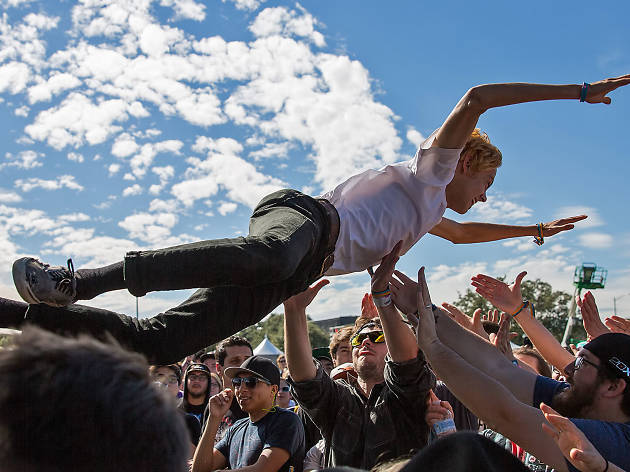 © Flickr/ Ralph Arvesen
Texas, USA
Festival heaven for: Fun (fun fun) lovers
Replacing Fun Fun Fun Fest, SOS is just as – err – fun, fun, fun. It's got the same blend of lots of genres (punk, metal, dance, DJs), which founder Graham Williams sees as all 'part of the same scene'. There's also action sports and comedy, and it's all set in the so-called Live Music Capital of the World (Austin, Texas).
Los Angeles, USA
Festival heaven for: Pitchfork readers, vinyl buyers, city explorers, celebrity shunners
Because he was bored by big concerts and a teenager, Sean Carlson started his own damn festival in 2004 and dubbed it Fuck Yeah Fest. In the decade since, FYF has blossomed from hip clubs in Echo Park to being a major park-filler. Naturally, it's since been absorbed by Goldenvoice, the folks behind Coachella, but the modest two-day event retains its local vibe and fanboy energy. The location has hopped around downtown parks over the last few years, but never out of sight of those often overlooked Los Angeles skyscrapers. The headliners are as a rule deeply cool. While the rest of the bill eschews filler, putting the buzziest names in SoCal punk, underground dance, garage, metal and minimalist electronic in the mix. Don't sleep at this well-balanced underdog. Literally: get out there and stay in the real LA, not some temporary campground.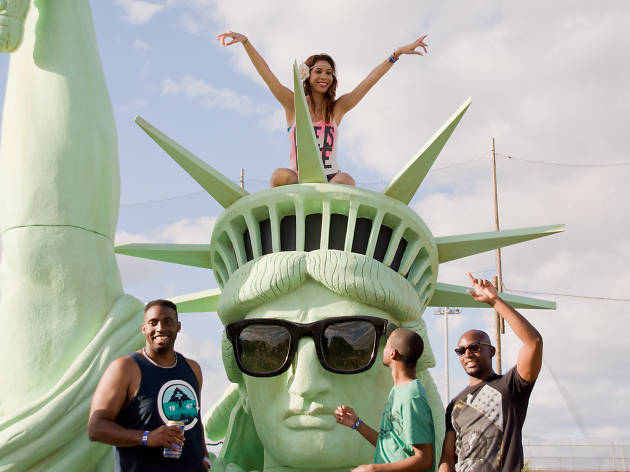 © Michael J. Chen
New York, USA
Festival heaven for: Brooklynites, urbanites, Urban Outfitters employees, tourists, the characters on 'Girls'
Though it moved from its more scenic original location on Governors Island, in view of the Statue of Liberty and the downtown skyline, New York City's only major music festival is now more easily accessible on Randall's Island, wedged up the East River between the Bronx, Queens and Manhattan. A ferry is still the best way to get to Governors Ball, but train, bus and walking over the RFK Bridge will deliver you, too. Attendance wise, it's a fraction of the size of American fest like Coachella and Lolla, yet its bookings often trump the big boys. While the vibe is never as loose and celebratory as fests with campgrounds, afterward, you can lose yourself in the bustle of the Big Apple. That's some perk.
Show more
Best music festivals in Asia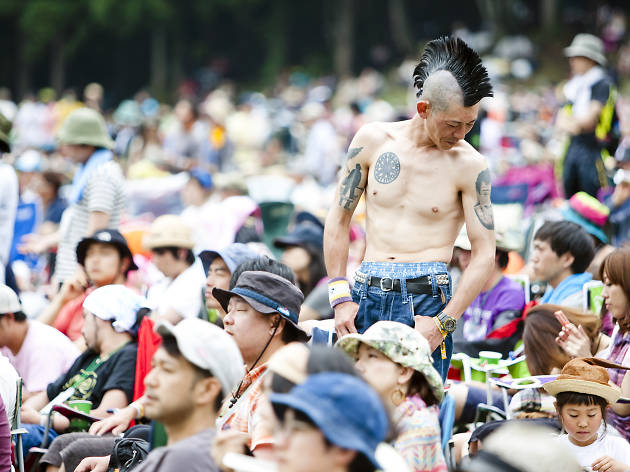 © James Hadfield
Niigata Prefecture, Japan
Festival heaven for: Mountain-climbing music lovers
It's a pretty special feature of a festival for it to require a cable car trip up a mountain (thank God you don't have to walk it, it's bad enough trekking through Glasto with your Berghaus backpack). It's the largest festival in Japan, and aims to be the 'cleanest festival in the world' with loads of types of accommodation on offer (although the practice of 'sleeping rough' is now prohibited). It'll always be remembered as the fest where Red Hot Chili Peppers headlined during a full-on storm, while frontman Anthony Kiedis had a broken arm.
Rajasthan, India
Festival heaven for: Electronic music fans, star-gazers, yogis, culture vultures

Taking place in a seventeenth century Rajasthani palace outside of the pink city of Jai Pur, Magnetic Fields is a fully immersive experience with intimate stages set in and around the ornate grounds. Run by a community of forward-thinking promoters and artists from Bombay, Bangalore and Delhi, this is one of the only three-day music festivals in India with boutique camping and palatial suites. The carefully selected line-up merges international electronic talent with artists closer to home. The festival is growing in popularity and attracts a crowd of up-for-it Indian ravers, expats and globe trotters looking for a festival like no other.
Ed Jones
Incheon, South Korea
Festival heaven for: People who own a lot of raincoats
Pentaport has five focuses – music, passion, the environment, DIY and friendship – which you can't really argue with, as long as DIY doesn't mean the B&Q type. It's all about guitar music, with a mix of local and international bands. Make sure you bring every single raincoat you own, though, as it's in rainy season in South Korea.
Shizuoka, Japan
Festival heaven for: Japanese musos and curious westerners
Located on the picturesque Suruga Bay coast, this eclectic summer festival is powered by bio-diesel fuel (as opposed to beer and rock like other festivals), making for a distinctly eco-friendly vibe. Itadaki's largely homegrown line-up will smash your preconceptions of Japanese music – it's not all cheesy j-poppers and Western copycats, y'know. Our tip: remember to bring a lighter to hold aloft during 'candle time', the late-night music sessions.
© James Hadfield
Nagano Prefecture, Japan
Festival heaven for: Dance heads and chin-stroking electronica nerds
The Japanese are fond of a mountainside festival (see Fuji Rock) and Taico Club is the one to book if you're a fan of cutting edge dance and electronica. Set in the Kodama no Mori campsite in Nagano Prefecture, Taico Club is easily reachable from Tokyo (although it's probably best to go by car rather than public transport) and offers up a mouth-watering mix of international artists and homegrown talent.
Show more
Best music festivals in Australia
Victoria, Australia
Festival heaven for: Nostalgic hippies and eccentric indie kids
Golden Plains is a beautiful festival throwback: a paean to a time before corporate sponsors came along and slapped their names on anything and everything. In keeping with the no-logo, collective ethos, visitors are encouraged to bring whatever they like to the campsite as long as it doesn't ruin the communal vibe (even armchairs and a couch, according to their website). Over its nine-year history the festival has developed some quirky traditions: most famous of all is The Boot, a salute from the crowd to the best performers at the festival in the form of shoe or boot being held aloft (it beats chucking them at crap bands, I suppose).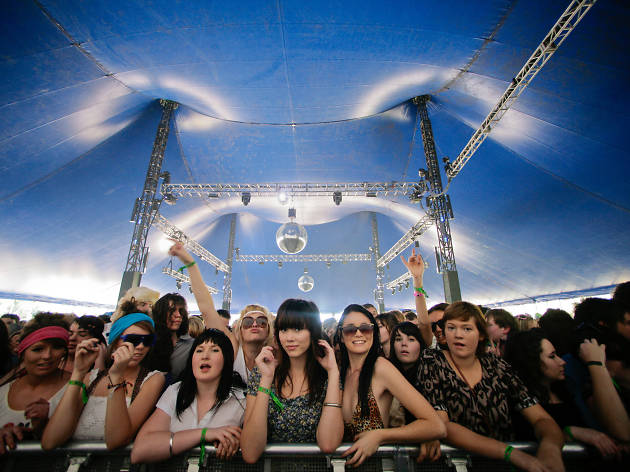 Byron Bay, Australia
Festival heaven for: Party-starting intellectuals
After 14 years, Splendour in the Grass is becoming something of an Aussie institution. Thirty thousand punters regularly make the trip to North Byron Highlands for three days of fine music (including big name acts), art and camping. The site itself is sprawling: in some cases the stages are 20 minutes apart. So take plenty of water: you'll be walking a lot in the hot sun. (And if you overhear the locals moaning about how their 'thongs' are rubbing, remember they mean their flip-flops). You can also exercise your brain at the Splendour forum: home to talks, comedy shows and much philosophical pondering.
St Jerome's Laneway Festival
Across Australia
Festival heaven for: Aussie indie snobs
Mighty oaks from little acorns grow… once nothing more than a few bands performing at a hole-in-the-wall pub in Melbourne, Laneway is now one of Australia's biggest and best festivals with bases in many of the country's big cities – and even overseas in New Zealand, Singapore and the US. The line-up is always impeccably cool: with critically acclaimed indie types queuing up to play. Think Pitchfork festival in Chicago or the best All Tomorrow's Parties of yore.
Best music festivals in South America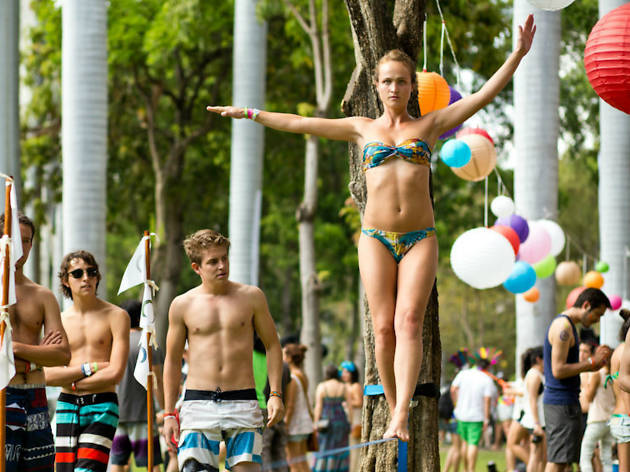 © Alejandra Carbajal
Cuautla, Mexico
Festival heaven for: Pitchfork-reading watersporters
Festival, carnival and hipster honeytrap, Bahidorá is a 24-hour party, people. The setting is gorgeous: acts perform next to a sparkling blue river flanked by palm trees. The revellers are colourful: resplendent in jazzy beachwear and feather headdresses, with a fondness for spontaneous processions. As for the music, it's a mix of carefully selected indie, electronica and hip hop. We'd also wager Bahidorá is the only festival in the world where you can learn circus skills AND kayaking. Just remember not to practice them at the same time.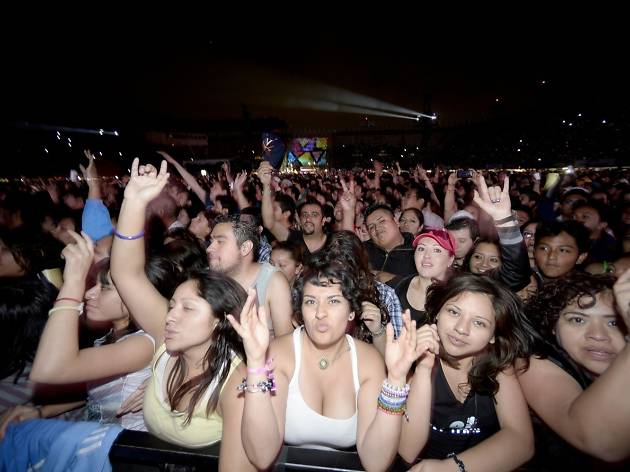 © Alfredo Estrella
Mexico City, Mexico
Festival heaven for: Rock-happy señors and señoritas
Every year, Latin and Spanish bands from around the world descend on Mexico City to perform at Vive Latino, arguably the most important Spanish-language rock music festival in the world. Naturally the predominant vibe is all things Latino, but bands of all nationalities and genres are welcome.
Best music festivals in Africa
Mangochi, Malawi
Festival heaven for: Sun worshipping Afro-pop enthusiasts
The blue lake and golden sands of Lake Malawi is the location for this magical African festival. When you're not basking in the majesty of nature – sunrise over the lake is truly awe-inspiring – or enjoying the cheap beer, there's plenty of music – a pleasing mix of international acts, homegrown talent and party-staring DJs – to see and hear.
More to explore
Snap up exclusive discounts in London
Time Out's handpicked deals — hurry, they won't be around for long...