The Rolling Stones: Exhibitionism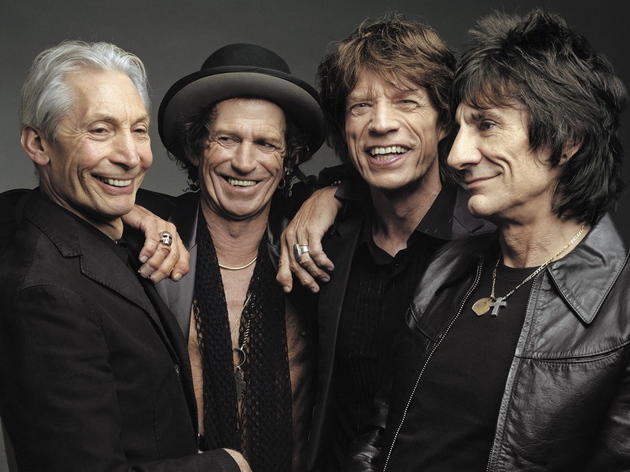 A major exhibition devoted to the rock 'n' roll survivors, with a wealth of artefacts, clothes and photos. And screens.
When Time Out interviewed Mick Jagger in advance of the opening of Exhibitionism – a massive touring retrospective of stuff dedicated to the history of The Rolling Stones – he told us: 'What I didn't want was for it to all be on screens. People live their lives on screens so much that if people don't see a screen for a second, they think they're not alive.'
It's odd then that's exactly how Exhibitionism has ended up: on many, many screens.
The exhibition starts in 1962 with a neat recreation of the band's first shared house on Edith Grove in Chelsea. It's a rare moment of Stones self-mockery. Visitors walk through a kitchen, bedroom and living room that can only be described as a squalid hellhole, complete with overflowing ashtrays, washing-up piled high and crust developing on filthy unmade beds. Pity the band's early groupies.
The Rolling Stones in Edith Grove
It's a big relatable opening that doesn't require a degree in Stones mythology to enjoy. Yet it's a shame that Exhibitionism doesn't sustain that level of broadness throughout. While Exhibitionism is as big and brash as the band itself, at times Exhibitionism veers toward the obscure and trivial.
After the squalor, the exhibition carries on strongly with a recreation of the Stones's studio world. Though most of the items – such as Charlie's drum kit – are hidden behind glass, visitors are able to engage with the band's music in a novel way: by remixing certain songs on iPads and headphones. It gives you the chance to fade up or down certain elements of songs, or just solo great moments in the Stones' catalogue, such as Bill Wyman's slinky bassline on 'Miss You'.
This is one of the few times visitors really get to wallow in the band's music, though. As a whole, Exhibitionism is more ephemeral than musical and after a strong start, things start to get a bit irrelevant as screens are relied upon to do a lot of the work.
Perhaps as a nod to Jagger's other career as a movie producer, there's a whole room dedicated to film, which includes a huge screen showing their old pal Martin Scorsese talking about the making of 2008 concert doc 'Shine A Light'. Some of the screened films are genuinely riveting, such as the guide to the band's many outlandish stage shows over the years. But this over-reliance on screens badly lets the exhibition down. Rooms devoted to the band's iconic logo and sleeve art do the job, but don't offer a huge amount of flair or frills. Sadly there's no physical recreation of the cake baked by Delia Smith back in 1969 for the cover of 'Let It Bleed'.
The 'Let It Bleed' album, featuring a cake by Delia Smith
There are some flat-out weird things in there. One room towards the end aims to recreate the backstage area at a Stones concert. For some baffling reason, amongst various roadie tools sits a colour printer and scanner plus – hold onto your hats – a ream of A4 paper. There's also a modest make-up table featuring Clarins toner, Lancôme powder gel and a bottle of Tums heartburn tablets.
Even odder, though, is a proudly exhibited letter that appears early on in the exhibition. Sent by the Michigan Education Association in 1979, it complains about their song 'Some Girls' and expresses 'outrage at the violation of, the racial insults to, and degradation of women and minority women in particular'. It's a jarring presence.
A Rolling Stones stage costume from Exhibitionism (Katherine Fawssett)
Thankfully, some much-needed human touches are offered by the raft of Stones stage clothes on show. Far more absorbing and real than the screens, this long room is both an explosion of ruffled velvet and shiny finery, and also a way of feeling physically close to the band and their past. And then there are Mick's jumpsuits, shown on mannequins that clearly want to remind the world of the following fact: Mick Jagger dresses to the left. Oliver Keens
Want more Stones? See rare photos of The Rolling Stones live in London, 1971
Average User Rating
4.3 / 5
Rating Breakdown
5 star:

6

4 star:

3

3 star:

0

2 star:

0

1 star:

1
Amazing. Took my dad who is a huge Stones fan and has followed them across the world to watch them from the beginning and even he came away in awe. So many amazing pieces that take you on a journey from meeting each other on a train to the present day. So many different experiences to go through in such a fantastically curated exhibition. Go even if you're not a Stones fan. I can assure you that you will be by the time you leave. Prices was well worth it for what is on offer!
Note: Make sure you get there a few hours before closing to experience and see everything. We spent 2 and half hours in there.
Amazing. A must see.
This was just about all I hoped it would be - and more. I have been a fan and following the Stones' careers for all of the 54 years presented in the exhibit. All of the stuff collected for it is wonderful to look at. I loved the interactive mixing boards (?) in the recording studio, the costumes, the grungy London apartment (where did all those dishes come from? Did they bring in new ones rather than wash the dirty ones?), the tiny drum kit. I was disappointed with the song selection for the performance room, and the fact that none of the not-so-happy stuff was included I.e., Brian Jones' death, Alan Klein, Bill Wyman's departure. Also, and especially, some sort of acknowledgement of the undeniably misogynistic element that is so obsequious in anything Stones.
The very best aspect for me is that I had my two adult children ( ages 33 and 35) with me - kind of dragged them along, actually - and I was a little worried what their reaction would be. Worst case scenario being that the whole thing is laughable, and relevant only to us senior citizens. But no! They LOVED it! I'm thinking they were able to see the span of time that the exhibit represents in a whole new light. It made the experience that much the better.
It was nothing short of a miracle that this exhibit was available to me during my first and most likely only trip to London from the USA. Bravo to all those involved in putting it together, and bravo and thank you to the Stones themselves for a half century of kick ass music and so many fun and happy memories.
Especially you, Charlie Watts. The sound would not have been the same without you.
The Rolling Stones Exhibitionism at the Saatchi Gallery was worth coming crom Canada to London just for it! Superbly curated, interactive, and completely immersive. We especially liked the guitar room. Ron Wood's '56 Telecaster had holes in the fret board - not just wear marks - holes! I discovered the brand of one of Ronnie's guitars I've seen him play in concerts but never recognized (a custom Tony Zemaitis). I enjoyed the mixing board where I put on head phones and selected albums and then could adjust the sound levels of vocals, bass, drums, guitars, etc. I spent a lot of time on that! My next favourite was the fashion room with a display dedicated to the costumes Mick wears when performing Sympathy for the Devil. Again wonderful to recognize many that I've see in concert. I also liked Keith's black suede pants with silver buttons up the side. Hot to wear in concert I bet! The leather jackets, silk shirts, and satin suits were also interesting. I enjoyed the recording studio too with loops of takes and another interactive headphone session listening to Don Was describe what it's like to work with the Stones in the studio. And so much more!!!!!
went today to the exhibition. It's not cheap at all, I agree on that.. but its so worth it! Video, testimony, backstage story, cloths, guitars, drums... Everything you want to see is there! I loved it and I do recommend it! It wasn't that crowed for me today, I guess it depends on the day.. (4 Stars because of the price)
Disappointing - save your money: if this is the face of the Stones' brand in 2016 I'll stick to my vinyls! Overcrowded in the areas where you would want to spend a bit more time; audio guide completely useless. Stay at home and watch Scorcese's movie on Netflix!