Cult '70s horror 'Death Line' is set in (and under) Russell Square tube station, where flesh-munching crazies feast on unwary commuters. This set-up is basically the 'worse' in the sentence 'your journey to work could be worse'.

The location Russell Square station, WC1.
The scene British horror 'Death Line' is about a tribe of cannibals who live beneath Russell Square station, with cockney detective Inspector Calhoun (Donald Pleasence) tasked with working out why so many commuters have gone missing. The film's first victim is a Tory MP who is dragged into the shadows by a plague-ridden Victorian flesh-eater. Dinner is served.

Then The station was chosen because its red exterior perfectly mirrored the film's bloody horrors. When 'Death Line' was shot in 1972, it retained its original Edwardian set-up with historic lift cars, a traditional blue glass canopy and old-fashioned shop fronts.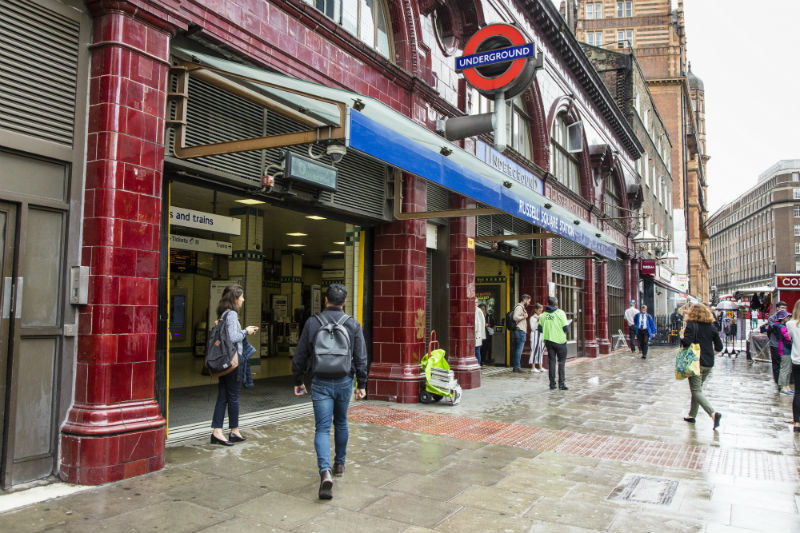 Andy Parsons
Now Russell Square station was upgraded in the 1980s and '90s, with its ticket hall, frontage, canopy and lifts all modernised. Some of the original tiling survives in the stairway, giving a flavour of how the station might have looked in the past, but it's fair to say it now looks very different than it did in the 1970s. 'Death Line', meanwhile, has become a cult classic, with the horror film's subtext of social inequality in the city now feeling more prescient than ever.

For more of the city on screen, check out our list of the 30 best London movies.