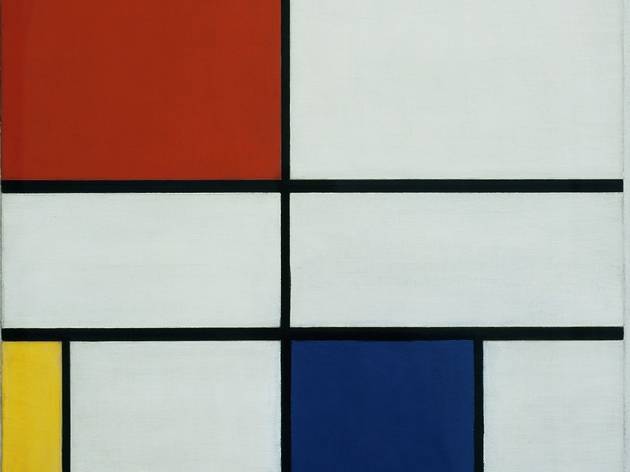 During the 1930s, the garden suburb of Hampstead became an unlikely stopping-off point for members of the international avant garde fleeing Nazi persecution in Germany and France. Cited by resident critic and chronicler Herbert Read as 'A Nest of Gentle Artists', a tiny clutch of studios around Parkhill Road housed not just the English talents of Barbara Hepworth, Paul Nash and the nearby Henry Moore, but a Russian sculptor Naum Gabo and, for two years, the Dutch abstractionist and avowed loner Piet Mondrian.
It is his short but cherished sojourn in London, sandwiched between spells spent working in Paris and New York, which forms the basis of the Courtauld Gallery's beautifully crystalline and concentrated display on the friendship and mutual admiration between Mondrian and the British-born Ben Nicholson, who came to be a brother-in-arms for the severe pioneer of high modernism.
With two of Mondrian's canvases included in Hitler's anti-modernist 'Entartete Kunst' ('Degenerate Art') exhibition of 1937, not only would he have felt paranoid and possibly pursued, but perhaps also somehow vindicated, or at the very least invigorated, that his wholly non-objective, utopian vision of the world could act as a positive, constructive counterpoint to the repressive grip of Europe's dictatorships. Clearly, when he left for London a year later, Mondrian felt Ben Nicholson to be a kindred spirit in his radical quest to create perfect pictorial harmony through a balancing act between pure line and colour (although in letters Mondrian would unhelpfully suggest that Nicholson's placement of a certain circle or shape was slightly off-kilter and 'should go a little behind' or 'to the left').
The relative chaos and complexity behind the relationships and personalities that Mondrian fell in with in pre-war London are, unfortunately, too racy and rambunctious to deal with in the Courtauld's two-room show and so are necessarily left to the catalogue and a forthcoming book by Charles Darwent on the subject. But suffice to say, Winifred Nicholson (Ben's first wife before he swiftly moved in with Barbara Hepworth and their brand-new triplets) is shamefully sidelined, despite helping to chaperone Mondrian on the ferry and being the first to buy his work in Britain. Instead, the real love affair on display is a platonic one of cool, clean lines of inspiration flitting back and forth between the two male abstract artists, with the aim to present Ben Nicholson as more than mere pupil or doe-eyed follower of the great Dutch meester.
This is no straightforward curatorial task, as Mondrian, 20 years Nicholson's senior, is far and away the superior being. Despite each of his canvases being slavishly reworked to create the diametrically opposite impression, that of utter, pre-ordained simplicity, the strict black boundaries and primary colour blocks of Mondrian barely wobble or waver. Nicholson's sculpted white reliefs, however, seem to react almost immediately to the elder statesman's more exacting standards – becoming sharper and tighter as the years of their kinship progress.
An increasing certitude and rigour in Nicholson is twinned with an almost imperceptible loosening in Mondrian. The introduction of a staccato double-line (visually similar to the deeper-cut shadows in Nicholson's hand-carved reliefs) prefigures Mondrian's later explosive 'Boogie Woogie' period in New York, suggesting that, in London, he'd already began to unbutton his starched shirt in preparation for a final hurrah.
The untold postscript to this show is a saddening tale of an artist who left yet another wartorn home he'd grown to love – 'so wide and spread out', Mondrian said of London: 'in comparison, Paris seems like a toy city' – only to die of pneumonia in 1944, lonely and neglected on the other side of the Atlantic. The vertical pictures Mondrian had begun here, clearly influenced by the upright forms of Hepworth and Nicholson, may well have constituted a British 'Gothic' phase in his career, to use Mondrian's own term, rather than his crowning American 'Gotham'. But the bomb that rattled his cosy Hampstead idyll means we'll never know for sure, although clearly Mondrian couldn't countenance joining Nicholson and co in the secluded Cornish town of St Ives – there were no jazz clubs, gridlocked streets or rectilinear intersections of life on the move.
Much later, in 1983, a disgruntled French art historian, Serge Guilbaut, would write a controversial book about Cold War culture entitled 'How New York Stole the Idea of Modern Art', but perhaps in the 1930s, briefly, it was actually ours to lose.