Watch Me Move: The Animation Show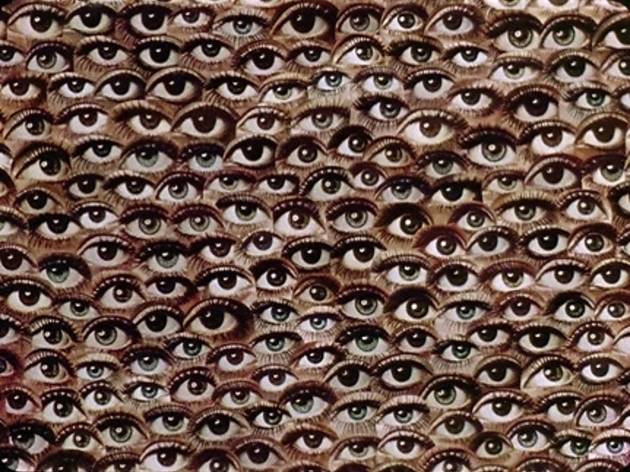 1/2
Frank & Caroline Mouris, Frank Film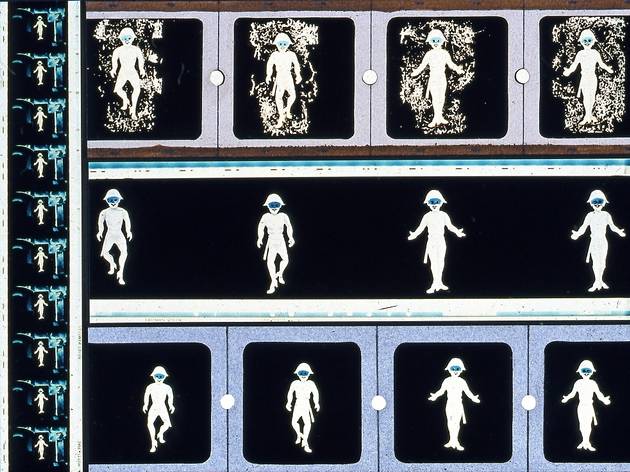 2/2
© CNAM/Restauration CNC AFF - Julien Pappé, Magic Film productions
Charles-Emile Reynaud, Pauvre Pierrot, 1892
David Jenkins, Time Out Film
There's something about cinema-based gallery shows that just doesn't work. Too often, we're saddled with a labyrinth of gaudy merchandise (much of which is conveniently available for purchase in the foyer) – banal trivia masquerading as hard history and hokey contraptions intended to capture that Disneyfied notion of 'The Magic of Cinema'.
In the nineties, London had a permanent show in the form of the South Bank's long-deceased Museum of the Moving Image, a visit to which usually resulted in a mad dash to the famed 'Superman' blue screen exhibit, and then directly on to the exit. So precedent was very much against the Barbican's 'Watch Me Move: The Animation Show', which aims to distil more than 100 artistically vibrant years of the animated medium into relatively modest confines. It's an astonishing success, taking a commendably stripped-back and conceptually robust approach by simply placing the films themselves on a pedestal and leaving the bells and whistles to fester in the storeroom. It's finally a show about cinema as an art rather than a craft.
Even though it's split into seven broad themes – Apparitions, Characters, Superhumans, Fables, Fragments, Structures and Visions – the sense you get from this exhibition is that its purpose is to locate a consensus between variants of the form. The entire output of Pixar is given no more space than the stop-motion taxidermy comedies of Russian pioneer, Ladislas Starevich. You can watch Daffy Duck suffering the abuses of Bugs Bunny's pencil in Chuck Jones's hilarious 'Duck Amuck' (1953), then, within a few feet, there's the hand-painted rainbow miasma of Stan Brakhage's 'The Dante Quartet' (1987) unspooling off of a 16mm print. Both are films which ponder the nature of on-screen drama, but in entirely different ways.
Satisfyingly, the films selected to represent a body of work are not always the most obvious ones: From Japan's Hayao Miyazaki (head honcho of Studio Ghibli), we might expect to see clips from his Oscar-winning 'Spirited Away', or his 1997 breakthrough 'Princess Mononoke'. In fact we get to see his superlative, lesser-known second feature, 'Nausicaä of the Valley of the Wind' (1984), which perfectly encapsulates the writer-director's creative instincts. Though Wallace and Gromit make an entirely justified appearance, there's also a chance to see Aardman boss Peter Lord's fantastic, raw early short 'Getting Equipped' (1989) in which a criminal discusses the realities of prison life. A personal highlight was 'Les Jeux des Anges' (1964), a surreal exploration of texture and screen geography by the Polish animator-turned-Euro smut peddler, Walerian Borowczyk.
There are a few rough edges: The punchline to Jan Svankmajer's seminal claymation, 'Dimensions of Dialogue' (1983) was annoyingly cut off, while the labelling of what was showing on each screen was sometimes tough to decipher. But these are minor quibbles. I put two hours aside to see this show, and I really could have done with two or three more.
Ossian Ward, Visual Arts Editor
This compendious show of shifting perspectives takes in astonishing terrains and outlandish visions, from frame-by-frame motion pictures and line-drawn superheroes, to glimpses of truly virtual realities and immersive gaming possibilities. This breadth, however, shouldn't be off-putting, given that animation tends to reward the viewer in rough equivalence to one's instinct of how long to spend in front of each film.
So, a few seconds is enough to appreciate the formal experiments of early black-and-white cinema by the Lumière Brothers or the art-house hallucinogens of Len Lye and Stan VanDerBeek. But a surreal, narrative wonder like Yori Norstein's 'Tale of Tales' (1979) or the baffling pin-screen work based on Gogol's short-story 'The Nose' (1963) by another Russian animator, Alexandre Alexeieff, demand your undivided attention.
Downstairs, there's too much black chiffon to fight through and the glow-in-the-dark text risks premature eye fatigue, but if 'Watch Me Move' were itself a film, then it would be a lesson in how to redeem the second half. Upstairs, the video booths allow concentrated one-on-ones with each short or snippet and what look like the interested tinkerings of artists such as Kara Walker or Francis Alÿs soon blossom into the fully formed animation practices of Nathalie Djurberg and the somewhat neglected Martin Arnold, whose cut-and-paste clip-collage of Hollywood schmaltz should not be missed.
Another retro delight is Zbigniew Rybczynski's 'Tango' (1980) in which a room is slowly populated and then emptied by a procession of characters engaged in individual, looping activities that cacophonously co-exist but never quite interact. It's both a technical and existential masterpiece of the medium (YouTube doesn't do it the full-screen justice). The whole show is brought almost up-to-date with Marvel's CGI renderings of the 'Hulk' from Ang Lee's 2003 version and Cao Fei's aimlessly floating Second Life avatars.
While it's initially hard to swallow the curator's claim in the catalogue that animation's origins stretch back to Stone Age paintings (an argument borne out in Werner Herzog's recent 'Cave of Forgotten Dreams'), certainly by the end of this tour de force you're in no doubt as to man's unstoppable urge to depict new and parallel worlds as they flux and flicker into life.