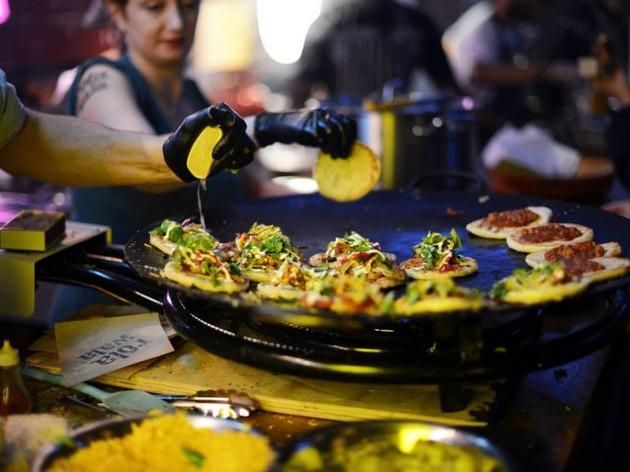 1/10
© The Gaztronome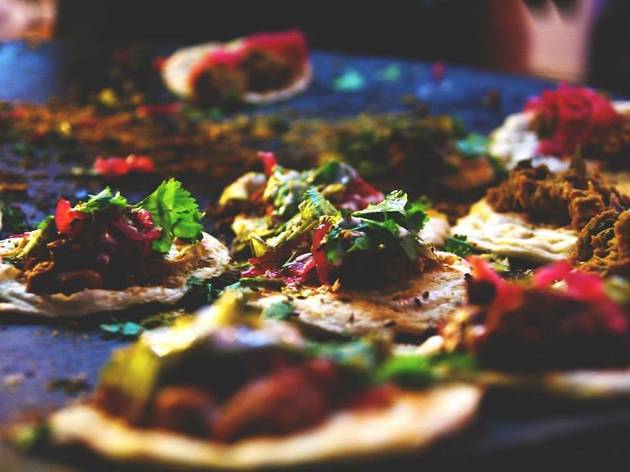 2/10
© Edie Renshaw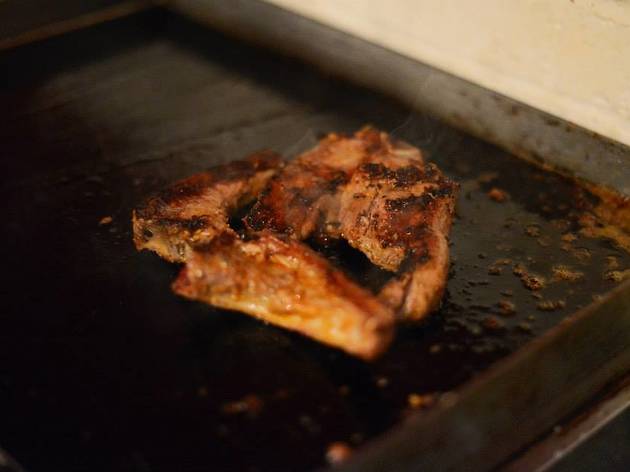 3/10
© The Gaztronome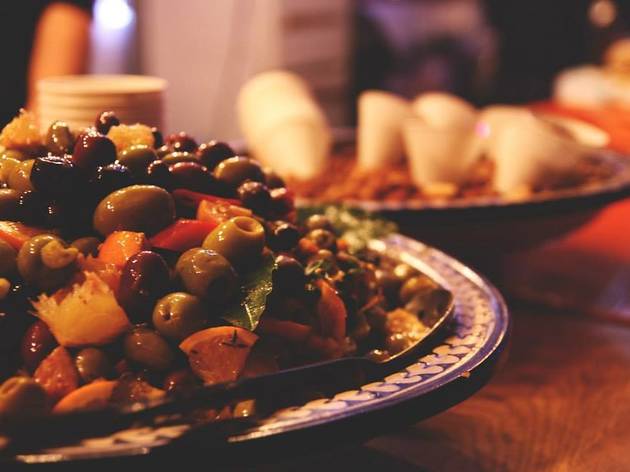 4/10
© Edie Renshaw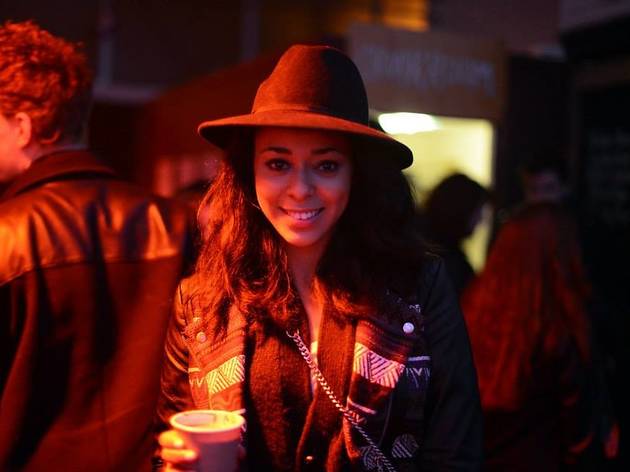 5/10
© The Gaztronome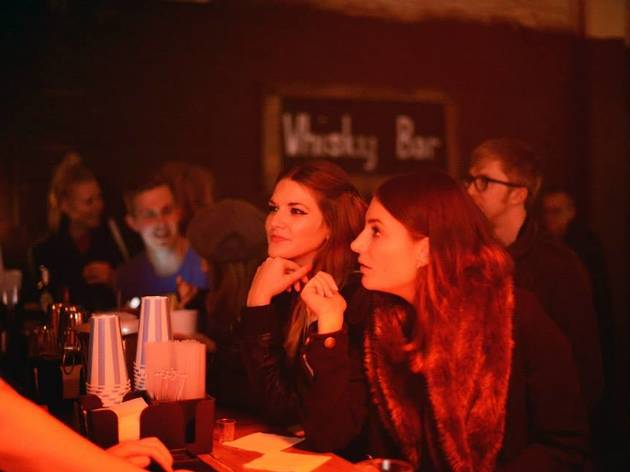 6/10
© The Gaztronome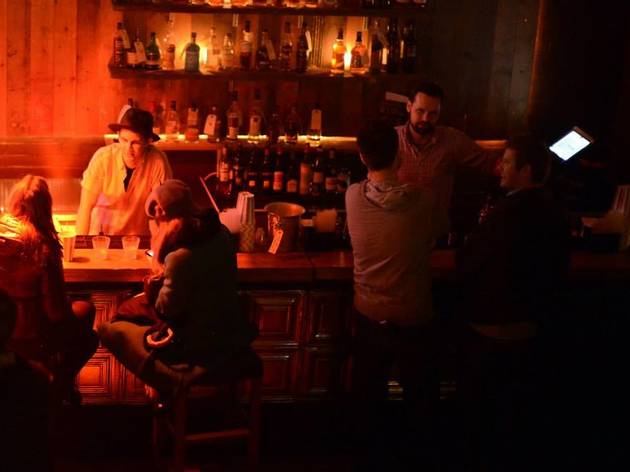 7/10
© The Gaztronome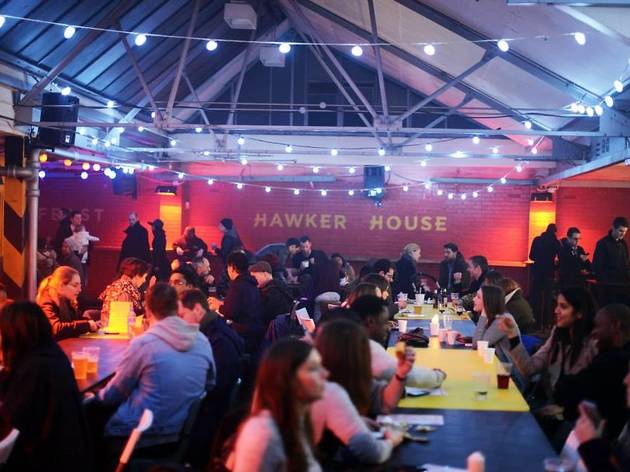 8/10
© The Gaztronome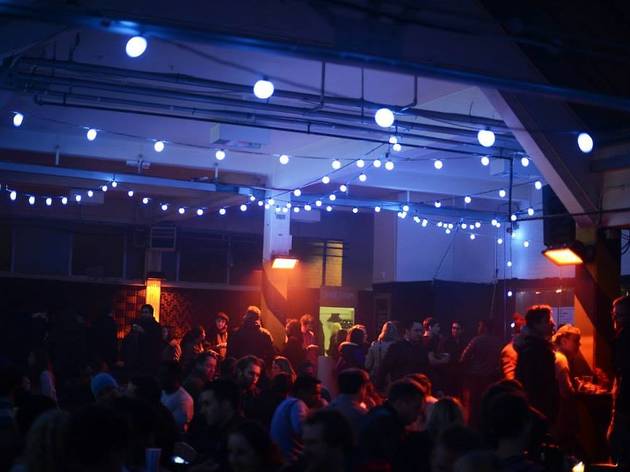 9/10
© The Gaztronome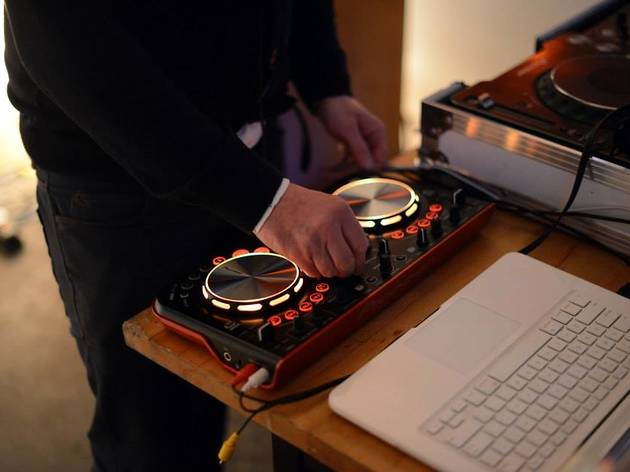 10/10
© The Gaztronome
An indoor, street food night market set in a 2,500 capacity warehouse in Canada Water.
The largest of two all-year-round London venues from street food market giants Street Feast, Hawker House is open every Friday and Saturday night from 5pm until midnight, and plays host to a rotating line-up of 12 global food stalls and eight bars. The expansive open-plan space is set across two levels: on the ground floor there are long trestle tables and plenty of mixed seating, with the assorted food stalls arranged around the edges; upstairs you'll find drinks vendors, plus more seating.
Food options are varied, and include vegan tacos from the highly rated Club Mexicana, fried chicken from Mother Clucker, and seafood from the excellently named Prawnography. Drink options look equally good: there's a Whisky Bar offering over 50 varieties and a game of Whisky Roulette (£8 a spin), plus a 'secret' bar called The 86, which you enter via a hidden door.
The atmosphere is bustling, with a resident DJ every night and graffiti decorating the walls, but the vibe is family-friendly, the spaciousness of the warehouse making Hawker House one of Street Feast's more relaxed venues. During the winter it's completely covered and heated, but in the summer Hawker House gains 'The Land of Bamboo', an extra 1,000 capacity outdoor area with sandpits, trampolines, tiki huts and a firepit. Entry is free before 7pm, £3 afterwards, and the venue accepts both cash and card.
Average User Rating
4.3 / 5
Rating Breakdown
5 star:

30

4 star:

20

3 star:

7

2 star:

2

1 star:

1
I was sure I'd been to Hawker House somewhere in East London and queued and shivered for hours before gaining entry.. My experience this time could't have been further from this! So many magnificent morsels and delectable delights all under one roomy roof with even a selection of seats to choose from! I'll be back time and time again!
I'm not normally one for crowds, eating standing up or going to Canada Water, so when my friend suggested this I was a bit like "you know I'm really not sure about this at all" but then I went and actually the food was really tasty and you could sit down and the space is quite big and fun and Canada Water isn't even that bad. Of the food I remember, there was some buttermilk chicken in a bun thing that was great, the ribs place looked amazing but forgot to get some ribs, which is my fault, beer selection was good if a bit overpriced, but that's everywhere these days amirite lads?
Overall, this was plenty of fun and I'd probably go again.
This place is awesome!! I don't live around Canada Water area and been the with a friend last weekend, will surely go back! The atmosphere is nice and so many drinks/type of food you can choose from!
Media is no longer visible.
Huge venue, huge nights.
Whiskey bar is properly good but parts of the venue can be a bit chilly sometimes, went before and it was perfect, but last week it was a bit chilly at Kamm's Kitchen, so wear layers so you can do things accordingly.

Be warned of the whiskey roulette, it's addictive!
Such an amazing venue love how warm it is and how easily accessible it is to south east. YAY
Though it was initially a bit challenging to find my way to the venue, It was worth the half an hour that I wandered around Canada Water looking at my phone. It's got everything you're looking for in a spot to get some delicious street food and drinks with some friends.
I made a beeline for the buttermilk fried chicken burger at Club Mexicana and did not regret it for a second. It was only for the sake of civility and the desire to stuff my face with meringue later on that I resisted the urge to go for seconds.
Drinks can be a tad pricey but that's not a massive surprise since it seems to happen at all the other street-food pop-up markets around London and portions are "large tapa" rather than meal but that just means you get to try more delicious food!
The vibe is chilled, the food is good (read amazing!), the beer is cold, seating is plentiful which is rare indeed at these kinds of places and you might even manage a bit of celeb spotting (we tried to be cool and casual about coming across Professor Green and failed miserably).
If for some reason you find yourself bored (drawing a blank at what that reason could be), you could always have a walk around and have a look at some of the interesting bits of art and décor that make the place that extra bit special.
I could go on about the ace food and the delicious drinks and the awesome vibe at this place, but it seems that lots of people have been doing that already. So instead, I'm going to share a little story with you about when I visited Hawker House.
There I was, eating brisket with chimichurri with a friend and just generally minding my own business, when out of the corner of my eye I watched a lady march up a guy who I assume to be her boyfriend/husband, and chuck a pint of lager all over him – SPLASH – before holding up her phone to show him something, and storming off. He just sat there, in blank-faced shock, with beads of lager dripping off the end of his chin. Then he chased after her, and something of an altercation ensued. A security guard had to intervene to calm the situation. The lady looked reet upset, with mascara down her face and the like. The guy mainly just looked wet and lager-like. I didn't like to gawp (well, that's not true, I completely did because it's always entertaining to watch the misfortunes of others, but that brisket with chimichurri wasn't going to eat itself)... but then, just a few minutes later, I watched the lady and her beer-soaked significant other leave not only together, but HOLDING HANDS too.
Who knows what the full story is? We can only speculate. But whatever the details, I can only conclude the Hawker House has the power to heal fractured relationships, and for that reason I'm giving it the full 5 stars.
Show More