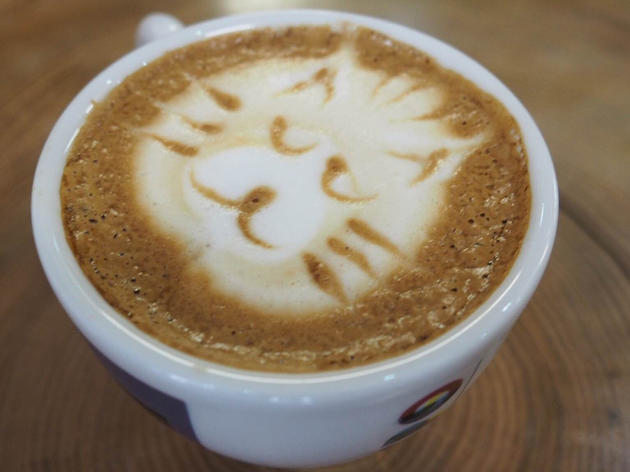 This Rivington Street spot is billed simply as a 'café with cats' - which seems about right to us. These kinds of places are pretty big in Japan and they're now starting to make waves here - with east London first on the bandwagon, of course. It's supposed to be a relaxing way to spend some time.
A selection of tea is served alongside cakes and desserts but it's mostly about the company here - a coterie of kittens and cats apparently all paying their way. Mawz, a ginger Persian, is the GM; Teddy, a grey Scottish fold, is the head chef; and Tashuu and Simba, a pair of Bengals, are security.
It works out as five pounds per hour, with food and drink charged separately. House rules apply.
More
Less
London Cat Village says
We are a cat café in Shoreditch. We have 11 beautiful kittens with more four-pawed friends on the way. Come and make some feline friends and why not sample our range of delicious cakes and coffee, too!
More
Less
Venue name:
London Cat Village
Contact:
Address:
47 Rivington St
London
EC2A 3QB

Do you own this business?
Average User Rating
2.6 / 5
Rating Breakdown
5 star:

2

4 star:

2

3 star:

2

2 star:

1

1 star:

5
Quite a frustrating experience. The village hosts some 12 cats, which are protected by a whole bunch of rules. The result is that the interaction with them is very limited. Much more limited than with the cat you could find in a friend's home. In general these cats are bored and boring. Of the (barely) one hour we spent in the village, 9 of the 12 cats were sleeping in areas were (according to the rules) they could not be disturbed. The other three were sleeping in remote corners of the village, where they were really difficult to be approached. Only for a few moments, you could see a cat moving from one place to another.
The food was acceptable, but given its price, this is the minimum you could expect.
And the interaction with the ladies in charge of the village was quite tough. We (the customers) seemed a necessary and unavoidable annoyance for them. I felt treated accordingly.
In summary, no value for money at all. I'll never show up again in this place.
Cat's are lovely, staff is horrible and rude. The Asian lady (the chubby one) is one of the less welcoming people I have ever met, and I have met all kinds of people. It is a real shame, because if they actually knew how to run a business, they would have a queue in front of the door every day at every time. You will find 6-7 people at the most and 4 of them are part of the staff. If you love cats, avoid this place, as it is really dissapointing!
Awful place.
The staff are rude argumentative, awful and should not run a cafe. No one answers the phones, I tried to amend a booking and they were so unhelpful and then went on to charge me double saying i hadn't attended, even though I had! Since trying to get a refund all I've been met with is disgusting emails and spiteful responses.
The atmosphere is not a relaxing one for the cats and with the staff they have at the moment I would avoid.
I feel sorry for the cats.
Lady Dinah's is much better.
The most horrible experience I ever had!!!
Do not go to that place as you paying money to those they don't even love cats.
First 40min of it was very pleasant cats lovely nice atmosphere but right at the end of that experience one of the cats started drinking milk and throw all of it on the floor it was adorable for everyone as most of the time he was asleep.
And that's when that horrible women came it grabbed the cat twice very hard way as he did made that noise like was hurt.
When I did tell her that I do not appricate the way she handle the cat she kicked off.
Never meet such as rude person before
She had a go at everyone around blaming us for cat messing about and she was going on and on for 5min.She didn't even apologise once
and then she said our time is up anyway so we have to leave.
Then the owner Adam came in and started he's investigation.I felt like I'm at the police station as he was expecting everyone to confirm what's happend like I made up that story.
Obviously there was ar.6 unhappy customers in there absolutely shocked with the whole situation plus there's cctv in there so he could check that if cctv is even working.
I ve got 3 cats myself and I'm very dissapointed that there's people out there they just want to make money but truly they do not care abt animals.
That Asian lady as she refused to give her name shouldn't be working there at fist place and the owner should pay more attention to what's going on around if he even care about those cats himself.
He did apologise and gave up little discount but there's no price when is coming to mistreating animals.Those cats should be enjoying thier life not being locked in the coffe shop and being used for business purposes especially when people working there they don't really care abt them.
It makes me wonder if that lady acted that way in front of the customers how is she behaving when the shop is closed...
Not the best cat café I've been to, its small and not comfortable, there should be a larger area for cats to sleep in peace. Staff & management need to take the 'CHILL PILL', stop big brother watching every move the customers make and to learn the 'foundation' of CUSTOMER SERVICE!!!!
I am marveling at all those people that had a great time!!! Probably I did not because I came late 17:30. I see pictures with people having cats in their lap when I got there the rule was not to pick up any of the cats not to pet them if they sleep ( they were all sleeping but 3-4) the staff was OK but the service is slow plus I had to cappuccinos that weren't tasting of coffee at all!!! I am not leaving this review to be mean... I loved the cats I would have liked to cuddle not just stare at them
The best cat cafe in London. We've been to the other cat cafe and there wasn't much affection or interaction between staff and cats, but at the Cat Village, the staff clearly care. The layout is far superior and the cats are all clearly so cared for and well looked after.
On our most recent visit, we were informed of 3 new adolescent cats, rescued just this week. Still very skittish and segregated from public interaction; but staff were constantly checking on their wellbeing and ensuring they were happy and safe.
Please do visit the Cat Village, you will not be disappointed!
And I am officially claiming NuNu, she's gorgeous.
More venues
Sponsored listings