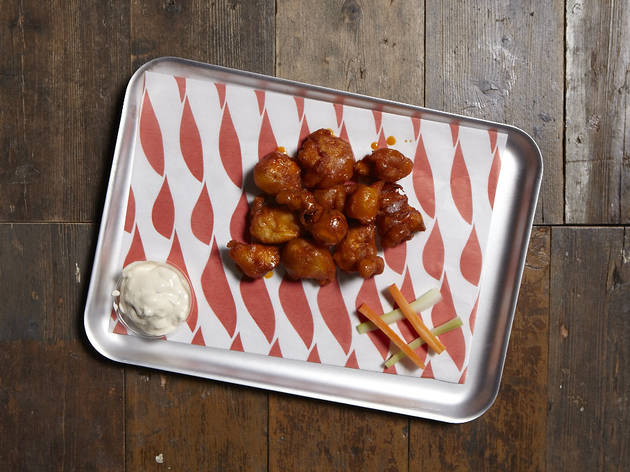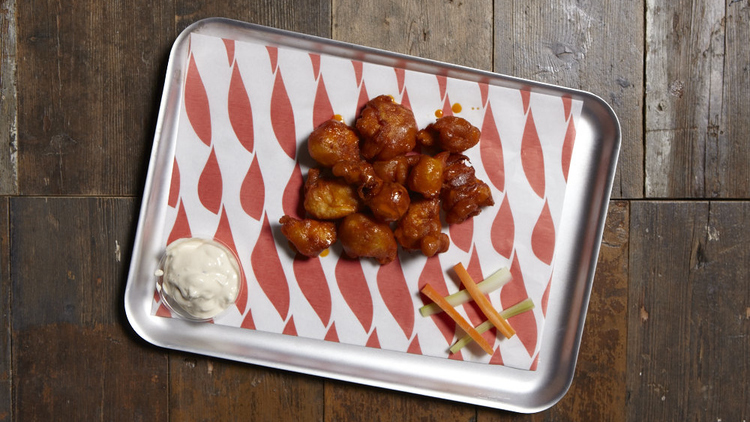 They're at it again. The meat-lovin' crew that gave us Meat Wagon (a roving burger truck), Meat Liquor (burgers and booze) and Meat Market (above a Covent Garden market) have just spawned this Shoreditch offshoot. If you haven't got the hang of the naming convention by now, this place serves meat in a mission – a former Christian mission. The plaque on the wall, dated 1915, pronounces that the building first opened with the aim of doing good works. We're not sure what the aim of the current tenant is, but we do know that it focuses very (very) hard on being trendy.
The windowless main room is dark and grungy, with light only via a new stained glass ceiling – a diabolical expression of the Last Supper, where demonic skeletons break bread with sinister-looking hogs, and an all-seeing 'Eye of Providence' watches while you eat.
The music was more upbeat, on our visit veering from Nancy Sinatra to Shuggie Otis then Dolly Parton. Original features, such as the parquet floor, are juxtaposed by rough, back-to-basics elements: tables made from salvaged boards; glass demijohns (the kind used for home-brewing) hanging from the bar.
The cooking is equally rough 'n' ready: alongside the burgers that made the Meat brand famous are new dishes, such as those served 'onna plate'. Ours, a 'chilli garbage plate', was a dishevelled composition that began with a layer of fries, then chilli, then a beef burger patty, topped with melted cheese, finely diced onion and jalapeno, and a final drizzle of French's mustard. Unfortunately, while this dish's individual components delivered on texture and flavour, the sum of these parts, presented as a soggy, amorphous mass, did not equate to greater than the whole. Dinner for your dog, yes: dinner for you, not so much. Better was our 'Peckham dip', which saw folds of thinly-sliced beef heaped into a soft bun with sweet caramelised onions and a deeply bovine pot of gravy for dipping.
Service was over-eager to the point of being irritating. Our starter plate was whisked away while we were still chewing, and at one point, three waitresses in rapid succession interrupted us to ask the same question. Meat Mission looks great as a bar, but as a restaurant, it'll have to work harder to convert the unbelievers.
By Tania Ballantine
Venue name:
Meat Mission
Contact:
Address:
13-15 Hoxton Market
London
N1 6HG

Opening hours:
Mon-Sat noon-midnight; Sun noon-11pm
Transport:
Old Street tube
Price:
Around £40 for two.
Menu:
View Menu
Do you own this business?
You may be interested in:
Average User Rating
3.7 / 5
Rating Breakdown
5 star:

4

4 star:

9

3 star:

7

2 star:

2

1 star:

0
Messy eatery but that's the way they like it.
Definitely the best wings in town without a doubt, I also highly recommend the Bacon Cheese Burger, or the Dead Hippie, sounds gross but is super tasty!

Very cool location and the interior is very Gilbert and George, with huge imposing stained glass windows. If you like cocktails you're in for a treat, they have a large array, the silver angel is my personal favourite closely followed by the White Russian milkshake.

It's a really great venue for group bookings.
It kills me to only give this three stars because the food is great, but when reviewing you've got to think of the experience as a whole.
Staff & atmosphere - I was aware of how busy the restaurant is so had made a reservation ahead of time. Even so, we had to wait 30 minutes after our set time to finally be seated. Not the friendliest bunch of servers or the most attentive, and every time we needed something (to place an order/ new drinks etc) we had to wave our hands around to get attention... at the same time it constantly felt like they were clearing things away the second we were finished and were pushing for us to be done and get out. The room is very dark (although not as dark as the Marylebone one) but the decor matches it perfectly and gives the whole place a sexy underground feel.
Food & drink - the food arrived quickly and was exactly what I had been expecting: messy deliciousness. Burgers are big and full of meat, with sauce that trickles down your hands the way a good burger should. Hippie fries are a no-brainer and add to the glorious cheesy concoction. Pricing is a little above average but worth it for what you get and how you feel afterwards. They have a great cocktail selection but these are quite pricey (especially when they're massively filled with ice) - they taste great nonetheless, so I would say you just need to budget a little higher for the night.
Extra - Chicken Liquor in Brixton is a calmer but equally delicious ulterior option (although I would suggest they are better for lunch); Date night I would suggest Marylebone Meat Liquor and Shoreditch meat Mission for a big group dinner; The photo booth is a lot of fun!

Really don't know why there is so much hype about this place. It's incredibly dark in there, which is fine for a night out but when we visited on a Sunday afternoon it felt moody. The burgers are fine but nothing particularly stand out - they are served on a tray that isn't wide enough to go to the edge of the table, so we found we were dropping food on the table. Not ideal - why not give each person their own tray, if that's how you like to do it?! Cocktails are very good though, and the list is extensive, and service was friendly and fast. Without those things it felt a bit like a glorified McDonalds. London is overrun with burger restaurants now, so competition is fierce. Choose your next burger wisely.
Meat Mission is great for almost any occasion. Whilst I can't think of anywhere worse to go on a first date, what with shared trays of food, a distinctive lack of cutlery and a mass of greasy finger foods, for a friend's birthday or casual meal out, it's the perfect setting for a great evening in good company. For around £20 you can get a rather delicious burger, several sides and a bottle of bubbly to share if you so fancy. Besides the good food and cocktails, the venue itself is pretty cool too, the staff are friendly and it has a different vibe to most other restaurants. All in all, I'd highly recommend this restaurant to anyone who enjoys good food, tasty cocktails and somewhere a bit different to your ordinary, run-of-the-mill chain-style restaurant.
I had been to Meat Liquor on Bond Street a few times. I love the food there! It is tasty and the portions massive. I decided to take a friend to Meat Mission in Hoxton to introduce her to the wonders of loads of tasty meat. The place is lighter than Meat Liquor, which is good so we can easily read the menu, and it seems to be a bit smaller. We were sat in between two sets of friends. Sitting in the middle of the restaurant equals being a bit squashed and sharing your private conversation with strangers. The menu seemed a bit different; it had more alcohol than food. It didn't have the super yummy fries with cheese for example. I ordered the gigantic chilly dog, my friend ordered a cheese burger and one bowl of fries to share. The waitress bought us two fries. I told her I only ordered one and she took it away. No drama. We finished eating and fancied some cocktails. I asked for the menu and they got me the bill. My friend and I got a bit put off by it and decided to go elsewhere for cocktails. We paid the bill in cash: it had an optional service charge and an optional donation for charity. They don't mention the name of the 'charity'. We paid for the service charge but not for the charity. So our lovely waitress came over saying the bill was £1 short. How was it short if it was an optional donation? The service wasn't good. The waitresses act like they are too cool to serve us; also, the table setting can make it feel a bit overcrowded. The food was good but if going back there means to be squashed between other customers and being served by someone who thinks she is too cool to bring you food, I would rather travel all the way to Bond Street and have the full package: food and customer service.