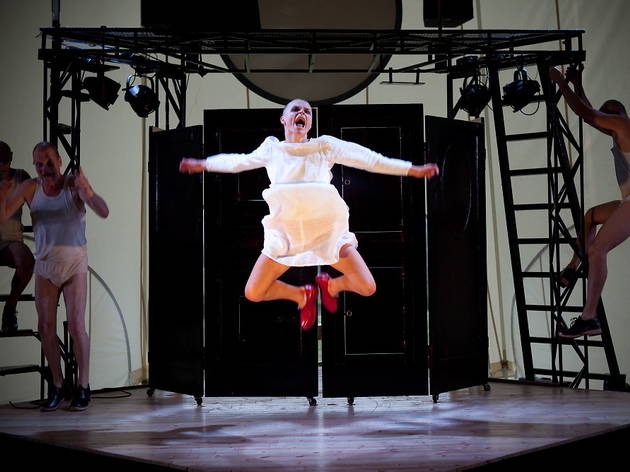 Looking for the most potent ruby slippers in town? You won't find them on Andrew Lloyd Webber's new Dorothy. Nor do they spangle, sparkle or mince. They are great hoofing blood-red clogs that slam down on BAC's stage with such bacchic abandon that it's as if the devil herself has come to dance in Battersea.
'The Red Shoes', first seen here in 2000, was the show that defined director Emma Rice's partnership with free-spirited Cornish theatre-makers, Kneehigh. Rice and Kneehigh have grown bigger since then ('Umbrellas of Cherbourg' opens on the West End in March). But they've rarely been better than in this makeshift riff on the folk tale about the naughty girl who is cursed to dance forever: it's theatre made with wit, heart, guts, gore and tenderness.
The performers – three men, a girl and a couple of musicians – are directed by a world-weary drag queen who struts above them doling out roles with a fishing rod. Barefoot, with shaven heads, in white underpants and wife-beaters, they look like oddly muscular Holocaust victims or chemo patients. They tell the story with their whole bodies, filling the gaps beween Anna Maria Murphy's macabre rhyming lines with wistful physical wit, clownish pratfalls and deep feeling.
From the moment she puts on those cursed clogs, Patrycja Kujawska conveys the agony and the ecstasy of dancing to the beat of your desires. Simon Baker and Stu Barker's soundscape closes in: its folksy, banjo and trombone waltz through the music of lust climaxes in crashes of operatic doom. 'The Red Shoes' is a misogynistic little fable and Kneehigh's radical rewrite plunges in, beyond ankle-depth. Dancing is often a metaphor for sex, but when Kujawska's feet are sawn off with agonising skill by a kindly butcher, it feel like watching a voluntary clitorectomy. Passion, wit, charisma and drag are the medium, but they don't overdress the message which, as the drag director says in the epilogue, is a kick to your heart from 'those who dare to dance to a different beat'.