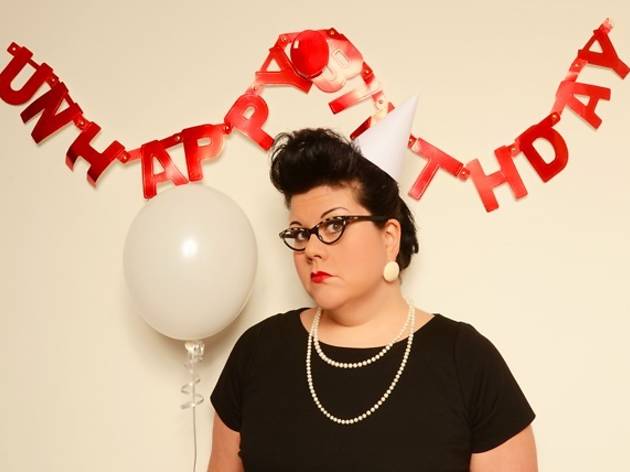 1/2
Amy Lamé's Unhappy Birthday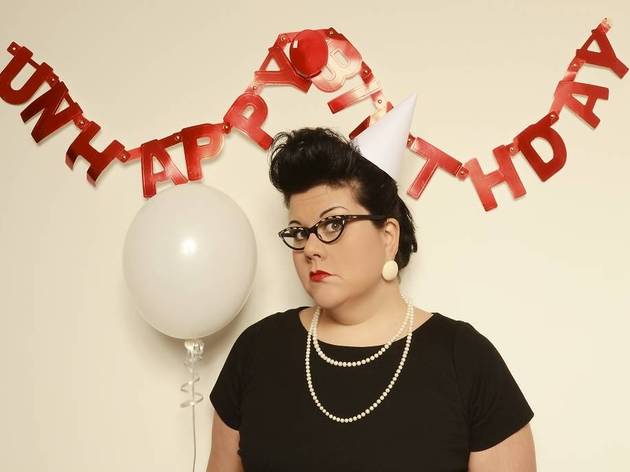 2/2
© Tom Sheehan
Amy Lamé in Unhappy Birthday, 2012
Time Out says
Morrissey has been one of the profane patron saints of queer performance company Duckie since its inception in 1996 and he takes centre stage – albeit in Godot-like absentia – in 'Unhappy Birthday', an immersive piece created and performed by the group's co-founder Amy Lamé. Although this isn't a Duckie production, it blurs the lines between party and play as Duckie's shows do.
In her familiar mode of no-nonsense conviviality, Lamé welcomes us to her birthday, where a seat is set aside for Moz as guest of honour. We sit in the round, party hats on, poppers at the ready, playing a game of pass-the-parcel
in which each layer prompts a turn about an aspect of Lamé's devotion to Morrissey, from squealing teen adoration and ecstatic quiff-creation to anticlimactic encounters and ideological disillusionment.
Although skimpy in terms of character and narrative, 'Unhappy Birthday' is impressive as the stylish and engaging realisation of a distinctive DIY ethos, a teenage-bedroom fug of mixed-up narcissism and progressive yearning neatly characterised by the show's programme, which is also a fanzine and an order of service.
It's directed by alt-cabaret dynamo Scottee, whose hand seems evident in the simple, effective colour scheme and thoroughgoing embrace of mess: be prepared to leave spattered with cake, gladioli petals, Dax hair wax and Eau de Moz, a bespoke scent that only a true believer could love.
Details
Users say