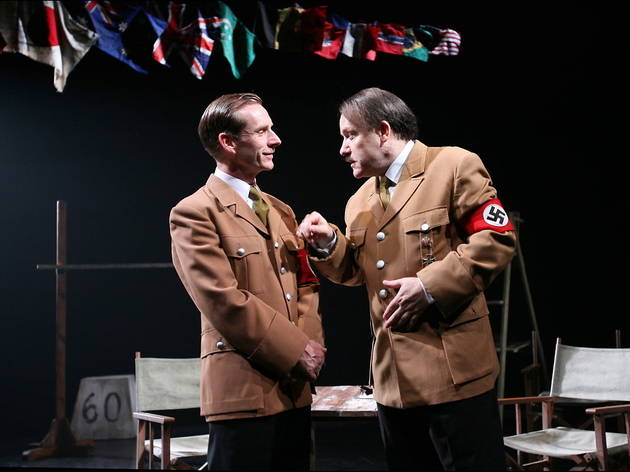 Tom McNab is a former Scottish triple-jump champion and British Olympic coach, turned technical director on Oscar-winning film 'Chariots of Fire' and sports novelist. So he has more than earned his audience for this play about the attempted boycott of the 1936 Berlin Olympics. But it's overambitious, attempting to join the dots between Nazi Germany and America's Amateur Athletics Association, Leni Riefenstahl and Jesse Owens, in a relay of episodic scenes in which the dramatic torch passes unlit.
Then, as now, the rhetoric of the games was largely visual (as with this summer's London games, they even had a gigantic Olympic bell). But here, in both the dry wrangling of the American sports establishment and the curiously warm comedy of the Goebbels/Hitler double-act, dialogue dominates.
Nagged by the question of whether sport is above politics, McNab clearly understands ambition in all its guises. But '1936' never feels like more than an informative springboard for the panel talks that follow every performance.
Rating Breakdown
5 star:

2

4 star:

0

3 star:

0

2 star:

0

1 star:

0
It is a good story and the director deserves credit for seeing its dramatic potential without adding corny moments. I was expecting to have a sense of deja-vu given the fact it is about WWII and nazi persecution, but the story gives a new perspective on the usage of propaganda during the '36 Olympics. It is very enjoyable thanks to a good narrative flow and a talented and well casted line-up. Top marks to the actor impersonating Hitler and the actress with two roles (Goebbels's girlfriend and Gretel).
Saw this at the preview showing and was very pleasantly surprised. The play is informative of the events surrounding the 1936 Olympics without suffering from 'information overload'. The real gem of the play is the actors. Wonderfully crafted performances bring the play to life and Hitler has a wonderfully nuanced performance which doesn't stoop to the cartoonish lows of many others I've seen. The real discovery is young actor Lauren St Paul who is a real delight to watch in the very different roles of film-star Christine and athlete Gretel her transitions between the two are remarkable as are the character arcs she maintains for them both, especially Christine. Only downside, I found the music a little loud for the space at times, but as this was the preview I expect that this will be remedied for the other performances. Overall, well worth seeing and a very enjoyable couple of hours!