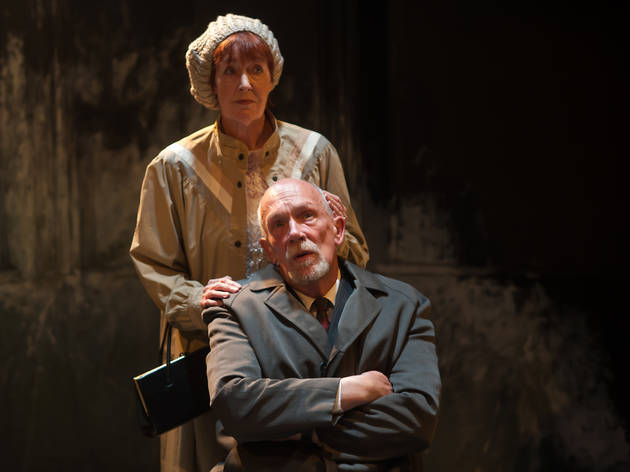 Time Out says
They say old age softens you. Not so the acerbic Desmond Drumm – in his case only the Reaper can do that. Receiving its first UK revival in 30 years, Hugh Leonard's sentimental but sharply funny play takes the form of a final reckoning, which Eleanor Rhode's understated direction and James Turner's abstract design prevent from ever becoming saccharine.
Knowing he only has six months to live, Drumm visits Mary, his one true love, and Lar, the good natured 'ignoramus' she was forced to marry. He is accompanied as always by his doting wife Dolly, completing a love quartet gone awry. Memories are made flesh as their youthful selves appear, enacting the mistakes that haunt the present.
It's a romanticised set up, one that concludes with a treacly realisation on the part of Drumm that absolves him of the more complex moral questions raised by this memory play. But Leonard is not all sentiment and his play is laced with razor sharp wit. He drops literary references like marbles and is as uncompromising about his protagonist's faults as everyone else's.
The youthful characters are mirrors of their grey-haired selves as an assured cast of eight echo every tic, mannerism and posture while revealing the subtle changes of personality that come with age. Leonard's affectation of time travel consequently feels almost real, transforming a memory drama into a piece of magical realism.
Amongst a sea of strong performances, Hugh Ross and David Walshe bring a genuine frustration and regret to Drumm's impossible restraint, while Mary Mallen is particularly iridescent as Mary, the young girl who wins both hearts.
'A Life' reminds us that sometimes paths that have been chartered cannot be changed. Is this failure, or just life?
Details
Users say