Aladdin and the Feast of Wonders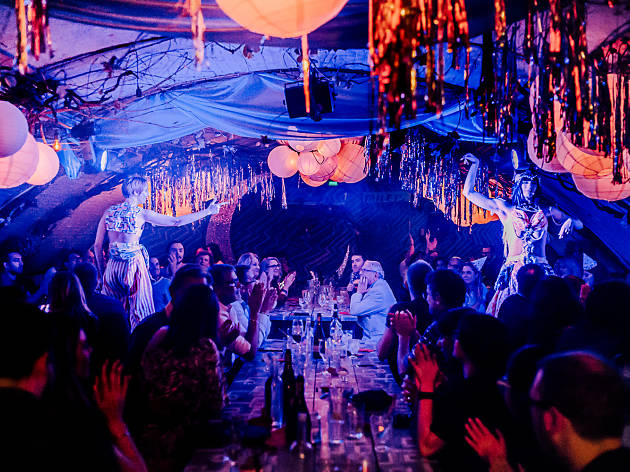 Time Out says
This dinner theatre show serves up a menu of tempting delights, plus a drag version of pantomime fave 'Aladdin'. Drag performer ShayShay has created a lip-synching, filthy-joke-filled spin on Aladdin's bid to win over Princess Jasmine. Attendees are invited to come in fancy dress (but not the culturally appropriative kind) for a night of glitzy, inclusive panto fun.
Details
Rating Breakdown
5 star:

0

4 star:

0

3 star:

0

2 star:

0

1 star:

1
Aladdin and the feast of wonders – Cheap and nasty
Even giving this 1 star is far too good for it. The evening was one of the worst I have ever experienced.
First our coats were checked in, right by the doors where there was no heating and it took them forever. Once we were in the venue there were two sections. We were kept in a small holding area, with the tiniest bar. I asked for a Cosmopolitan, which they could not mix. I was offered something else , but did not quite know what it was, so I turned it down. It was only after dinner that it transpired that there was a cocktail menu, but the staff did not bother to present this. Rather they preferred to point to a pre-poured table with fizz, none of which was bought around . Part of this room was nicely decorated , but that was the last nice thing the entire evening.
The show started, and it was awful – rude, crude and offensive. They had no regard for what is generally understood to be pantomime : music, topical jokes, and slapstick comedy. It was all crude and offensive and sexist. None particularly funny or clever, just crude and offensive with the most flimsiest of plots ever. Some of our party were so offended they left. I don't blame them. I hoped that maybe the actors could see that the audience are not receptive, and adjust the act, but that was beyond them – all they know is from the gutter.
We were seated in arena style seating, with no seatbacks and no getting away from the offence in your face. At 8PM we were finally served the starter, which was supposed to be 'noodles with jewelled vegetables'. It was Pot Noodle which you hand to hand around yourself. The staff refused to clear in the dirty dishes and we were obliged to sit there with the bowls in our hands, while the entertainer insisted on applause – too stupid to see that we all still have the sodding bowl in our hands, half full with soy sauce, which obviously no one wanted to spill. There was no access to the toilets as these were at the back of the premises which was kept locked. Basically we were in a cell. All the guests were starving , and finally dinner was called. But not after having to sit through more filth.
We were then taken to the dining room, which is was not. It was a hall with benches. Again or names were checked against a list, the same on as at the door, which took ages an no one had the sense to arrange it alphabetically! All the while people we desperately trying to push through to the vastly inadequate toilets. The next room was very cheaply decorated with tinsel and no definable theme. It looked so cheap. Worse, the venue was freezing – the air-conditioning was on FULL BLAST in the middle of winter, right above our heads. We complained several times, but the rude staff completely refused to turn it off. Some of our party had actually gone back downstairs to collect their coats. Who on earth want to eat their dinner with the coats on?! We pointed out that we are obviously freezing and that the conditions were unacceptable – STILL they refused to turn it off, saying the venue get very warm 'later'. I told one girl that its unacceptable and were are not sitting there with our coats on waiting to get warm later. WE literally had to fight with the awful creature. We were not going to put up with it. Only when one member of our party climbed the table to turn it off himself did they finally react and turned it off. The venue remained cold as there is no heating, or they were too cheap to turn it on . It's a total disgrace that you can leave your paying guests to shiver in their coats, because you are too lazy to flip a switch. But we paid for our tickets, so obviously they did not care.
We were sat at benches with no back rests. The benches themselves were so long that once you are seated you are stuck, unless you make the whole row get up. You could not move. Besides no back rests to the benches, and no seat covers, it was horribly uncomfortable. It was finally 9PM when we were served two boiled carrots on some undefinable sauce. We were so starved that we just ate it, regardless of how poor it was. All the snack that anyone may have had in their bags were taken off them when they conducted the bag search allegedly for security reasons, by now more people were leaving the party. The main course was finally served, in large communal bowls, from which you had to help yourself. The dishes were enormous, so you could not pass them around, and you could not get up from the benches to serve yourself and pass the plates around like you are in a caff.
I left just after the dinner, as did the majority of the party. There was no way that we were going to sit through any more of it. I find it fantastic that in such a small venue the staff cannot see that their guests are unhappy and offended. And how they can think it's acceptable to let your paying customers freeze is beyond what guest should have to put up with and finally serve dinner after 9PM is ridiculous. To describe the act as 'adult' content' is not at all a fair reflection – it was rude, crude and offensive and in the poorest of taste. It's worse than the filth that Donald Trump would spew. Anyone with the slightest bit of self-respect should stay far, far away .