Heads up! We're working hard to be accurate – but these are unusual times, so please always check before heading out.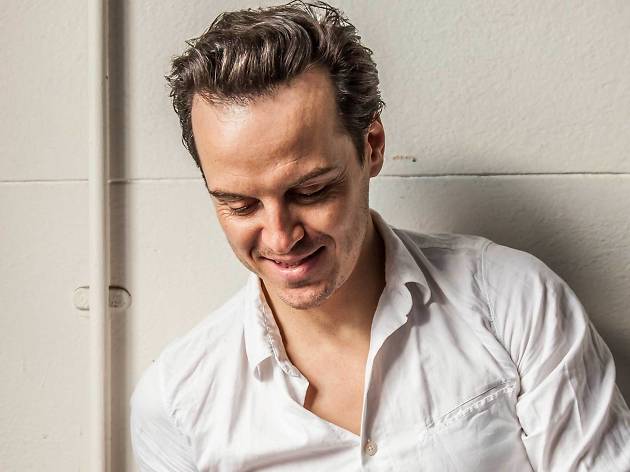 Andrew Scott talks about his return to the small stage
'Sherlock' and 'Spectre' star Andrew Scott is back on the London stage with 'The Dazzle'
Actor Andrew Scott returns to the London stage with 'The Dazzle', which takes place at Found111, an atmospheric pop-up venue in the abandoned St Martin's School of Art on Charing Cross Road. It's an intimate venue for a star who has commanded the screen in movies like 'Spectre' and 'Pride' and as Holmes's nemesis Moriarty in 'Sherlock'. But as he explains, Richard Greenberg's play 'The Dazzle' is a special production, about a real-life New Yorker who chose to live his life in an eccentric way.
Why are you here doing a slightly random play at a slightly random venue in the middle of winter?
'Because I love Richard Greenberg's play, it's really funny, very special. And they've got this incredible building. It's very intimate, 130 seats.'
It's a true story: New York hoarders the Collyer brothers, who isolated themselves from society.
'Yeah, they were eventually found dead, buried in what you might call their junk; there were 14 grand pianos. They're sort of legendary figures in New York. They're beautiful characters: two brothers and a stranger who befriends them.'
The play is set a century ago but hoarding is quite a modern obsession.
'I've been reluctant to make too much of it: we've all got different attitudes towards our stuff! "The Dazzle" is about slowing down and how busyness is really glorified in our society. Langley Collyer, the character I play, is at a really different tempo to everybody else, a freak of nature to some extent. He found the early twentieth century hard – he wouldn't be able to live in the world now.'
'I'm not on things like Twitter, because if you are I'm not sure you can really complain about your privacy.'
Are you comfortable with the modern world? You don't dabble with social media...
'Well, I can't say that I've never looked at that stuff because that would be disingenuous. You know, I come from Ireland, I like talking, I like chatting to people at stage door. But I'm not on things like Twitter, because if you are I'm not sure you can really complain about your privacy.'
The last play you were in, 'Birdland', was about a rock star who had achieved all his dreams and become jaded. Did it resonate with your post-Moriarty fame?
'I'd be at the stage door and there'd be all these screaming people, and then I'd go to Pret to get a sandwich and everybody would ignore me. Once you get your head around that it's fine, it's ridiculous nonsense.'
Since your screen career took off, is it fair to say your plays have got weirder?
'Yeah. I'm all for the big entertainments and the big movies. I just like to exit stage left after.'
Stuff like 'Spectre' is pretty classy as blockbusters go…
'It's not crap!'
Have you ever knowingly done a crap film? Did you enjoy it?
'Yeah! [laughs] It was okay! That's a good question. It almost takes as much effort to make a bad film as a good film. I can say I've never done anything for the money. I haven't become cynical, I go into everything going, "This could be good."'
Does anything link your characters? You've played a fair few sociopaths and oddballs.
'The thing I'm interested in most is vulnerability, the chasm between what we present and that uncertainty we feel inside. When you start to go "I know fucking everything" – those people are the most dangerous. But I want to do more comedy, more romantic, soulful stuff and I feel pleased I'm being given a chance.'
So, er, I know you must be non-disclosure-agreement-ed to the hilt, but: any idea what's coming up in 'Sherlock'?
'There's the question! [makes a mock trumpet noise] It's okay, you have to ask, I'm just interested in the way you're phrasing it. Do I know anything about what's coming up in "Sherlock"? I do! I stay in touch with the gang…'