Heads up! We're working hard to be accurate – but these are unusual times, so please always check before heading out.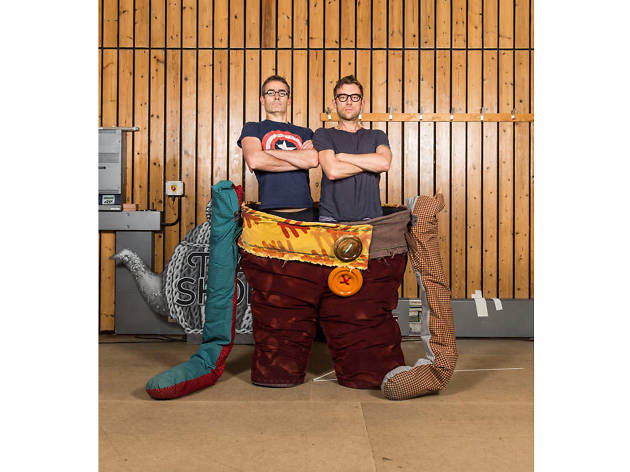 Damon Albarn and Rufus Norris: down the wwwabbit hole
We speak to Blur frontman Damon Albarn and the National Theatre's Rufus Norris about their new Lewis Carroll-inspired production 'wonder.land'
'I was number five on Twitter yesterday,' says Damon Albarn, shaking his head.
'I mean, how pathetic is that?'
We're in the office of Rufus Norris, artistic director of the National Theatre and a regular collaborator with Albarn since way before then. These two very respected middle-aged men have quite the bromance going on: when I arrive they are excitedly looking at – and I kid you not – a piece of nineteenth-century Ethiopian propaganda that Norris has borrowed off his mum.
They chatter like overgrown schoolboys: Albarn the wayward one who voices every thought in his head, Norris the drier, wryer one with a mischievous glint in his eye. Trying to steer a conversation with them is like herding cats, but it throws up random nuggets of gold, such as Albarn's reminiscence of an acting workshop in which 'we had Tom Hardy being a singing chair'.
They chatter like overgrown schoolboys...throwing up random nuggets of gold
Albarn – who doesn't use social media – is today bemused at being the focus of Twitter's collective ire after remarks Adele made in a Rolling Stone interview were pounced upon as evidence of a feud ('It's not even true: it's amazing how people will run with stuff that has no credence whatsoever and turn it into something and then watch the reaction'). He freely admits to being baffled by the internet, and tells an anecdote about reading an interview with himself on the Guardian website and not initially understanding
that the below-the-line comments weren't part of the article ('People were not kind; it was… enlightening').
Norris isn't what you'd call a web guru either: he ruefully recounts a story about an attempt to set a parental lock on his 13-year-old son's laptop, only to be told by him: 'Anything you can do I can undo in no time. All you can do is trust me or take it away.'
So is it strange that the two of them – plus playwright Moira Buffini – have devised 'wonder.land', a musical version of 'Alice's Adventures in Wonderland' that's substantially set on the internet? They had no choice, reckons Norris: 'The first day we sat down in Damon's studio to work on it, it was blindingly obvious that the internet is the modern-day rabbit hole.'
'The internet is the modern-day rabbit hole'
'Fucking obvious,' Damon chips in.
'But it's a long way from Lewis Carroll,' says Norris. 'We've kept key characters and references but he doesn't give you much of a traditional story to work with.'
Norris, one of the most spectacularly visual directors working today, was more impressed as a child by John Tenniel's fantastical illustrations than Carroll's story per se. The book did make a big impression on the young Albarn though – mostly because it freaked the hell out of him. 'I didn't like it,' he says. 'I found the Duchess's complete irrational behaviour really disturbed me when I was six years old and it did become part of the architecture of my nightmares. But I love the idea of the rabbit hole and the madness and the shape-shifting, they really give it its longevity'.
A commission from the Manchester International Festival, 'wonder.land' opened there for a short run this summer. It looked staggering. But the story – in which lonely Aly (Alice, in this 'wonder.land') finds escape from her parents' messy divorce in a lurid online realm full of eccentric avatars – was not all it could have been, and Albarn is frank about the fact that the songs were only 'about 45 percent' finished.
One possible problem is that Damon had the distraction of 'The Magic Whip', Blur's eighth album, which had been pieced together by guitarist Graham Coxon from a 2013 jam session and presented to Albarn without vocals just a few months before it was announced to the world.
'Honestly, I was looking forward to the new year with only ['wonder.land'] to do,' sighs Albarn. 'And then Graham arrived and he'd invested so much of himself into ['The Magic Whip'] and it was good and I felt like I couldn't not participate. And I wanted to participate – it was a great problem to have, but it wasn't ideal. I had three weeks to write the Blur lyrics before starting work on this. I had some sort of brain stress: the tips of my hair hurt when I touched them!'
'I had some sort of brain stress: the tips of my hair hurt when I touched them!'
Norris believes that 'musicals aren't written, they're rewritten', and that's what's happening now. The 'wonder.land' that will open in the NT's huge Olivier Theatre in a couple of weeks will be vastly different, with a retooled story, 'songs that everyone will leave the theatre singing', and a preview period that's actually longer than the entire Manchester run. If it was promising in the summer, its creators are confident it'll be spectacular come December. So that's good. But what I really want to know: is Norris a Blur fan? What's his favourite album?
'Aww, come on, why did you ask that?' groans Albarn.
'Yes, I am,' says Norris. 'Sometimes I fantasise about if I ever do "Desert Island Discs": I'd ask Damon if I could use an unheard sketch from one of the projects we've started, there's some gorgeous stuff that people have never heard.'
'I was asked to do "Desert Island Discs" when "Parklife" came out,' chips in Albarn, 'and I was just starting to get it all together and they changed their minds saying I was too young and they'd come back to me when I'd done a bit more. I'm still waiting for the call… I've been waiting 21 years!'
I ask Albarn what his favourite musical is (it's 'Oliver!') but somehow I trigger a discussion of the merits of Sandy Wilson's frothy 1954 musical 'The Boy Friend' that only ends when Norris is called away to rehearsal. Albarn, clearly in a good mood, is happy to field a few extra questions.
I ask what the status of Blur is: they recently finished the tour for 'The Magic Whip' by headlining New York's iconic Madison Square Garden venue, which he describes as 'a nice way to pause it'. But 'wonder.land' really is his focus right now – he was bashing out songs for it while Blur were touring Latin America ('so if there's an unexpected salsa flavour you'll know why').
'It's a long way from Lewis Carroll'
People have said some harsh things about Albarn, but I like him. He's gobby, but it seems to be born out of a childlike enthusiasm about things. But if he can't leave the house without getting flack then at least he's philosophical about it. 'That's all right,' he says, 'I'm used to it. Listen, I'm here because I love writing music and it's a privilege to work with such brilliant people, and it's the National Theatre and it's been my dream all my life and it's come true. So if I don't make it as good as I can possibly make it then I'm a fucking idiot and I deserve to be shot down in flames. We have another chance. Let's not blow it this time.'
'wonder.land' is playing at the National Theatre, Olivier until April 30 2016. All images are from the Manchester International Festival.
Watch an exclusive behind-the-scenes video
We've got an exclusive short behind-the-scenes documentary on the show when it ran at Manchester International Festival, in which Damon and collaborators talk about their journey through the looking glass.