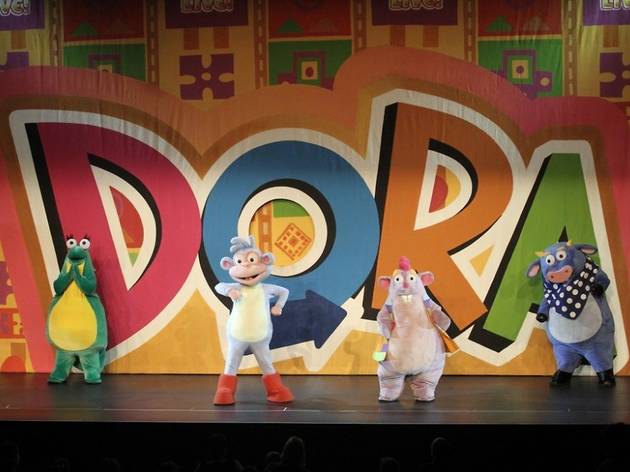 Watching five minutes of 'Dora the Explorer Live!' is the cultural equivalent of letting your child stuff their face with a fistful of jelly babies before washing the whole lot down with a litre of fizz. It's colourful, brash and an easy option for keeping the kids amused, but there's nothing of much substance in it at all, and it leaves a sickly, sugary aftertaste.
Based on the 'Dora the Explorer' books and TV cartoon, the show features all the 'Dora' regulars: Dora, the titular, insistently chirpy Hispanic heroine, her crew of animal friends, kleptomaniac fox Swiper, who tries to thwart Dora's plans, and her cousin Diego.
Admittedly, they are hardly the most roundly developed characters in the books and TV versions, but here they are rendered particularly facile by the enormous grinning foam masks that serve as their heads.
The dialogue is delivered in a uniformly upbeat intonation that is surely written with an exclamation mark at the end of every sentence. The songs are insipid and although the dancers are undoubtedly energetic – they would have to be with all that clobber on their heads – it's pretty routine. And why are these sort of kids' shows always so deafeningly loud?
The only spark of wonder in the whole thing is at the very end, when a shower of bubbles is pumped down from the top of the Apollo's ornate auditorium, eliciting gasps from the audience.
For fans of Dora it might satisfactorily deliver the cartoon's formulaic staples, but in terms of standalone theatre it pales by comparison to the breadth of stimulating, interesting and imaginative kids' shows regularly on offer elsewhere in the capital.
Rating Breakdown
5 star:

1

4 star:

0

3 star:

0

2 star:

0

1 star:

0
What a poor write up, I have to disagree completely. I thought the show was very well made and produced and the story line for pre schoolers was magic and something they could understand, WHAT EXACTLY does the above write up expect for children from 3-5years old? The Dora Live show included numercy, geography, and interation with there audience. There is not much more in London for Pre schoolers if you can enlighten us then please share. It was colourful fun and grabbed the attention of our children they enjoyed it and we left with a happy 2 year old wanting more and to top it off talking about Doras Adventure to the lost city to find her lost toy when we got home. I would be more then happy to recommend Dora Live to all parents with toddlers its a super fun show full of action music and excitment with excellent attention to detail.