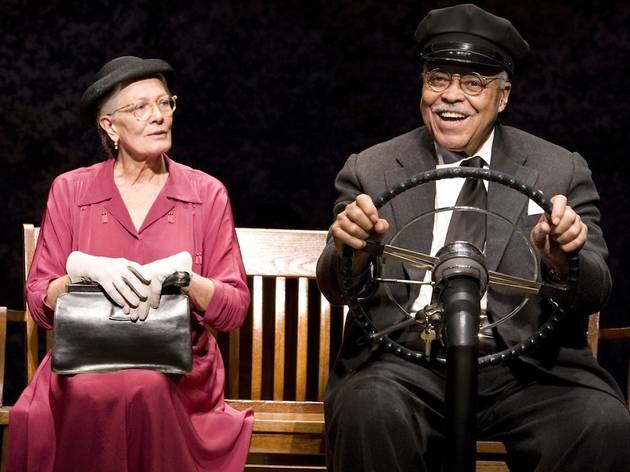 This Broadway transfer of Alfred Uhry's 23-year-old Pulitzer-winning play is elegant fare: packed with superbly aged acting talent and garnished with liberal optimism, it's conveniently short (85 minutes) and reassuringly expensive.
Uhry's study of an unlikely friendship, between a rich Jewish widow and her black chauffeur, is primarily a vehicle for great actors – the seismic landscape of racial politics in Atlanta from 1958 to '73 is glimpsed occasionally in the rear-view mirror.
Unlike their characters, Vanessa Redgrave and James Earl Jones are equally wonderful drivers. They play this platonic love story for all its worth: divided by race, class and mutual suspicion; united by a mutual road-trip through old age.
It is a joy to see this pair of canny West End and Broadway vets manoeuvre around each other – a fact they're evidently well aware of.
Redgrave's Miss Daisy is a vividly cantankerous ex-school-ma'am whose tough personality outlives her teeth and ultimately her marbles. She gives a remorselessly clear physical description of age, as Miss Daisy hunches her way towards immobility. But even as a wheelchaired ninetysomething, she still manages to flash a gloriously venomous look at her patient son (the excellent Boyd Gaines) when he dares to mention his wife.
Miss Daisy is the more obvious role, but Redgrave nuances her skirmishes with Jones's Hoke Coleburn with a delightfully girlish flair. When she falsely accuses him of having stolen a tin of fish, she is the matador to his infinitely patient bull, flourishing her trash can at him like a cape.
Jones's Hoke is stiller and deeper. He has a voice you could curl up and go to sleep in, and he uses every cubic inch of it to match her physical with his vocal skill. When he spoonfeeds her in their final scene, his tenderness moves you more than her theatrics. But their 25-year relationship is a long last tango between tenderness and theatrics: both are vital to the fun of the dance.
Uhry's play is a romance, so it's useless to expect it to bear too much reality. But its emotional and political innocence is a question of delicacy, not dishonesty. And Jones and Redgrave drive it home with consummate skill.