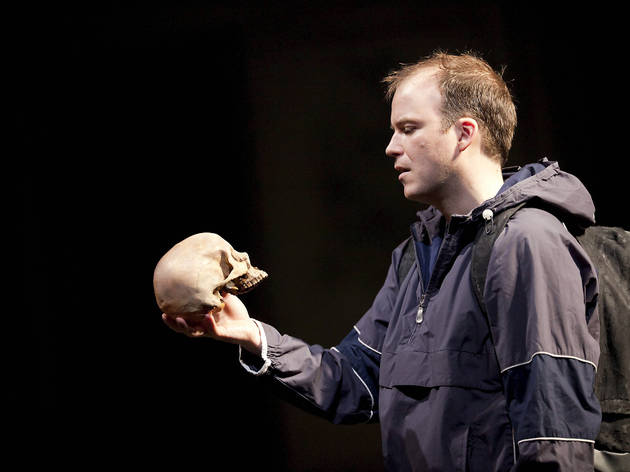 Despite the hopes and the inevitable hype, great Danes are a rare breed. We've had some famous ones lately: David Tennant's mercurial, eyeball-swivelling joker; Jude Law's accessible playboy prince. But neither achieved greatness, partly because there's so much more to Shakespeare's tragedy than the star who speaks those famous soliloquies. A great Hamlet also needs a truly appalling family (the mother; the fratricidal uncle who has popped into her bed and on to the country's throne). More, the 'rotten' state of Denmark which disgusts his will, must hold a mirror to the ulcers of our own time.
Nicholas Hytner's production – for a National Theatre which is peaking artistically and financially under his leadership - is great on all these counts. It opens in a hi-tech surveillance state where Hamlet – heavy with sadness, in Rory Kinnear's touching and meticulous performance – is continually spied on by dead-eyed, sharp-suited flunkeys with 'Matrix'-style earpieces. His stepfather, Claudius, (the superb Patrick Malahide) is a remorseless political operator with a close physical resemblance to Vladimir Putin: at court, he switches between realpolitik and slick statesmanship, and delivers his soapiest speeches straight to camera, sitting beneath a horribly avuncular portrait of himself. It's a deeply ingenious way to convey his grip on the whole nation and characteristic of Hytner's production, which serves Shakespeare's tragedy without flashy originality but with understated excellence and a Jeeves-like discretion.
There's subtle reinvention and deep feeling everywhere, on the great ramparts of the tragedy, and in its less-illumined corners. The royal family is murderously sexy and, at times, persuasively banal. Clare Higgins is lushly dysfunctional as Hamlet's mother: teetering around in stilettos and knocking back the bubbly to kill the pain, she's a tough old broad who's witnessed and wept for it all yet who can see the funny side when her son accidentally knifes the king's spymaster (David Calder's Polonius) in her bedroom.
James Laurenson is a revelation as the ghost of Hamlet's father, also doubling as the actor who helps unmask his murderer by staging a subversive drama. These two ornately speechy roles are often reduced to melodrama and parody: here, Laurenson helps Hytner make the play-within-a-play into a moving tragedy-within-the-tragedy.
Rory Kinnear's Hamlet is sympathetic, unstagey, subtle, very funny and so natural that every word he says, even Shakespeare's most quoted, seems coined on the spot. A balding student who kips on a dingy mattress and chalks smiley-face graffiti on the castle walls to protest against its king, he dreams up 'To be or not to be' on a fag break.
Hamstrung by depression (the jelly-legs in moments of crisis are eloquent); betrayed by everyone including his teenage girlfriend (Ruth Negga's Ophelia); and afflicted by bad dreams, his humour is an outlet for the essential humanism that is such a handicap to him in this shark-tank world, his antic posturing (and smelly tracksuit) are ways to keep that world away. Hamlet has been madder, braver, grander and more charismatic than this. But Kinnear makes you laugh with him, concur with him and weep for him right to the bitter end.