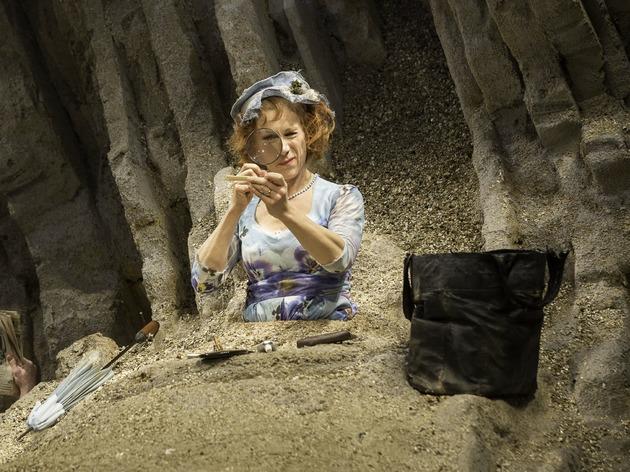 1/4
© Johan Persson
Juliet Stevenson (Winnie)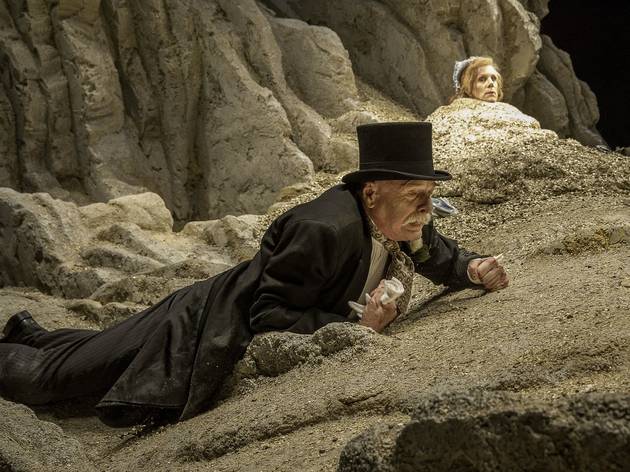 2/4
© Johan Persson
David Beames (Willie) and Juliet Stevenson (Winnie)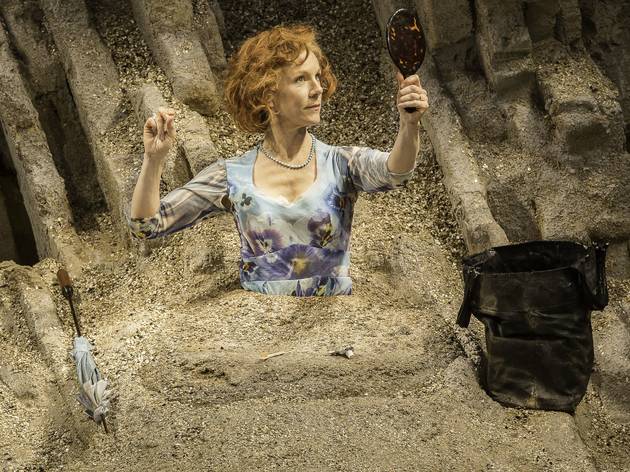 3/4
© Johan Persson
Juliet Stevenson (Winnie)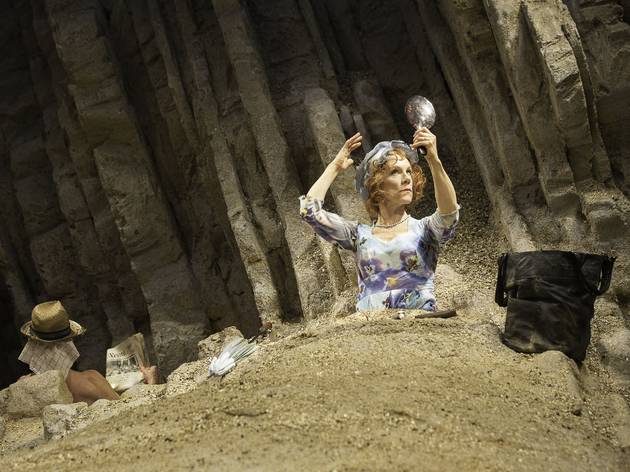 4/4
© Johan Persson
Juliet Stevenson (Winnie)
Time Out says
Friendly warning! We're working hard to be accurate. But these are unusual times, so please check that events are still happening.
If you want to showcase an actor's range, bury her up to her waist, and then her neck, in gravel. Reprising her role in Natalie Abrahami's brutal and tender 2014 production, Juliet Stevenson spends the entirety of Samuel Beckett's 'Happy Days' buried alive in what looks like a chunk of Jurassic coast. It's the narrow pivot for an extraordinarily expressive performance that burns itself into your mind's eye, little human gesture by little human gesture.

Winnie is a woman trapped within a hulking great metaphor: for the human condition, the fortitude of her sex, the miserliness of marriage and – Beckett not being one to snub the prosaic – the basic misery of the bloody Great British beach holiday. A harsh prism of light beats down from above. A palpitation-inducing alarm jolts her awake when she nods off. She has only the random contents of her handbag for consolation and an ineffectual husband (monosyllabic, 'conceivably on the semi alert', and either imprisoned or in retreat in his own private crawl space) for company. A gun sits just out of her reach.

Once you peer around the immovable central image of life as a process of gradual erosion (hard-hats off to designer Vicki Mortimer here for the sickeningly realistic rock slides), there's not much in 'Happy Days' that Beckett hasn't done with more brilliance elsewhere. But it's hard to imagine anyone bringing more warm multicolour to Beckett than Stevenson, or more subtle definition to the desperate cascade of thought. Witnessing her own demise, Winnie is like a reverse swan: mind paddling furiously, legs immobile beneath. At other times, as she cranes toward her husband (played rather unexactingly by David Beames) in her dusty blue sundress, you see a parched flower dying for just one drop of attention.

You're left, though, with an image from the surreal 'curtain call', which feels like flicking on the light in an unattended autopsy room. Beckett's till the last, Stevenson's disembodied head receives the applause with its eyes closed, and the sweetest of smiles playing on cadaverous lips.
Details