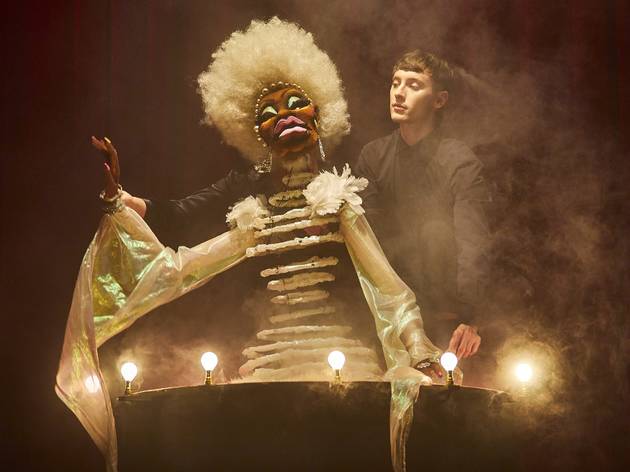 1/10
© Brinkhoff-Moegenburg
CABARET DECADENSE-featuring ANDRE ANNE LE BLANC AND STEPHEN QUINLAN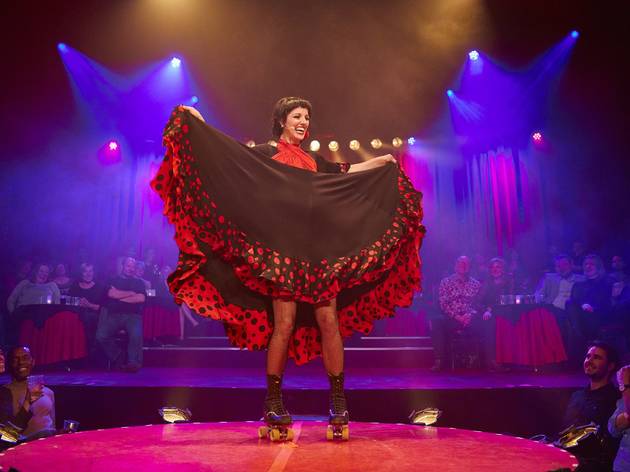 2/10
© Brinkhoff-Moegenburg
Amy G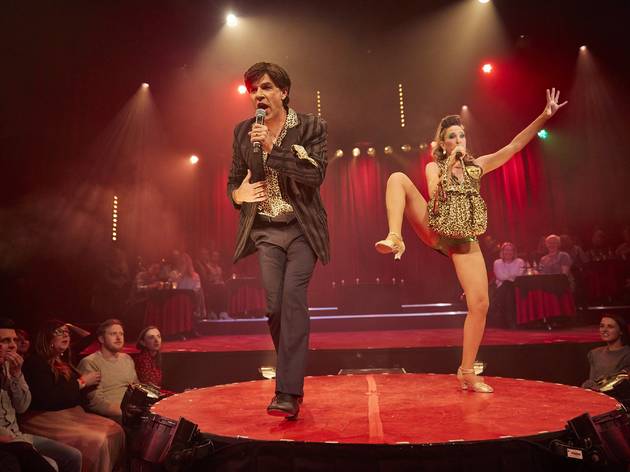 3/10
© Brinkhoff-Moegenburg
 DAREDEVIL CHICKEN CLUB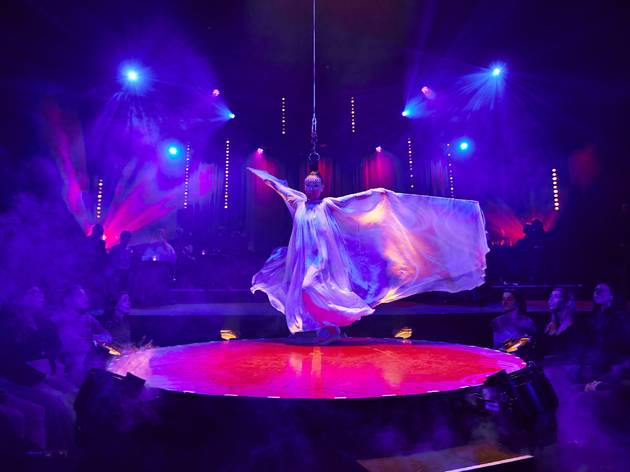 4/10
© Brinkhoff-Moegenburg
HAIRHANG by FANCY CHANCE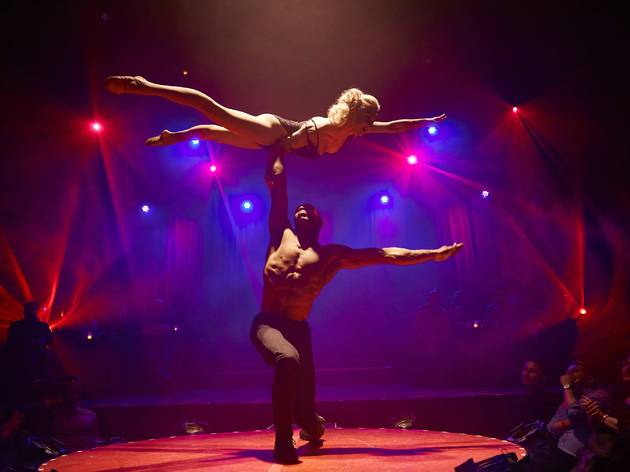 5/10
© Brinkhoff-Moegenburg
HAND TO HAND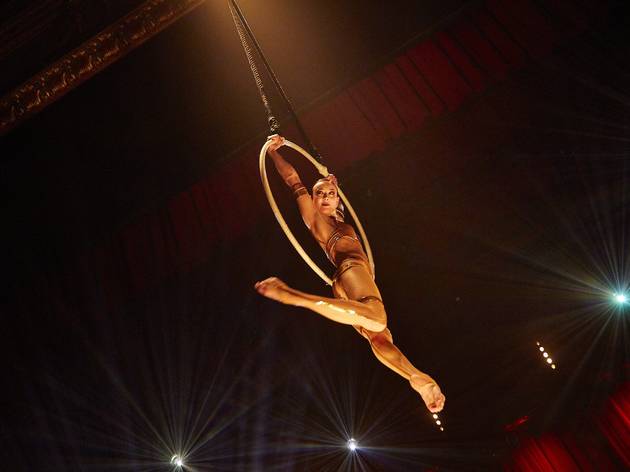 6/10
© Brinkhoff-Moegenburg
LEA-HINZ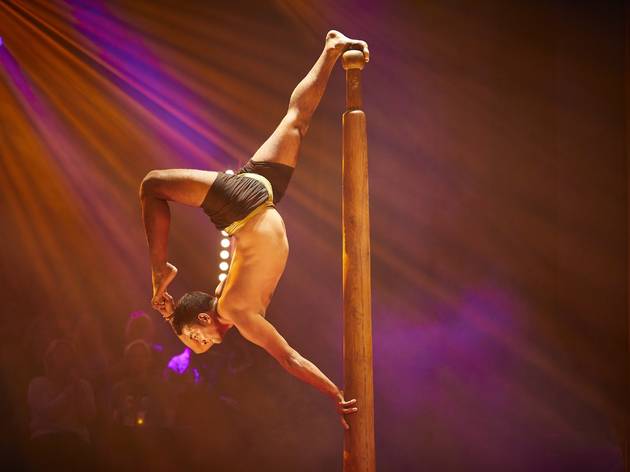 7/10
© Brinkhoff-Moegenburg
MALLAKHAMB INDIA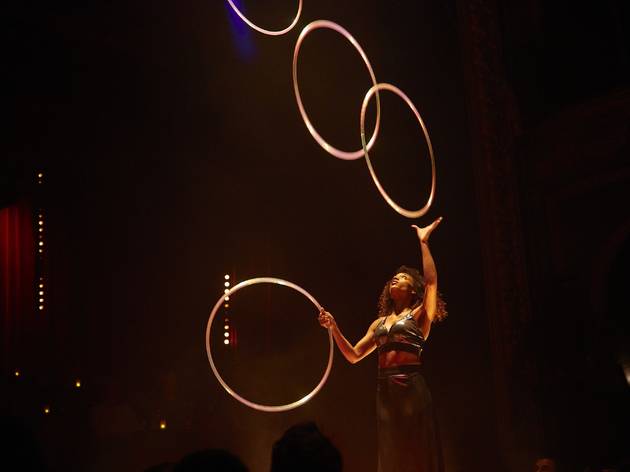 8/10
Brinkhoff-Moegenburg
MICHELE CLARK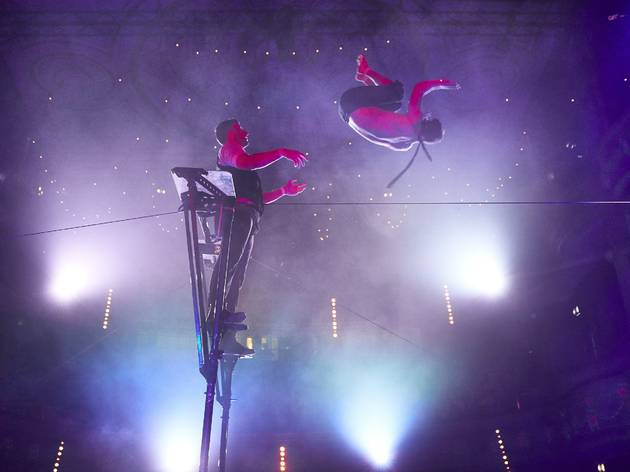 9/10
© Brinkhoff-Moegenburg
THE CHILLY BROTHERS CRADLE ACT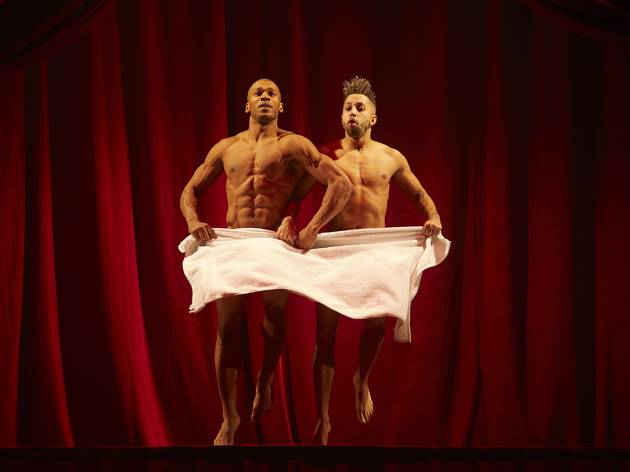 10/10
© Brinkhoff-Moegenburg
The-Towel-Act
Time Out says
The cheeky cabaret circus is back for a West End run
It's about one hour into the show and a shy-looking audience member named Warren has just been asked to smell a circus performer's vagina. The performer is topless, save for two nipple tassels that appear to be made out of human hair, and she's waggling a wig (that was previously in her pants), in Warren's face. 'That's all me, baby!' she says as he leans in gingerly to take a sniff. The audience screams.
This is 'La Soirée', the rude, crude, circus-cabaret that's currently making its West End debut at the Aldwych Theatre. That's a pretty mainstream venue for a show that has its roots in the Edinburgh Fringe, but 'La Soirée' hasn't compromised on the naughtiness: if you don't glimpse at least one bare dick over the course of its dozen dazzling acts, I suggest you ask for your money back.
Some of the sauce is brilliant: two naked men (Leon Fagbemi and LJ Marles) do a hilarious, surprisingly beautiful routine, passing two tiny white towels between them – the timing is fantastic, their movements almost mime-like. It's raunchy, yes, but it feels meaningful, too. Other highlights include the genuinely jaw-dropping Fancy Chance (Veronica Thompson), who soars across the Aldwych Theatre suspended by her own hair.
Other acts lack magic. Set to the kind of music you might hear in the last five minutes of a spin-class, some of the acrobatics aren't all that graceful. There's also a Las Vegas-inspired 'husband and wife' act called Daredevil Chicken who mainly run around tormenting audience members; as well as the vag-sniffing, at one point they lick a man's bald scalp. It gets a bit annoying.
And then there's the stuff that just feels plain misjudged. In one wildly insensitive moment, Daredevil Chicken make a 'samosa' joke about two South Asian performers. That would be bad enough if it were an isolated incident, but 'La Soirée' opens with two white puppeteers (André-Anne Le Blanc and Stephen Quinlan), manipulating a highly caricatured puppet of a black woman.
And that's the thing about 'La Soirée': it often feels like it's trying to be shocking for the sake of it. Still, with an edited programme, this would be fun for a hen night or a debauched office Christmas party. I can't stop thinking about those tiny white towels…
Find more Christmas shows in London.
Read our full guide to Christmas in Leicester Square 2017.
Details
Average User Rating
4.2 / 5
Rating Breakdown
5 star:

40

4 star:

18

3 star:

7

2 star:

2

1 star:

6