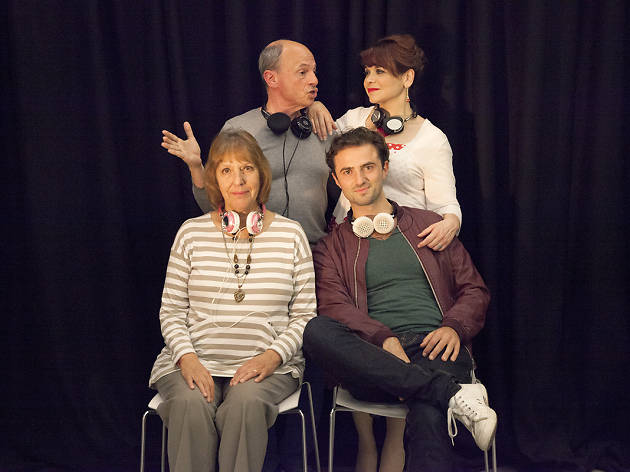 Walking down the nondescript Grace's Alley in Wapping and pushing open the heavy paint-peeled door into the famous nineteenth-century Wilton's music hall is all part of the experience. The place is dripping with character, with authentic exposed brick and dangling light bulbs.

The stage is homely for 'Listen, We're Family': a sofa, a dining table, a display cabinet littered with books and keepsakes. It's the perfect setting to tell the story of familial relationships of people who grew up in the 'old East End'.

The verbatim play is the product of Kerry Shale and Matthew Lloyd's interviews with members of the area's Jewish community. The actors are fed recordings of the conversations into their earpieces and recite them in real time, morphing into different characters.

These real-life stories are chopped up – a snapshot of someone's life is revealed and returned to later as another character is introduced. This makes for a slightly disjointed first half; it can be difficult to follow the narrative of a particular character. But by the second act we're familiar with the style and the voices.

There are many tales told, spoken directly to the audience, often in solo monologues, from a cranky old barber who wags his shaking finger while stressing the importance of speaking Yiddish, to a bereaved son whose dad is murdered. Occasionally the characters are related; a mother (Jennie Stoller) and daughter (Debbie Chazen) separately recount their tales of domestic abuse.

Stoller plays the widowed wife with a touching sensitivity while Chazen manages to bring humour to a bleak story. All the actors are excellent, with Tom Berish shining as 'the token Jew, the gay Jewish one', and Shale is incredibly captivating in all his roles.

The content is varied – sometimes funny, sometimes sad, sometimes political – with an overarching theme of Jewish identity. The production's success is a testament to the fact that sometimes the truth makes the best stories of all.