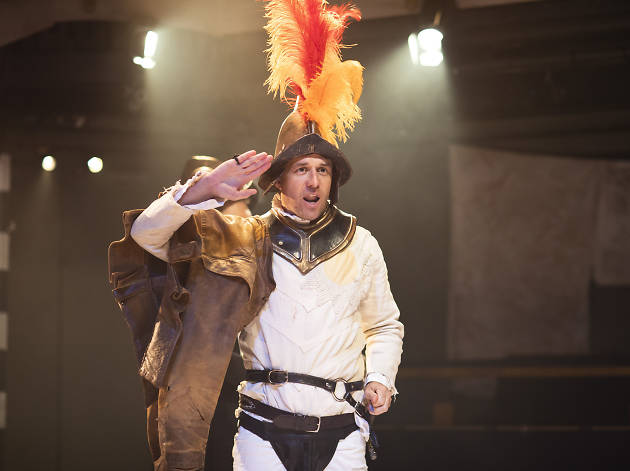 Time Out says
A few Brexit resonances and a great cast can't save this wheezing old '80s satire
Not a great choice of play for revival, this.
Jo Clifford – still John Clifford back then - wrote 'Losing Venice', her satirical farce on puffed-up nationalism, back in 1985. It was the surprise smash hit of that year's Edinburgh Fringe, and cemented a fruitful, long-lasting relationship between its author and Edinburgh's prolific Traverse Theatre.
You can kind of see why Orange Tree artistic director Paul Miller has dragged it up from the depths for his theatre's inaugural production of its new season: it's got a distinctly Brexit vibe. But it's also a bit rubbish.
Set in the dying days of the Spanish Golden Age, it follows a Duke, his poet, and his poet's manservant on a wild escapade from Madrid to Venice, on a flaccid and fruitless quest to restore some sort of valour to their freshly empire-less nation. There's a lot of chat about spirit and pride and regaining former glories.
To be fair, Miller has a really good stab at making it work. His production is always wackily exuberant – or always tries to be – and it boasts a genuinely cracking cast giving it their all in a series of colourful caricatures. Christopher Logan is winningly arch as despairing poet Quevedo. Tim Delap has a nice, upright bluster as the Duke. And David Verrey is horribly slouchy as a gravelly, gout-ridden king, staggering around the largely bare stage like Richard III.
But fun-filled direction and decent performances can't disguise the fact that 'Losing Venice' has just aged extremely poorly. The jokes aren't great, the structure is all over the shop, and it's often entirely obscure what is actually going on. Storylines dangle and dialogue meanders.
The 'oh, it's a bit like Brexit' angle really isn't a big enough, insightful enough pay-off for sitting through all that. A capable cast wasted on a creaky old play, and a disappointing start to the Orange Tree's autumn offerings.
Details
Users say