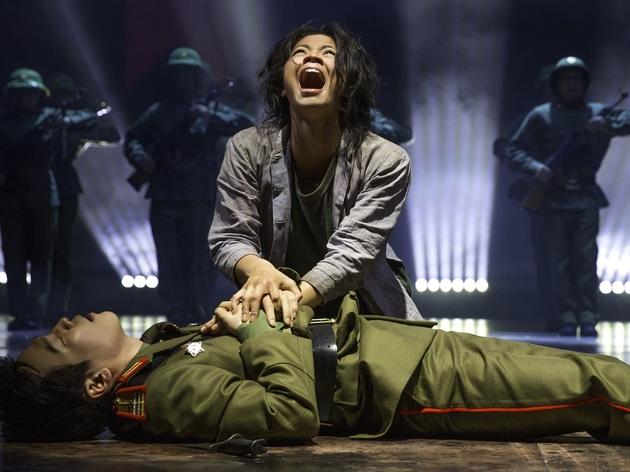 1/5
© Matthew Murphy
Eva Noblezada (Kim) and Kwang-Ho Hong (Thuy)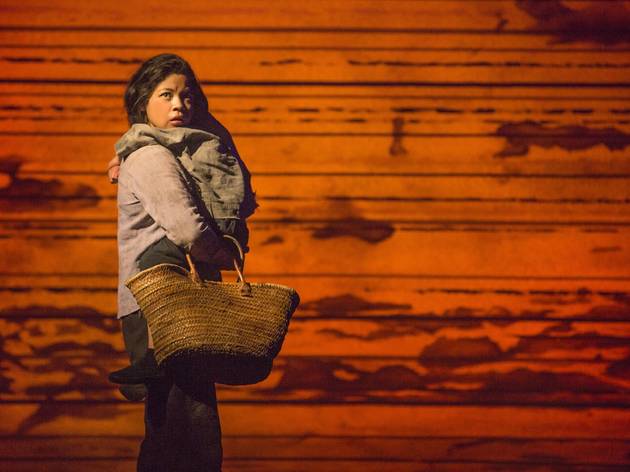 2/5
© Matthew Murphy
Eva Noblezada (Kim)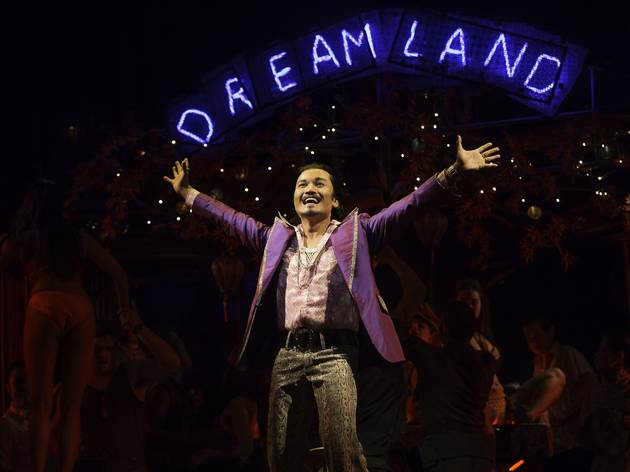 3/5
© Matthew Murphy
Jon Jon Briones (The Engineer)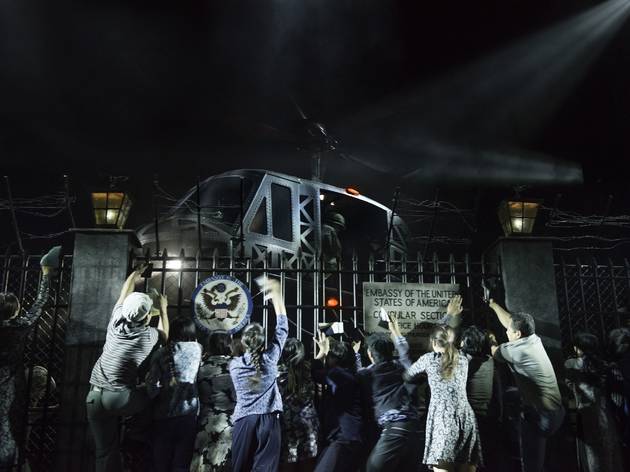 4/5
© Michael Le Poer Trench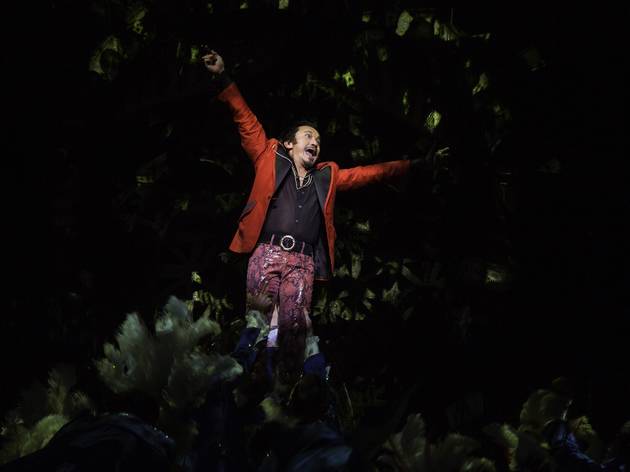 5/5
© Matthew Murphy
Jon Jon Briones (The Engineer)
BOOM. CRASH. RRRAAAARGH. Forget that puny new 'Godzilla' movie – here's a real big beast of a blockbuster, the return of Cameron Mackintosh's melodramatic monster hit 'Miss Saigon'. If you want spectacle, lung-power, Big Emotions and a life size model helicopter, 'Miss Saigon' has all them in spades. If you want three dimensional characters or a sense of humour – well bad luck, 'Miss Saigon' takes a steaming dino-dump on the concepts of depth and light relief and trudges on. Oh, and of course 'Miss Saigon' stomps on reviews: this new revival set a one-day West End sales record when it went on sale, and it's just extended its booking period by six months.

Whether it'll stick around for as long as Nick Hytner's original production of Claude-Michel Schönberg and Alain Boublil's Vietnam-set musical is another matter.

That production did, of course, have the great Jonathan Pryce in the role of sleazy Eurasian pimp The Engineer. For all the controversy around his yellow face casting, an actor of his calibre is clearly needed to impose some cohesion on the epic spectacle. That's not to be unduly disrespectful to new Engineer Jon Jon Briones, who is the strongest thing about Laurence Connor's revival - a ratty, sinewy survivor with a real air of danger to him. But he's almost too earthy and not boomingly thespy enough, never really able to take the production by the scruff of the neck until his raucous tour de force final number 'The American Dream' (which he does absolutely nail).

Most disappointing are Eva Noblezada and Alistair Brammer as starcross'd lovers Kim and Chris, the virtuous Vietnamese virgin and the American GI who falls for her, before they're cruelly ripped apart during the fall of Saigon. The roles are flat as pancakes – they're not characters at all, just walking ciphers, defined solely by their tragedy – but Noblezada and Brammer's blandly forceful pop voices ad nothing in the way of added depth or gravitas; they are subsumed by the spectacle.

But what spectacle! From the go-go bar at the start to the skeletal Statue of Liberty at the end, 'Miss Saigon' is a magnificent-looking production, with Bruno Poet's lighting almost certainly the best I've ever seen. Everything takes place in sumptuous gloom, the streets of Saigon and Bangkok conjured by shadowy huts and suggestive blurs of neon, but the cast are picked out perfectly. And Schönberg's score is warm, rich and beautifully orchestrated, with Boublil's lyrics sensitive to all the characters' suffering, if not a lot more.

So Mackintosh's monster musical still impresses, but one wonders if even the Mack really knows how to control a show this big anymore. Lots of tragedy, but where's the humanity?


Average User Rating
4.2 / 5
Rating Breakdown
5 star:

8

4 star:

4

3 star:

0

2 star:

1

1 star:

1
I cant start to describe how much i loved this show! I love theatre and musicals they draw some kinda forgotten emotions out of me. Miss Saigon gave me smiles, tears and laughs. The cast is terrific and American Dream was the most amusing song of them all. A must see!!!
Taking the time of watching the show from my limited vacation days is worth the time!!! It has awaken my thoughts on a part of history as well as how miserably life and love can be in times of war. The music, actors and stage effects were great! I was moved by the story!
Really enjoyed this show. The songs were excellent
This has to be my favourite show ever GO AND SEE IT!

Good show and mix of drama and humour
The best show I have seen in the last years! And I have seen lots in London and NYC. Eva is just so awesome and the production is unexpected. Absolutely fantastic.

I am buying tickets for my parents to go when they come visit :) It is definetely worth the money!
I liked Time Out's review of the original production. I forget the exact wording but it was along the lines of: "No amount of bombast and fake chinoiserie can redeem this tuneless bore."
I don't usually write reviews, but I had to say something considering that the one given on this website is ridiculous. Miss saigon is by far the best thing I've seen in the west end, and I've seen quite a few including les mis, wicked, book of mormon, all of which pale in comparison. I'm surprised this isn't the longest running musical, but I think this is because the older version (which the author of the review preferred) wasn't as good. I've seen the older version and this one hits it out of the park.
It's a great story, well produced, but the best thing about it is the music. There's maybe one song that I'm not fussed about, but every other one is absolutely superb, and that's without the fantastic singers from the cast- again, the author of the review was very harsh on the engineer (best part of the musical) and the leading lady (outstanding voice), but they were perfect, all three times I've seen it. I didn't like the leading man as much, but that's one character out of the whole thing.
There were quite a few funny parts to the musical, but I didn't think it needed more-it's not a funny subject matter, and I think it would spoil the atmosphere if there were more jokes.
If you see this musical, I'll be surprised if you don't walk out of that theatre blown away. Best thing I've seen.
Miss Saigon. Oh how I have missed you. Now you are back looking and sounding better than ever. So glad we can continue our affair.