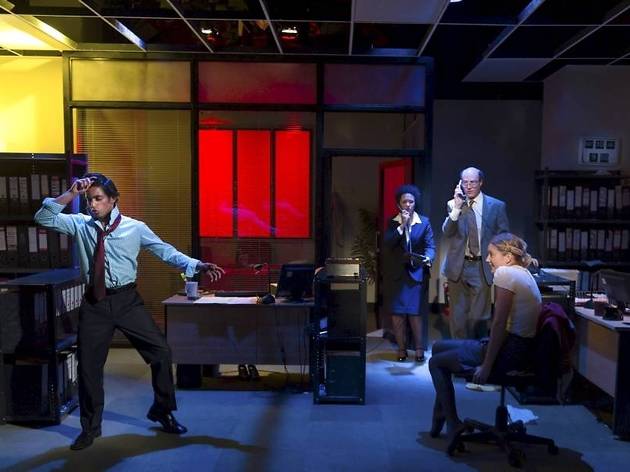 Prawn is on the menu at the Soho Theatre: a 10ft crustacean called Jimmy makes an all-too brief appearance in Ed Harris's surreal new office comedy.
In a room dominated by the clock, timesheet processors Marie (Robyn Addison), Elvis (Shane Zaza) and Only Joe (Simon Kunz) are disturbed by creatures from the unconscious depths, which poke their mandibles up into the bland shallows of nine-to-five existence.
The keyboard-tapping rhythm of office boredom is nicely conveyed in Harris's engagingly scatty short drama – which also nails the synthetic running jokes and spurious cameraderie.
Addison's lovely, grounded Marie anchors a fun production of a play that's forever haring off at a tangent. I was charmed and fairly bewildered by her dreamy late-night overtime, haunted by a paper-munching Eastern European cleaning lady (the touching Joanna Holden).
This slight, fun piece should appeal to Soho's comedy crowd. And it's good to see the venue get its theatre groove back under Steve Marmion, who directs Harris's offbeat angle on the daily grind with insight and impressive stage magic.