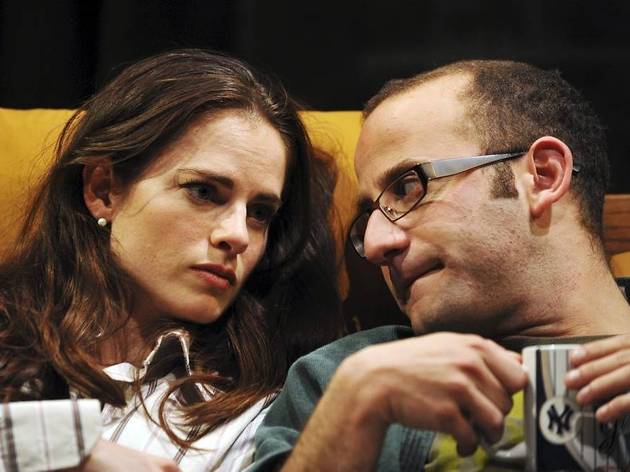 Allan Felix, recently deserted by his wife, sighs as 'Casablanca' flickers on TV. 'Why can't I be cool?' he wails. Then Humphrey Bogart materialises, to help his fan bag a dame. So hapless Allan embarks on a slew of catastrophic dates.
If it sounds simple, that's because it is. Woody Allen's, 'Play It Again Sam', is an over-extended sketch. The material is thin and the theatrical effects, including endless flashbacks and fantasy sequences, feel dated.
Neurotic Jewish Allan (Tim Frost) has some plum one-liners but it's hard to shake the feeling he's 'doing Woody Allen'. Only James Kermack adds colour as best friend, Dick, a ball-busting businessman, more attached to his phone than his wife. There are some giggles but this predictable piece wants energy and panache.
One of the few flourishes from director John Plews comes as Allan's ex-wife is sucked into a smoky hole. But it isn't enough to fire up this laboured and lacklustre comedy.
Rating Breakdown
5 star:

2

4 star:

0

3 star:

0

2 star:

0

1 star:

0
I totally agree with David M . Did Miriam Gillinson see the Gatehouse production? Firstly she says in her review "as Casablanca flickers on the TV" - WRONG - after a caption that said 'The Maltese Falcon' - that's what we all watched. Just as a further clue there was a model of 'The Maltese Falcon' in the middle of the stage. i saw the show last Friday and like the rest of the audience laughed out loud throughout the production. The acting from all six cast members was excellent and the set was the best i've seen on the fringe for ages. If this is the standard of reviewer that Time Out is sending into theatres, then heaven help the readers of what used to be a very credible magazine. Miriam Gillinson's totally inaccurate review must have put a lot of people off going to The Gatehouse - what a shame.
I attended 'Play it again Sam' at the Gatehouse on Saturday and can only wonder whether the reviewer saw the same production I did. I'm not a Woody Allen fan, but thoroughly enjoyed the play, which was by turns laugh out loud funny, discomfiting, and moving. Tim Frost truly made the central role of Allen his own- skilfully playing neurotic, without becoming monotonous or whingey, handling the changes between Allan's fantasies and reality well and investing him with such warmth that it was impossible not to be feel for him when, after his disastrous dates, he realises who it is he really loves. He was well matched by Amy Bailey, as Linda, and the cast as a whole were excellent - all giving pitch perfect performances.