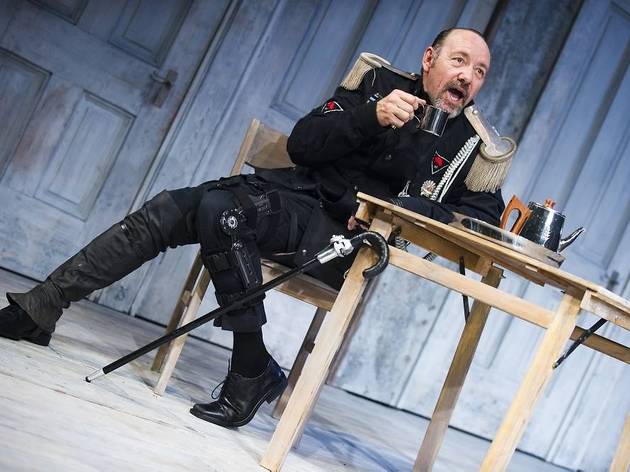 Could Sam Mendes have picked a better Richard III than Kevin Spacey? His smooth blend of menace and charisma may yet make his Richard one of the great dictators (the final show of Mendes's Bridge Project has a ten-month lap of the world on which to perfect itself).
Spacey, even when cramped by a contorting leg iron and a dowager's hump, dominates the ensemble. But he doesn't always dominate this monster role. Shakespeare's Richard is the Hamlet of homicide, charming the pants off the crowd with cynical jokes and asides. When he seduces Lady Anne over her father-in-law's murdered body, Spacey makes the scene thrum with nasty sexuality (Annabel Scholey's gothic Anne, shuddering between abhorrence and attraction, lends wonderfully plausible support).
Spacey makes Richard's loneliness piteous, his scheming delicious and his rapport with the audience riveting – but Spacey sometimes overdoes it on the sarcasm, rolling his eyes and flapping his hands in a pantomime of villainy. It's hard to sustain vicious energy for the whole murder marathon – some cuts from the two-hour first half, might have helped Spacey carry this show on his crooked shoulders.
It doesn't help that Mendes's production, with its 'West Wing'-style costumes and symbolic executions, is so bloodless. But it's a thrilling showcase for Richard's barnstorming, muck-raking political operations. Underscored with thrilling drums and framed by a witch's curse, it's like a mash-up between 'Newsnight' and a nightmare.
In one inspired scene, we're co-opted by Richard's slick, grinning spin doctor Buckingham (Chuk Iwuji) into applauding the mass-broadcast TV interview in which Richard, cowled like a monk and oozing bogus piety, manoevres his way into a crowd-backed coup.
Sidelined into doped-up compliance or hysterics, the women give an unforgettable portrait of life in the grip of a tyrant. As the vengeful 'prophetess' who predicts their ruin, the excellent Gemma Jones stalks around collecting pain like a dire dreadlocked bag lady.
Shakespeare's drama, the last in a quartet about the Wars of the Roses, can be confusing if you haven't seen the previous three episodes. Mendes's TV serial-style tactic of introducing each scene with its main character's name is helpful but distancing – this is a productions which shifts, sometimes uncomfortably, between a feeling for radically dishonest, TV-ready political display and conventional, Olivier-style horror-struck theatrics.
I'd like to see Mendes and Spacey throw off the shackles of tradition more completely. But, even if this 'Richard III' falls short of reinvention, it is horribly relevant. Our 'winter of discontent' was made glorious summer by the Royal Wedding and the Arab Spring. This profoundly political production warns that royal pageantry and the ardour of crowds are twisted by the powerful to their own ends.
Average User Rating
3.3 / 5
Rating Breakdown
5 star:

0

4 star:

2

3 star:

1

2 star:

1

1 star:

0