School of Rock - The Musical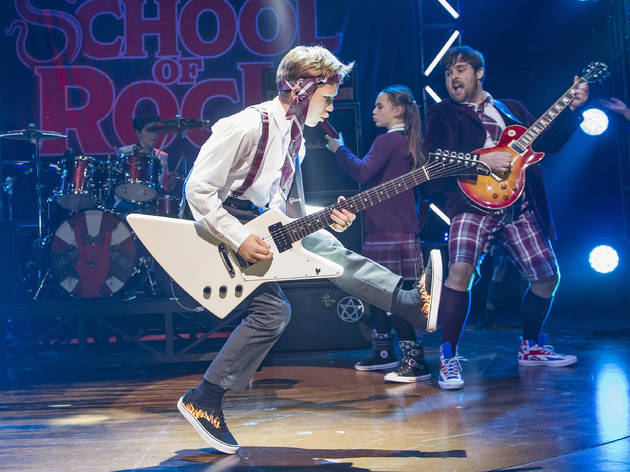 1/7
© Tristram Kenton
Jake Slack (Zack) & David Fynn (Dewey Finn)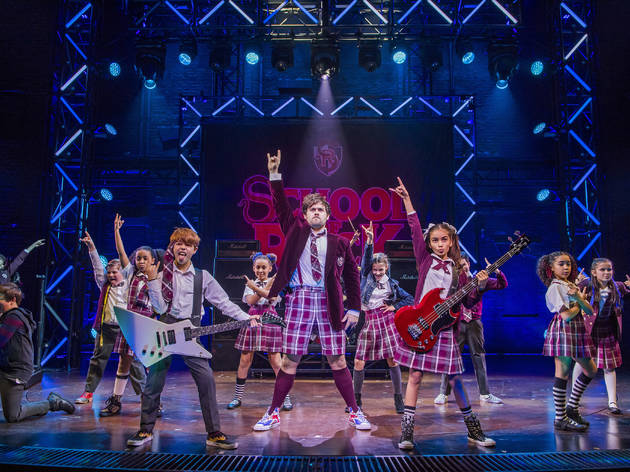 2/7
© Tristram Kenton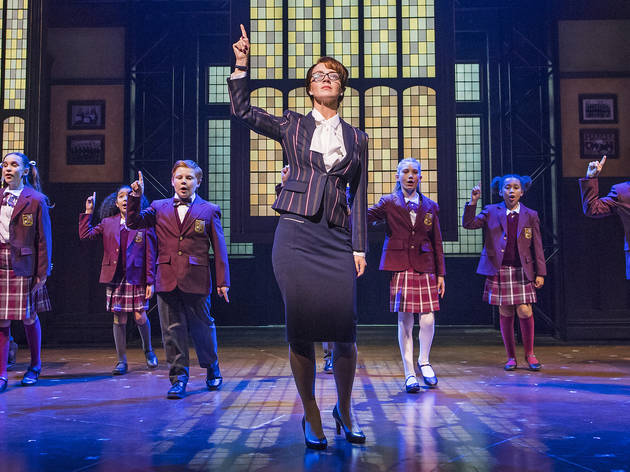 3/7
© Tristram Kenton
Florence Andrews (Rosalie Mullins)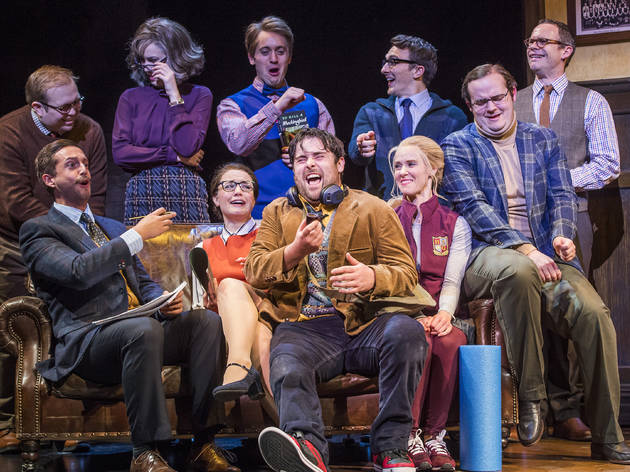 4/7
© Tristram Kenton
David Fynn (Dewey Finn)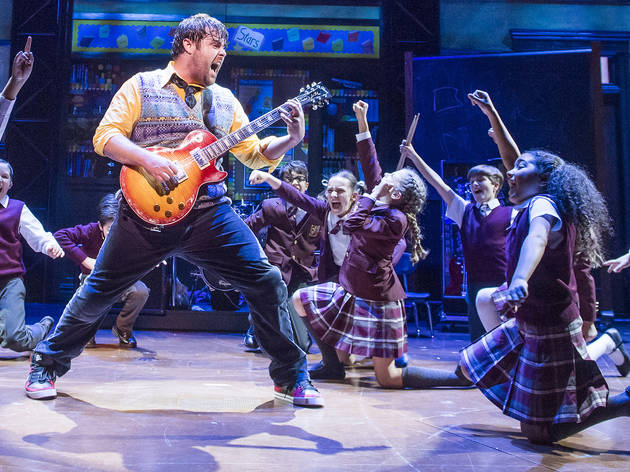 5/7
© Tristram Kenton
David Fynn (Dewey Finn)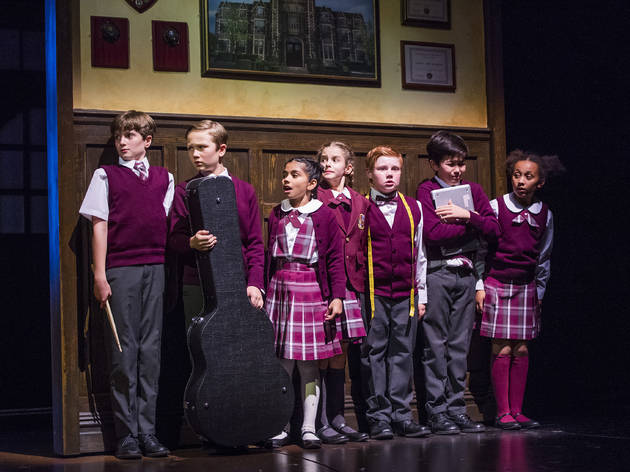 6/7
© Tristram Kenton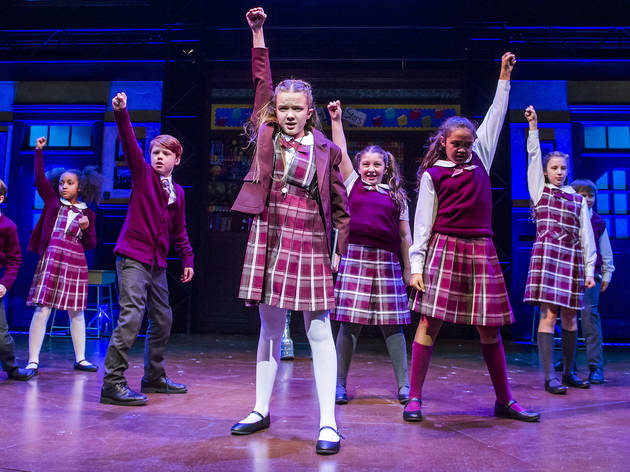 7/7
© Tristram Kenton
Andrew Lloyd Webber's unexpected Broadway hit moshes over to the West End
It is the ultimate musical about male privilege, a show about an under-qualified, over-entitled white guy who shambles his way to public adoration by blithely inflicting bankrupt baby boomer values upon a bunch of impressionable people who don't know any better.
'School of Rock – The Musical' is also quite good fun.
I dunno if it's the state of the world today, the fact I haven't seen the Jack Black-starring film, the fact that so much has changed – musically and politically – since the film came out in 2003, or simply the knowledge that it's written by Andrew Lloyd Webber and Julian Fellowes, a couple of Tory lords in their late '60s, but I felt a bit politically uneasy about 'School of Rock', which follows schlubby charlatan Dewey (David Fynn) as he masquerades as a teacher and proves a hit by tearing up his sensitive young charges' syllabus and making them play old person music.
Its big, catchy number is called 'Stick It to the Man'. Yet there's something both problematic and ironic about the fact that in Laurence Connor's production The Man is represented by two women – Florence Andrews's hard-working, professional headmistress Rosalie and Preeya Kalidas's Patty, a hard-working, professional wife-to-Dewey's best friend Ned – while in the blue corner we have... Dewey, a self-absorbed bum who everything turns out brilliantly for. Despite apparently being somewhere in his thirties – so presumably born around 1980 – Dewey exclusively loves classic rock bands, and mocks his tween charges for their love of Taylor Swift (a woman) and Kanye West (a black man).
Am I overreacting? I mean, sure: 'School of Rock' is basically harmless. But there is, at the very least, something a bit Luddite about a show so smugly adrift from the present, so determined to posit the caterwauling of a bunch of '70s bloke rockers as the sum total of musical achievement.
But here's the thing: the kids are really cute. And really talented. You would have to be an absolute monster to not be charmed and impressed by the little pipsqueaks. There are three child casts, which I'm happy to assume are equally precocious as they pluckily howl and strum their way through Lloyd Webber's undeniably toe-tappin' song list.
'School of Rock' is a baby boomer fantasy, with an underlying earnestness to its suggestion that if we only listened to successful white men of a certain vintage our happiness would be assured. It is, in a certain light, the musical version of Donald Trump. But with much more likeable children.
Average User Rating
4.4 / 5
Rating Breakdown
5 star:

19

4 star:

16

3 star:

4

2 star:

0

1 star:

0
Loved the movie with Jack Black and those talented kids on screen. Loved this stage version even more for being right in the thick of the energy of the whole thing which brought me and others in the audience to my feet more than once. The best bit was when the School of Rock play the Battle of the Bands in front of their surprised and delighted parents and say today's assignment is "kick some ass"! This was a Christmas present from my wife and she could not have given me a better one.

I was super excited to be going to the School of Rock Musical as I absolutely love the movie! I had really high expectations and after the first 15 minutes I was a little worried they wouldn't be met, however once the kids became involved it turned out to be spectacular! I thought David was fantastic as Dewey - he was so much like Jack Black! The kids are so talented! I couldn't believe they were playing live. I would definitely recommend going to see this musical!
Yes in a way it's super cheesy but it's also ridiculously entertaining with some really catchy numbers. The casting was excellent, there were some witty one liners & the kids were incredible. I left this show with a big smile on my face. Leave any cynicism at the door & just enjoy.. Ps never seen the film
I have to say I am not the hugest of musical theatre fans but I absolutely loved School of Rock. I took my nine year old son and in the interval he said to me it was the greatest night of his life. I think that says it all!
I was seriously excited to see this - I'm a big fan of the film - but cautious as usual as I am of any forced musical. The kids were fantastic and absolutely exceeded my expectations. The adult actors I did at some points find slightly cringe, but I think this is the nature of taking an amazing film, with some music, and turning into a musical. I'm not sure the tickets are worth the going rate but it was definitely a fun night!
I had a great time! if you are a fan of the film then this is a good watch. The children are brilliantly talented musicians and make the show! The lead David Fynn played a great Dewey. before going I was worried that it would be difficult to see through the Jack Black replacement but actually he did his own thing yet kept the cheeky chaps behaviour. I found some of the songs a little less impressive, I would say a bit boring and slow tone for a high energy potential show.
The main song 'Stick it to the Man' was brilliant as was 'teachers Pet'. If you are a fan of the film then I would say give the show a go as it hits the mark on a lot of what the films brings.
Let's be honest, it was never going to be as good as the movie, and the Dewey Finn was never going to be played as excellently as Jack Black. That said, he certainly gives it his best. There's enthusiasm and there's a lot of musical talent. I feel like they overdid it a bit with the new songs, it would have been fine with a few less. The acting was consistent despite a couple of minor hiccups but the kids without a doubt stole the show for me! The fact that everything played was live was incredible, and all the kids were brilliant at both acting and playing the instruments. It's definitely a feel good show don't get me wrong, just feel I can't help comparing it to the movie.
I must declare that I have not yet seen the show , so this is a review of an industry preview hosted by Andrew Lloyd Webber and his creative team They talked about the genesis of the show and introduced us to the wildly talented kids that will perform at The New London Theatre.
It was excellent.
I am excited to see the show. Having been a fan of ALW's earlier works such as Joseph and Jesus Christ Superstar , I see this as a return to form.
Lets hope the show lives up to the preview.
If the kids on stage were anything to go by, I think it just might.
Saw the show on Broadway and was blown away by how talented the kids are - they could all be stars in their own right! It's an awesome show for everyone!