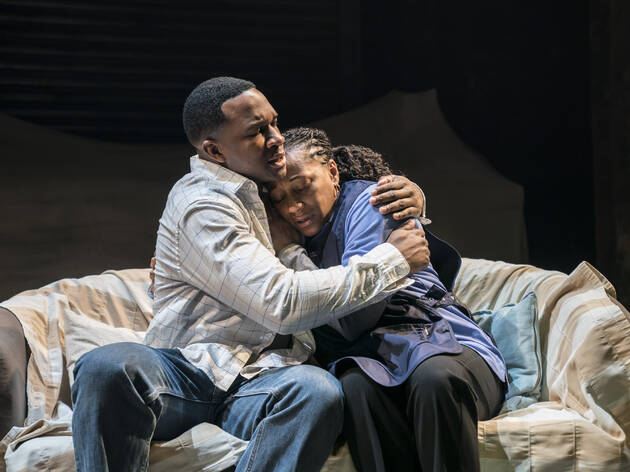 1/10
© Johan Persson
Osy Ikhile (Chris) and Clare Perkins (Cynthia)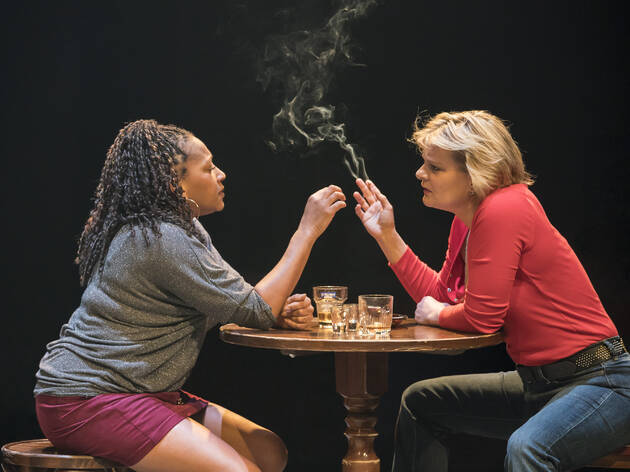 2/10
© Johan Persson
Clare Perkins (Cynthia) and Martha Plimpton (Tracey)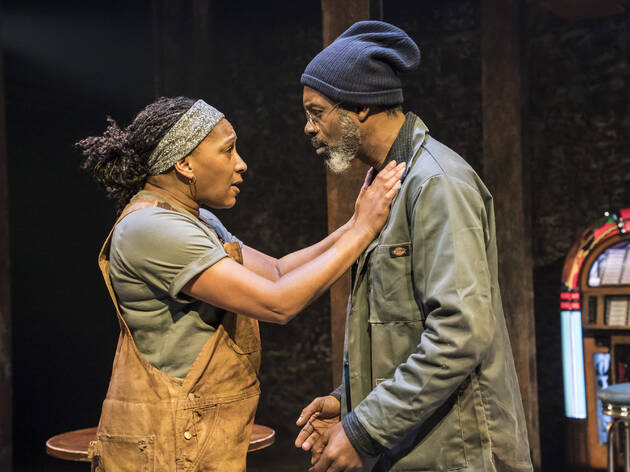 3/10
© Johan Persson
Clare Perkins (Cynthia) and Wil Johnson (Brucie)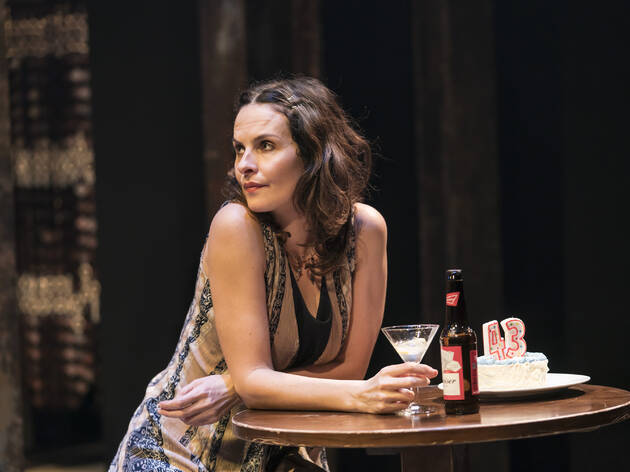 4/10
© Johan Persson
Leanne Best (Jessie)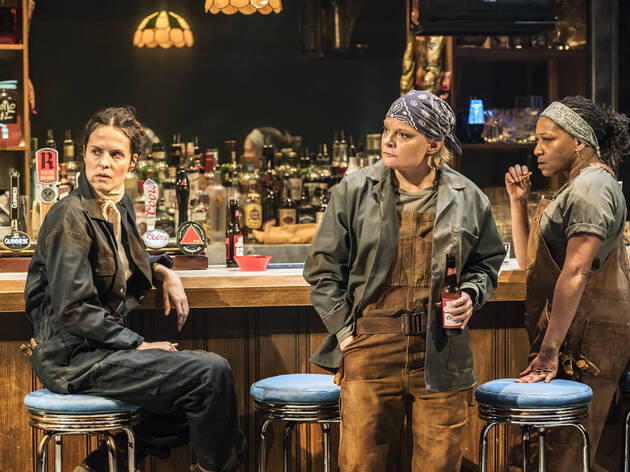 5/10
© Johan Persson
Leanne Best (Jessie), Martha Plimpton (Tracey), Clare Perkins (Cynthia)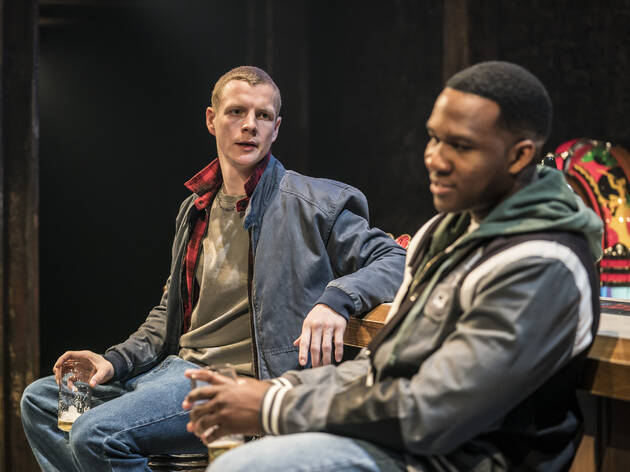 6/10
© Johan Persson
Patrick Gibson (Jason) and Osy Ikhile (Chris)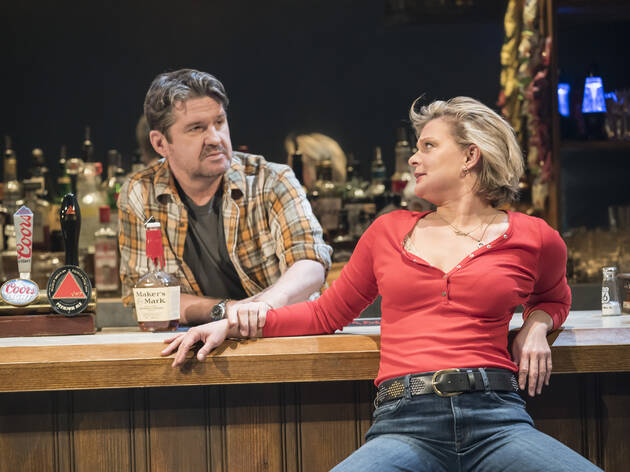 7/10
© Johan Persson
Stuart McQuarrie (Stan) and Martha Plimpton (Tracey)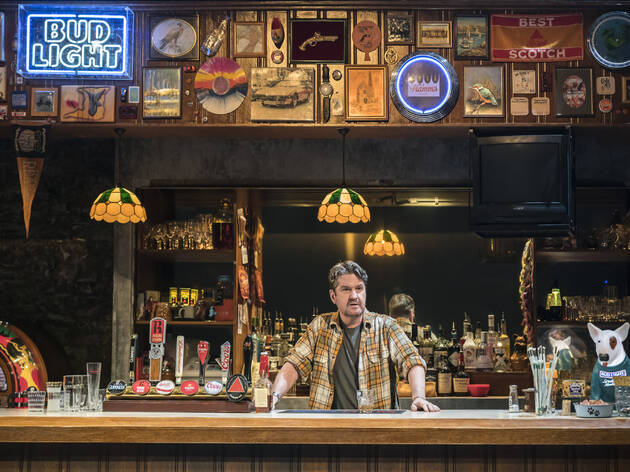 8/10
© Johan Persson
Stuart McQuarrie (Stan)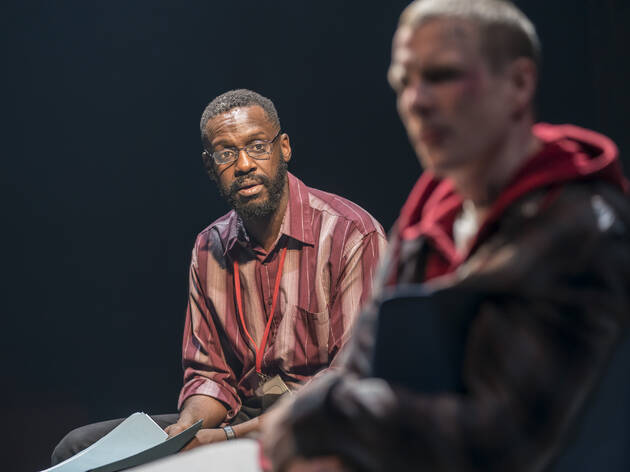 9/10
© Johan Persson
Sule Rimi (Chris) and Patrick Gibson (Jason)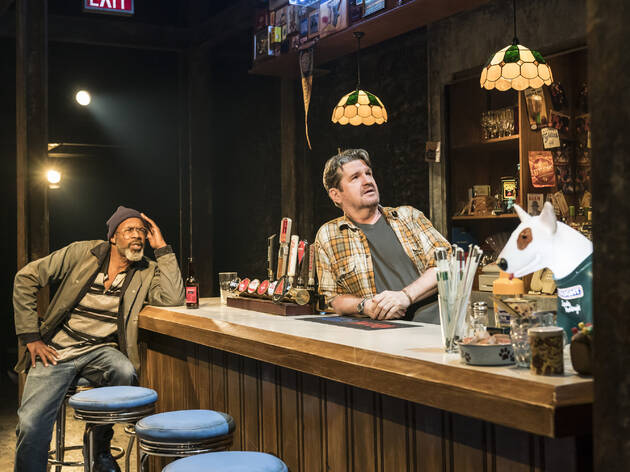 10/10
© Johan Persson
Wil Johnson (Brucie) and Stuart McQuarrie (Stan)
Time Out says
Friendly warning! We're working hard to be accurate. But these are unusual times, so please check that events are still happening.
Lynn Nottage's devastating account of American industrial decline is a masterpiece
'Sweat' transfers to the Gielgud Theatre for a short run in June 2019. This review is of its run at the Donmar Warehouse in 2018/19. The core cast is the same.
What happens when three generations of certainty and security crumble overnight? Lynn Nottage's monumental play about class, race and the dignity of labour tells us – and the answers should shame and scare us all.
'Sweat' was born out of two years that US playwright Nottage spent visiting the hollowed out post-industrial American city of Reading, PA. But her warm, intimate, polemic-free account of a small group of friends whose fortunes drastically decline between 2000 and 2008 has clear and present parallels with our own country – Stephen Bush's smart programme essay nails it to London's diverse working class, and it doesn't take a degree in anthropology to understand that what goes for America's declining centres of industry, goes for ours.
I was a little apprehensive that Nottage's extensive research would lead to information overload. But not a bit of it: there are only nine characters, some of them peripheral, but they're exceptionally well written. Empathy radiates from every word; Nottage's own sweat has paid off in what is emphatically one of the great American plays.
It unfolds in non-chronological order. It begins in 2008, with Patrick Gibson's Jason – his face bedaubed with white-power prison tattoos – grunting monosyllabically at Sule Rimi's take-no-shit councillor Evan. We don't know what's going on, but we'll soon find out, as Frankie Bradshaw's all-American bar set descends from the ceiling, carefully, reverently, like a place of worship.
It's an ensemble show, but the sort-of protagonists are Cynthia (Clare Perkins) and Tracey (Martha Plimpton): two tough, funny, middle-aged women who've spent their lives on the floor of a local, family-run steel-tube factory, and have been rewarded for it with decent pay and a sense of security.
It feels pointed of Nottage to make her protagonists female: we never get any real idea of the gender ratio on the factory floor, or even what exactly it is they do there. But it's clear that the factory has given these women security, self-respect and independence.
However, that has come at a price – the town is entirely dependent on industry, and a belief that nothing will change. There are simmering tensions and prejudices, but they're kept in check by the order of the factory. Cynthia's son, Chris (Osy Ikhile, likeable), wants to train as a teacher, everyone else thinks he's lost his mind because the factory pays better, and once he quits, his job will go elsewhere.
Change is coming, though. First in a small way, when Cynthia and Tracey apply to join the management. Suddenly they are rivals; suddenly the fact that Cynthia is black is of note to Tracey, who starts bitching that her friend of decades is being favoured for reasons of political correctness. That is just the overture, as the factory bosses are contemplating much more drastic action.
There are two really devastating takeaways from 'Sweat'. One, the childlike faith the protagonists have that the factory will look after them, an almost pathetic belief in capitalism's conscience. And two, the speed at which a society can collapse: the play's non-chronological structure means Nottage only has to show 2008 fleetingly, but what we see leaves us in no doubt that the disappearance of the jobs has wrenched the soul and dignity out of the town.
'Sweat' is a thesis on the decline of the working class in the twenty-first century. It's also a great story, with great characters, given a terrifically intimate and warm UK premiere by Lynette Linton – a hugely impressive calling card as she prepares to take over at the Bush Theatre.
The cast is fantastic across the board, though it's worth noting that guesting US star Martha Plimpton absolutely earns her plane ticket. Her Tracey is wild, fierce and desperately vulnerable, the order of the factory protecting her from her worst instincts. Perkins as Cynthia – loud and decent, with a devastating 2008 cameo – is the show's beating heart. And Stuart McQuarrie gives a lovely turn as intensely likeable barman Stan, a retired factory guy. Injured by a dodgy machine, he's settled into a sort of Sam-from-'Cheers' role, a lovable American archetype.
Their fates and Nottage's analysis are bleak, but her respect for her characters is palpable. She is never needlessly cruel to them, and we see their decline only briefly. It is society that is cruel – 'Sweat' only reflects it, and we need to pay attention.
Details