The Boy Who Fell Into a Book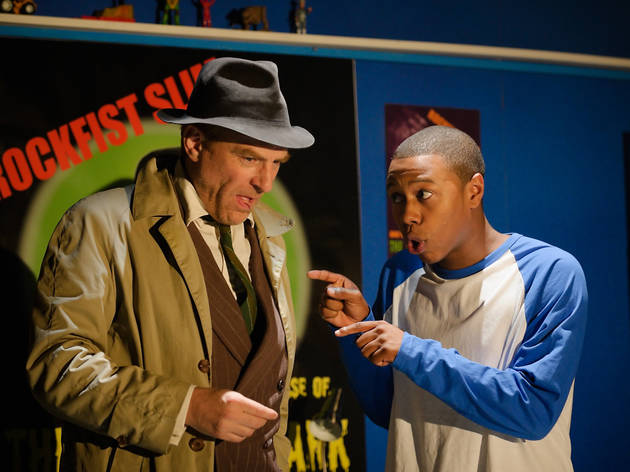 A child's desire to be transported to other worlds has provided the restless animating spirit behind a whole range of classics. Alan Ayckbourn's 'The Boy Who Fell Into a Book' (first produced in 1998) thrives on this spirit -- but, being Ayckbourn, he has a lot of fun with the strategic problems presented by being whisked into an imaginary world.
For the protagonist, Kevin, falls not just into a book, but a whole bookcase – meaning that he must tackle everything from Robert Louis Stevenson's 'Kidnapped' to the Teletubbyish 'Wooblies' Picnic'.
Soho artistic director Steve Marmion injects the requisite derring-do into an adventure that begins with Kevin engaging in some forbidden after-lights-out reading in bed, before suddenly finding himself plunged into a Rockfist Slim novel. The hero is a Columbo-style detective in pursuit of a criminal dubbed the Green Shark; Kevin must survive both his wisecracks and the dangers of his quest in order to get safely back to bed.
Hayley Grindle's set flips from boy's bedroom to literary adventure-playground, in which Simon Kunz as Slim and Kerron Darby as Kevin deploy their double-act with gusto. The combination of action and fast-paced humour is enough to inspire even the most reluctant reader.
The production could perhaps bring out the humour more, but ultimately this is a play that refuses to patronise the young – and as such is an encouragingly game-raising addition to the London 2012 Festival. Ages 7+.