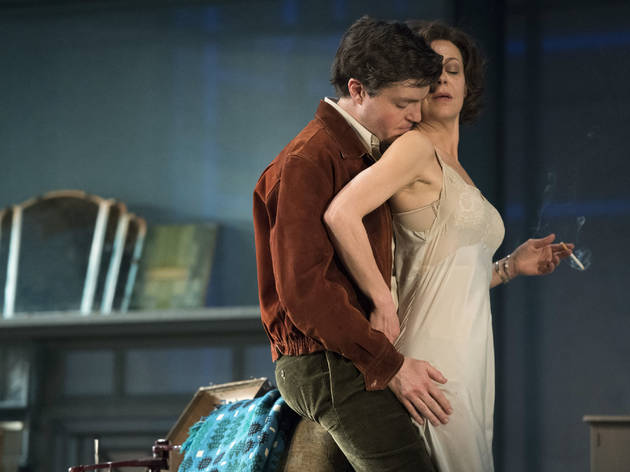 1/11
© Richard Hubert Smith
Tom Burke, Helen McCrory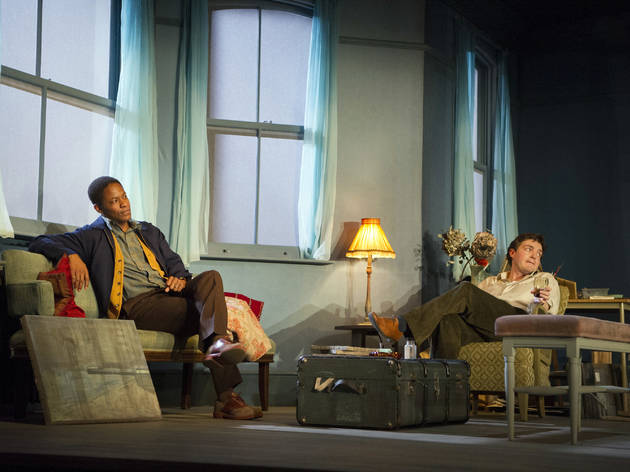 2/11
© Richard Hubert Smith
Adetomiwa Edun, Tom Burke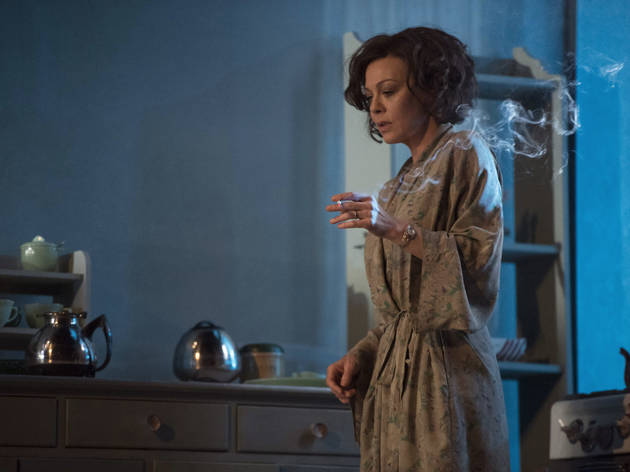 3/11
© Richard Hubert Smith
Helen McCrory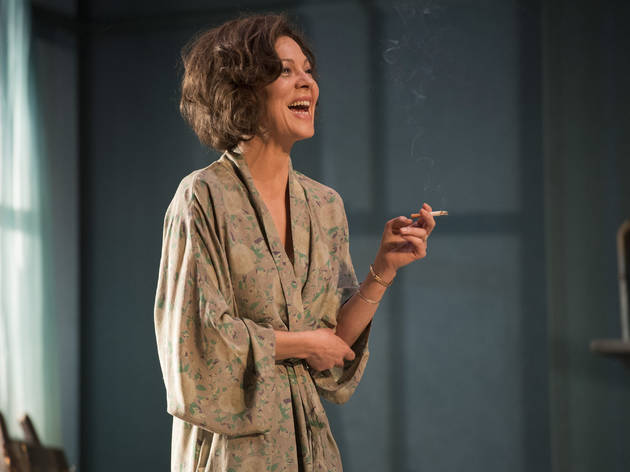 4/11
© Richard Hubert Smith
Helen McCrory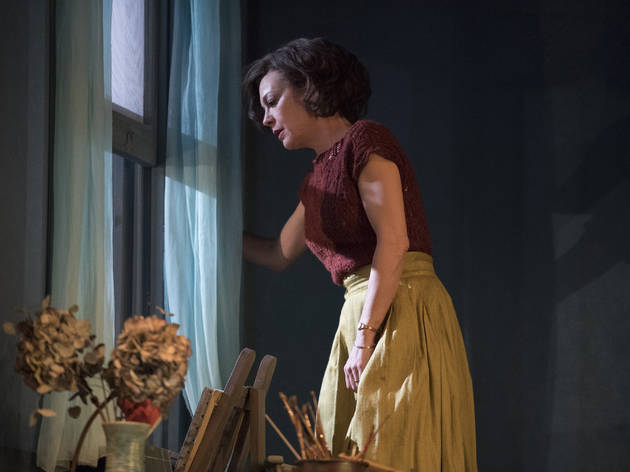 5/11
© Richard Hubert Smith
Helen McCrory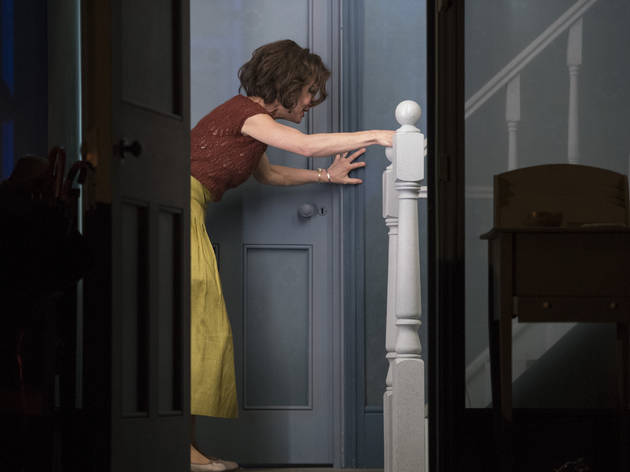 6/11
© Richard Hubert Smith
Helen McCrory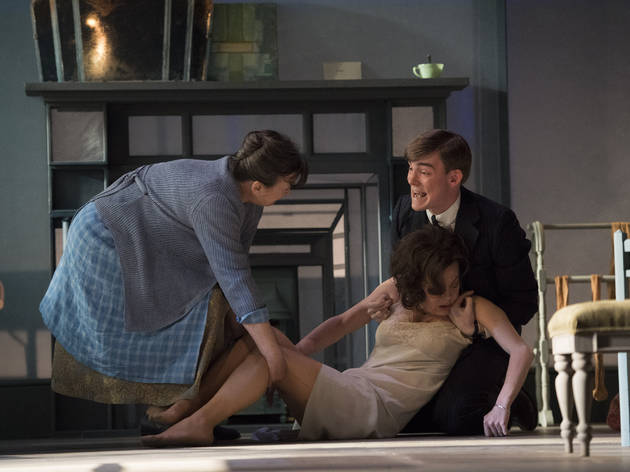 7/11
© Richard Hubert Smith
Marion Bailey, Helen McCrory and Philip Welch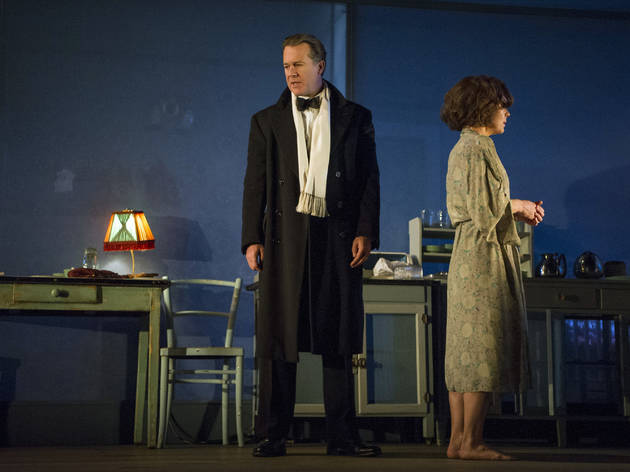 8/11
© Richard Hubert Smith
Peter Sullivan, Helen McCrory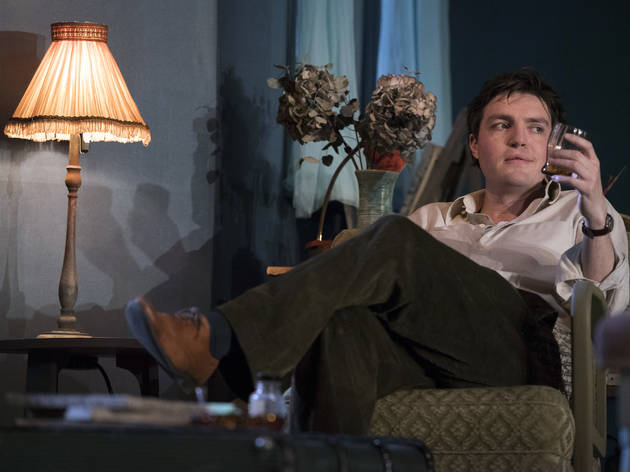 9/11
© Richard Hubert Smith
Tom Burke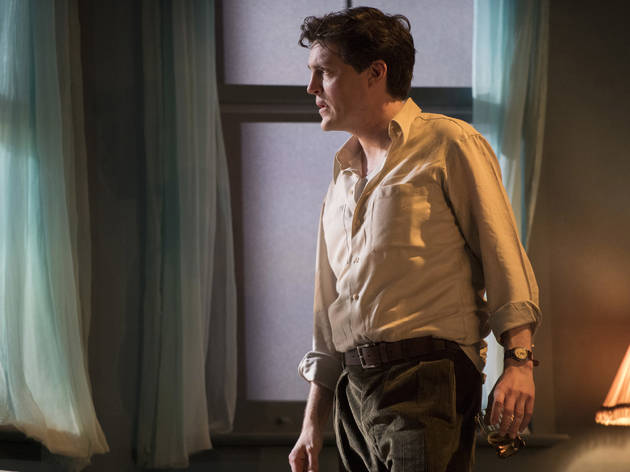 10/11
© Richard Hubert Smith
Tom Burke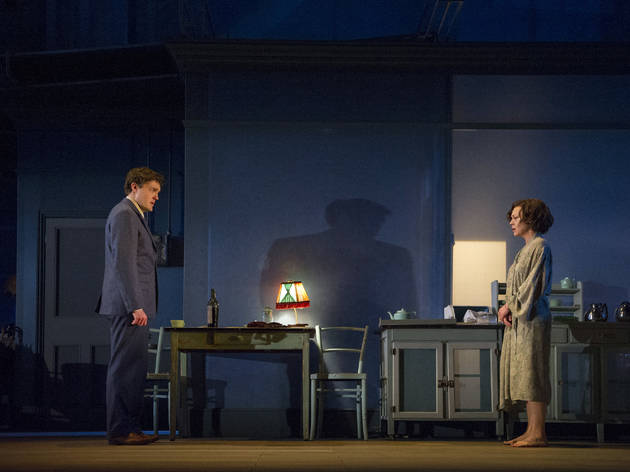 11/11
© Richard Hubert Smith
Tom Burke, Helen McCrory
Helen McCrory stars in a stunning revival of Rattigan's bleak masterpiece
Terence Rattigan's rehabilitation from 'Noël Coward's cheesy mate' to 'the English Chekhov' started on the Lyttelton stage with the NT's devastating, Cumberbatch-starring 2010 production of 'After the Dance'. Now, almost 40 years after his death, Rattigan is in danger of being actually properly hip, as leftfield director Carrie Cracknell tackles his masterpiece 'The Deep Blue Sea', abetted by a phenomenal central performance from Helen McCrory as Hester Collyer, a woman who botches a suicide attempt and must decide what to do next.
Just because Rattigan was uncool doesn't mean his most famous plays were ignored: the beautiful, melancholic, proto-feminist 'The Deep Blue Sea' never really left the repertoire. But the telling thing here is not that this is a radical production, but the mix of reverence and fresh life that hip young(ish) thing Cracknell has applied to it.
It's a beautifully judged, exquisitely sad production that remains faithful to Rattigan's period setting, but subtly enhances it with Peter Rice's remarkable ambient sound design, which makes Tom Scutt's yawning, semi-translucent block of flats set feel like a huge, lonely living creature, a giant shadow of McCrory's phenomenal Hester.
What is most striking about her performance is not her weakness but her strength, her almost fearsome calm and composure. Where Hester's flash lover Freddie (Tom Burke) is a drunken, self-centred mess and her wealthy estranged husband William (Peter Sullivan) has a sweet lack of complexity, Hester is lucid, self-possessed and agonisingly self-aware. She knows that neither man is capable of satisfying her intellectually or emotionally, and she knows drab '50s England won't offer her a third chance at love, leaving her clutching only at the straw of her lust for Freddie. She is entirely rational, a woman out of time, who believes there is nothing for her here. Suicide isn't the easy way out – that would be accepting William's plaintive offer to return to her old life. It is left to fellow outsider Mr Miller – an asexual German former doctor, played with a marvellous deadpan by Nick Fletcher – to try persuade her she may be wrong.
But is she? The play ends with the faintest glimmer of hope, but at the same time it doesn't feel like Hester has 'come to her senses', just calmly put the question of her life and death to one side. But perhaps that's Hester's ultimate triumph: living or dying will be her decision.
Average User Rating
4.2 / 5
Rating Breakdown
5 star:

1

4 star:

5

3 star:

0

2 star:

0

1 star:

0
The Deep Blue Sea, written by Terence Rattigan, first appeared at London's Duchess Theatre on 6 March 1952. Last night it opened at the National Theatre and tells the story of Hester, a woman living in 1950s London – a story about love and lust, heartbreak and infidelity, class and duty. But also, and perhaps more poignantly, this is a story about taboos, given the script's unapologetically head-on confrontation of rock-bottom depression and suicide. The play itself is, nevertheless, far more uplifting, particularly through the timely humour, so while audiences are invited to feel the depth of Hester's pain, they are also presented with many opportunities of amusement.
Helen McCrory plays Hester Collyer, an upper-class woman who leaves her husband (a judge) for a much younger ex-RAF fighter pilot, played by Tom Burke, with whom she has fallen passionately in love. Her sexual needs, which were not met in her marriage and are only fully aroused by her affair, remain the solitary thread between her and her lover. But this, along with her lover's unemployment, commitment-phobia and gradual but steep demise into alcoholism proves unsustainable for a meaningful, long-lasting relationship. Following on from this realisation, and her castigation from society, Hester is driven to an unsuccessful suicide attempt, which is how the play opens.
We watch as Hester is brought back into her bleak reality, abandoned by her lover, invited to return to her former social class by her husband who is still in love with her, and her discovery of a newfound sense of self-worth after having accepted and seen through her lover's decision to leave her. All this is done behind a wall of well-bred self-discipline, though there are moments when Hester so desperately loses it. Particularly when she is on the phone to her lover Freddie, begging him to return for his belongings, and repeatedly promising not to dissuade him from his decision to leave her. These moments of heightened desperation and complete lack of self-control are, brutally, when the audience feels for Hester most.
The play also offers an insightful flash-back to a somewhat unfamiliar British context . A time when English common law considered attempted suicide a criminal offence (this did not change until the introduction of The Suicide Act of 1961). So Hester's failed attempt at killing herself, which was performed at a time when it was deemed illegal to do so, was kept secret not only for keeping up appearances and avoiding the embarrassment that would follow a court-hearing, but also because she had committed a criminal offence.
Furthermore, it was historically a context when being gay was also a criminal offence. A time where consenting homosexual acts, even if they were to take place in a private setting, resulted in prison sentences. It was not until 1967, when theSexual Offences Act was passed, that private homosexual acts between men aged over 21 were decriminalised.
This is important because playwright Terence Rattigan was gay, according to Michael Darlow, author of Terence Rattigan – The Man and his Work (1979). Darlow further explains that The Deep Blue Sea draws upon, and is inspired by, some of the most deeply hidden and painful events in Rattigan's own life. The play was written over 3 years, and however the play may have been inspired by Rattigan's own life, it remains, nevertheless, a story about a woman and her entrapment, her emotions, and her strength to choose life. It really was a thoroughly emotional performance, which was skilfully written and so exquisitely brought to life.
The Deep Blue Sea will be continuing its run at The National Theatre's Lyttelton Theatre until 21st September. Running time is about 2 hours 45 minutes including a 20 minute interval. Tickets can be booked on 0207452 3000 orhttp://www.nationaltheatre.org.uk
I was invited to review this play by Theatre Bloggers
CAST AND CREW
Director: Carrie Cracknell
Production Manager: David Stothard
Sound Designer: Peter Rice
Lighting Designer: Guy Hoare
Cast: Marion Bailey, Hubert Burton, Yolanda Kettle, Helen McCrory, Nick Fletcher, Peter Sullivan, Tom Burke, Adetomiwa Edun.