Heads up! We're working hard to be accurate – but these are unusual times, so please always check before heading out.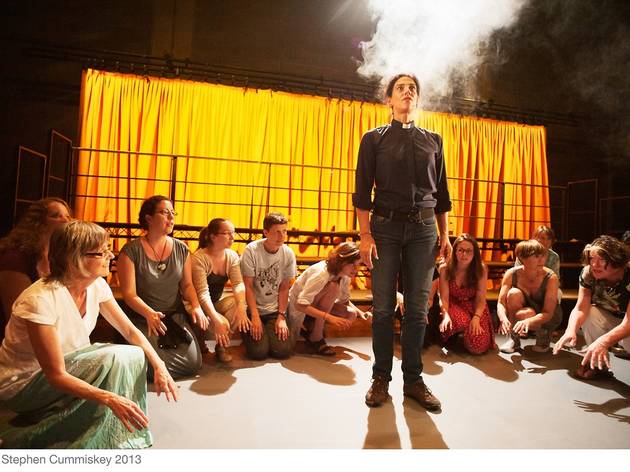 The Events review
Traverse
Despite some lurid misreporting in the run up to 'The Events's Edinburgh premiere, this extraordinary new work from playwright David Greig is scarcely more the 'Anders Brevik musical' of rumour than his current West End smash 'Charlie and the Chocolate Factory' is.

Instead it is a strangely uplifting work about living through grief, in which young, gay vicar Claire (Neve McIntosh) struggles to the point of insanity to come to terms with a lone gunman's bloody assault upon the community choir she leads.

There is only one other professional actor in it, Rudi Dharmalingam – his given name in the text is The Boy, and at times he does indeed play the killer. But in a move that emphasises the inward, maddening and desperately intangible nature of Claire's quest, he plays all the other characters too – her girlfriend, the killer's best friend, journalists, a far-right politician. Claire is struggling through a hall of mirrors, each one with the killer's face. And though she comes across any number of hints and clues as to why he may have done it, it becomes increasingly apparent that looking for any one answer is madness.

And madness is what threatens to claim Claire, but in the boldest move in Ramin Gray's production, she isn't simply alone with The Boy, but surrounded by a group of nonprofessional singers – different in each performance – who stand in as her community choir. Rough around the edges, singing a couple of songs with skill but not too much polish, reading out the occasional spoken line script in hand, the choir are the living, human link to the wider world that Claire's quest is threatening to separate her from.

Both the perpetually mild mannered Dharmalingam and the raw, hurting McIntosh are excellent, but the choir are the path through Greig's puzzle of a play – they are real, untutored humans on stage in a work which turns out to be about life, not death.
The latest Edinburgh Fringe theatre reviews