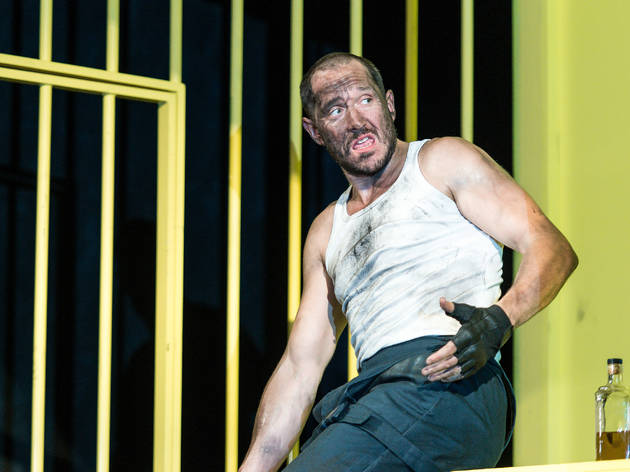 1/5
© Manuel Harlan
Bertie Carvel (Yank)
2/5
© Manuel Harlan
Bertie Carvel (Yank)
3/5
© Manuel Harlan
Bertie Carvel (Yank)
4/5
© Sue Kessler
Bertie Carvel (Yank)
5/5
© Manuel Harlan
Bertie Carvel (Yank)
Bertie Carvel stars in a surreal, unnerving revival of Eugene O'Neill's iconic expressionist classic
'It takes a man to work in hell', apparently. In this visually unforgettable revival of Eugene O'Neill's 1920s expressionist classic, that man is 'Doctor Foster' star Bertie Carvel, returning to the stage to stoke the engines of an ocean liner and, just possibly, the fires of class revenge. Hell is a rectangular steel box painted a sulphurous yellow. Inside, ten coal-blackened men shovel, drink and laugh hollowly in unison like living silhouettes.
Only the soot-marked walls bear witness to their labour. Until, that is, the abrasively jaded Mildred (Rosie Sheehy) – heiress to a steel industry tycoon – decides to sacrifice one of 50 white dresses on a voyeuristic tour of the lower decks. She comes face to face with Carvel's Brooklyn-born Yank and, recoiling in horror, brands him 'a hairy ape'.
In fact, Carvel's Yank is a tall, greased piston of a man, satisfied with the masculine power he feels at the centre of the ship's motion. 'I'm at the bottom, get me?' he says, swinging from the ceiling bars in his habitat of steel. '… I start something and the world moves' (or rather 'moives' – Brooklyn accent, remember).
But Mildred's 'Common People' routine kicks his pride in the nuts and plunges him in to crisis. As the play docks and enters a sequence of strange society scenes, Yank tries to make sense of his hatred and determine his place in the world. 'Thinking hurts', he finds, rubbing his shaven hair as if to coax the unpracticed cogs.
Richard Jones's production is starkly and wittily surreal, its footing destabilised by a tense industrial soundscape. A parade of Fifth Avenue socialites dance a dead-eyed Charleston. The stylish socialist intellectuals at the offices of Industrial Workers of the World pose with slim red volumes on white library ladders. The moon, a balloon in the hand of a champagne-sozzled toff, bears the smugly ubiquitous face of Douglas Steel.
The stokehole is a furnace of fierce, dialect-rich poetry. But O'Neill's script grows more uneven with the urgency of its metaphors. The tragic ending, in which Yank famously encounters a real ape, isn't quite as bone-crunchingly gripping as it might be. Instead the lingering image is of a man trapped, finally and disturbingly, by his awakening class consciousness. A pinprick of light expands to a porthole but never much wider. Carvel's Yank, once explosive with dark energy, is pitifully caught in a narrow prison of light.
Average User Rating
2.1 / 5
Rating Breakdown
5 star:

1

4 star:

0

3 star:

1

2 star:

5

1 star:

3
Inaudible. A shockingly bad production.
I don't know the commenter below (RH) but I agree with his review in part, however, I would give it more stars as I enjoyed it more than he seemed to. The production is highly stylised and it's visually exciting, even if, as he says, the story is paper thin and dated. And the naked men are a happy sidetrack. There's also a bit more to it than "a man who is slighted momentarily by a woman he doesn't know and then makes it his life's mission to track her down and give her a piece of his mind" - it's about finding your place in life, finding where you fit in and where you belong. But it's a heavy going piece, often unnecessary and irrelevant.
Knowing nothing about the production or the play was an advantage as I have no comparisons to make and had no idea what to expect.
The clever use of simple visual elements to highlight the thought provoking themes was effective and original.
Yet another fantastic and original production from The Old Vic.
An ill-conceived production without heart, almost the opposite of the ground O'Neill was breaking at the time. The Old Vic has also long been associated with substantial entertainment. It's early yet, but Matthew Warchus seems to be taking the Old Vic in the direction of unintrinsic, unworthy attempts to be the Donmar combined with a musical tryout house. A new artistic director of a cherished theatre such as the Old Vic might want to show due concern for what made theatre-goers aficionados of it instead of making it over ad hoc.

Write a review...Disappointing production. It starts off in a large box which is meant to be the underbelly of a ship where the actors are clattering about so much you can't hear the words they are speaking. In fact there was so much clattering about during the play that it was beginning to grate and distract. It wasn't the actors at fault but a rather poorly produced play resulted in a production which was hard to hear and lacked sufficient emotional connection. It needs a complete rethink as it's sad when you come to the end of a relatively short play relieved that you don't have to sit through an act two!
Having seen 'The Glass Menagerie' in Liverpool last weekend (excellent) and 'A View from the Bridge' and 'Death of a Salesman' earlier this year, we were looking forward to seeing something by Eugene O'Neill.
Sadly we left feeling rather disappointed. The premise seemed good enough but it finished like an odd damp squib and, for me, forged no emotional connection between the plight of the character and the audience. Not being au fait with his work, I don't know whether this is inherent in the script or whether it was due to the production.