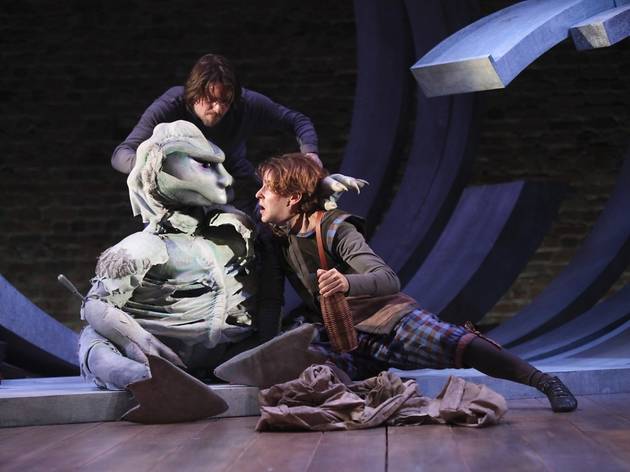 There's rough magic aplenty in this nimble adaptation of Shakespeare for children aged seven and over, a co-production by the reliably charming Little Angel puppet theatre and the RSC. Abridged by Peter Glanville and Phil Porter and directed by Glanville, it's touching, funny, lovely to look at, and executed with a gossamer touch.
Life-sized seagull rod puppets screech and flap. Ariel is a darting sprite, his limbs iridescent emerald like a beetle's wingcase. And Caliban is a doleful, lizard-like creature, blundering sadly about on his webbed feet, a poignant monster with a childlike fearfulness and propensity to sulk.
The human cast, who double as musicians and puppeteers, are good, too. David Fielder is a twinkly, cuddly Prospero and Anneika Rose a sweet Miranda.
But it's the intimate spectacle that thrills: there is a particularly delightful moment when Stephano and Trinculo, about to pinch Prospero's rich robes from his cave, are dumbfounded when the garments themselves suddenly transform into slavering, toothy hounds that drive the would-be pilferers howling away. This puppet 'Tempest' is deliciously dreamlike, and full of wonder.