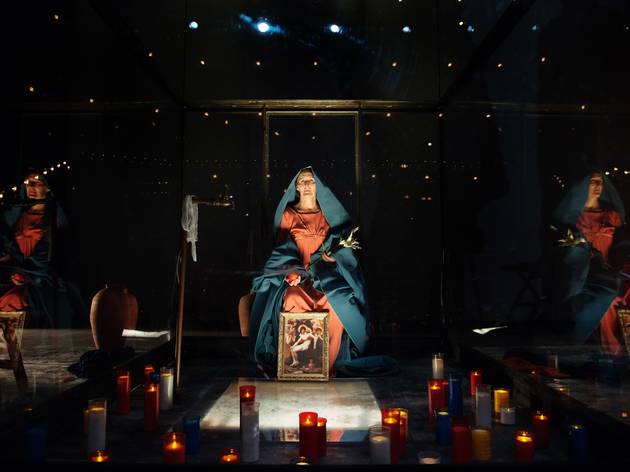 1/6
© Hugo Glendinning
Fiona Shaw (Mary)
2/6
© Hugo Glendinning
Fiona Shaw (Mary)
3/6
© Hugo Glendinning
Fiona Shaw (Mary)
4/6
© Hugo Glendinning
Fiona Shaw (Mary)
5/6
© Hugo Glendinning
Fiona Shaw (Mary)
6/6
© Hugo Glendinning
Fiona Shaw (Mary)
The great Fiona Shaw is an actor who probably gives a tour de force performance when she eats her breakfast; a tour de force when turning the telly off; a tour de force paying the gas bill. It's no surprise, then, that she gives one heck of a turn in long-term collaborator Deborah Warner's production of Colm Tóibín's richly poetic monologue.
The Mary in question is the disenchanted – and decidedly non-virginal – mother of Jesus, living alone in a wasteland filled with curious symbolic clutter. Irish accent undisguised, Shaw plays her as an ordinary middle-aged woman who seems like she'd probably be rather good company under less extraordinary circumstances.

Here, though, her voice coruscates with love, bitterness and even contempt as she stalks the vast stage, occasionally violently kicking through the bric-à-brac of Tom Pye's set as she gives her own harshly prosaic spin on her son's last days. The text is too ambiguous to exactly deny Jesus's divinity – one of the more creepy passages deals with the apparent resurrection of Lazarus – but Mary doesn't believe in it. When she recounts the moment that he first publicly described himself as 'the son of God', she spits the words out like a curse: they are an insult to her beloved Joseph; they are a man believing the hype of his fanatical followers.

It is a piece about love's bitter fallout, the anguish at seeing a loved one slip away and change into something else. Tóibín writes about huge, complicated emotions but Shaw channels them with the deftness of a lightning rod, indescribable pain sugared with wit, rage and good old-fashioned storytelling chops.

A couple of wacky touches aside (a live vulture that's only there at the beginning; a tacky moving bush) Warner's production is excellent, its stark, blank massiveness emphasising the messy humanity of Mary and her clutter of possessions.

If there is a weak link, I can't help but wonder if it's not the subject matter: alternative fictional portraits of Christ are not uncommon these days and for all its lyrical beauty, Tóibín's text often feels like it's treading well-worn ground. Yet there is something nagging buried there, a sense that something greater than man is out there in the dark, something that shouldn't be denied but left well alone
Rating Breakdown
5 star:

1

4 star:

0

3 star:

0

2 star:

0

1 star:

0
I saw a preview show last week - it was absolutely phenomenal. I am not religious, but found it unexpectedly touching and moving, incredibly intense, beautiful, heart-wrenching, funny and upsetting all at the same time. The journey Fiona Shaw takes you on is great beyond words. The pre-show, walking around a vulture, is very cool. It has really stuck with me more than anything else I think I have ever seen. I have thought about it every day since seeing it. So nice to see some proper theatre that actually means something, and forces you to think. It's incredible, make sure you don't miss it!