Heads up! We're working hard to be accurate – but these are unusual times, so please always check before heading out.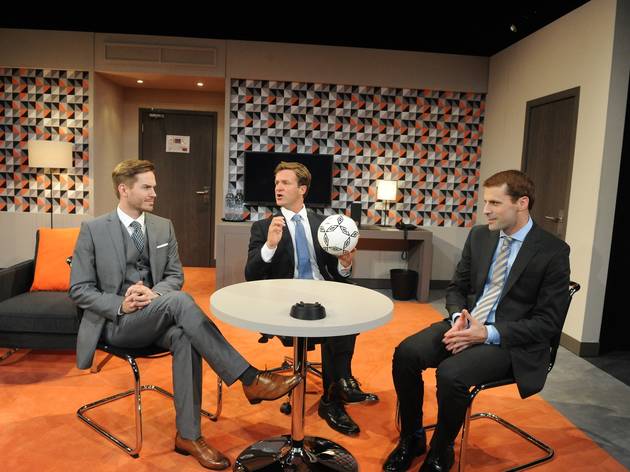 The Three Lions review
Pleasance Courtyard
Packing them in at the Pleasance, this jolly sort-of-satire is a farcical imagining of Britain's doomed bid for the 2018 World Cup, following the last minute machinations of the hapless junket of David Cameron, David Beckham and Prince William as they scrabble for international support on the eve of the vote.

None of it exactly constitutes a grand act of iconoclasm, and writer William Gaminara serves the audience pretty much what they'd expect: Dugald Bruce-Lockhart's Cameron is arrogant and uptight; Sean Browne's Beckham is thick and fashion-obsessed; Tom Davey's Wills is thick and over-privileged. Hindered by Cameron's dappy PA (Alice Bailey Johnson), brownnosed by obsequious bellboy Ashok (Ravi Aujla) and constantly tripping over each others' egos, as the bid hurtles towards inevitable disaster, the play smoothly boils over to a trouser-dropping fever pitch.

Philip Wilson's production is definitely middle of the road, but it's funny middle of the road, and is aided by some rollicking performances: Bruce-Lockhart nails Cameron's repressed mean streak and oddly mechanical mode of public speaking; Browne captures Beckham strange mix of limited intellectual prowess and boundless likeability.

Gaminara has no grand point to make about why the bid failed, and only the most precious Tory, royalist or member of the Beckham family is liable to take offense at any of it. Nonetheless, 'The Three Lions' isn't completely defanged, and while there is far edgier humour on the Fringe, this crowd-pleaser uses a cloak of general silliness to land some pleasingly vicious body blows upon the character of our dear Prime Minister.
The latest Edinburgh Fringe theatre reviews