Heads up! We're working hard to be accurate – but these are unusual times, so please always check before heading out.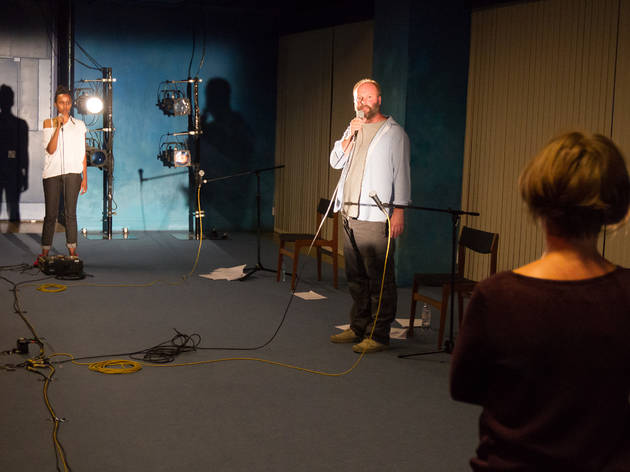 There Has Possibly Been an Incident review
Northern Stage at St Stephens


Two of its four interweaving strands gnaw away at the same concerns of two of the year's biggest plays. The portion read by Nigel Barrett clearly describes the actions of the 'tank man' of Tiananmen Square, the unidentified protester who forms the focus of Lucy Kirkwood's immense 'Chimerica'. And in the only dialogue, Barrett assumes the part of a Brevik-like mass murderer who offers dispassionate, articulate explanations for his massacre in a manner that chimes pointedly with David Greig's 'The Events'.

The other two bits, delivered by Gemma Brockis and Yusra Warsama, are scarcely less hardwired into modern concerns – Warsama's segment deals with a plane crash and taps into primal post-9/11 fears of flying; Brockis's talks about a nonspecific revolution with echoes of the Arab Spring.

The question Sam Pritchard's deliberately static, faux script-in-hand production seems to ask is: how did the world get this way? How do such immense events occur? And in three of the four scenarios, the worrying answer is: we don't really know. The stories are rendered, deadpan, in Thorpe's hypnotic palette of tiny, nagging questions and borderline banal observations: to paraphrase Alan Bennett, history really is one thing after another here, a series of minor, ill-thought-through actions that will only congeal into 'incidents' afterwards.

The exception is the killer – though speaking in hindsight, he alone has a clear, lucid vision for why he acted how he acted and what he hoped to achieve. Which is, quite frankly, a terrifying view of the world – only the 'evil' man has a moral argument for his actions. But Thorpe does pulls back from the void at the end of his unnerving state-of-humanity address. A final 'monologue', spoken by all three performers simultaneously, concerns the manner in which the killer was thwarted, and suggests that perhaps randomness and lack of plans will save us in the end.

The latest Edinburgh Fringe theatre reviews