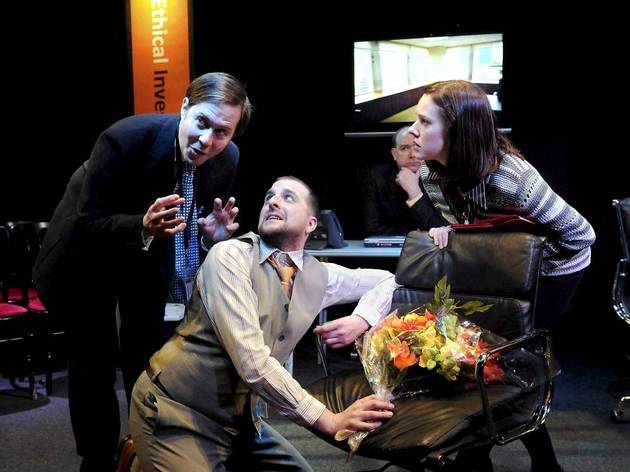 Imagine 'Little Shop of Horrors' with short selling instead of man-eating plants and you'll have a ballpark picture of 'Toxic Bankers'. Written and directed by Andrew Taylor with songs by Des O'Connor (the luminary of the cabaret scene, not the veteran light entertainer), it's a workplace comedy for the post-crash era, set at the headquarters of a hedge fund servicing the market for ethical investments.
Our heroine, timid analyst Fiona (Hazel Gardner), works alongside dithering middle manager Helen (Donnla Hughes) and feckless fund manager Joe (Stuart Saint) under domineering boss Tony (Jonathan Dryden Taylor, credibly authoritative). Things are shaken up by the arrival of a startlingly efficacious team of executive concierges and by Fiona's discovery of some troubling stats…
'Toxic Bankers' isn't always a smooth ride: the storytelling is slow off the mark and has its share of holes, the humour provokes more wry smiles than guffaws, and the songs are expressive rather than catchy. But the show is tightly realised and offers cleverly-drawn, well-acted characters.
It pulls off the balancing act of using their narcissistic concerns to illuminate a culture of displaced responsibility without getting mired in righteous finger-wagging. On balance: buy!