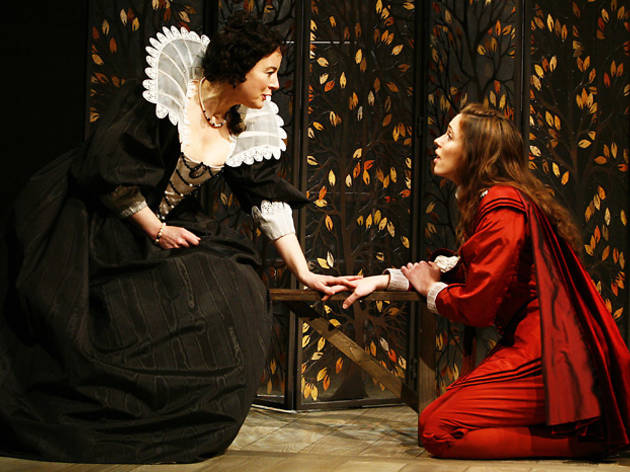 Eighty-year-old Peter Hall's fourth production of 'Twelfth Night' (in which his daughter, Rebecca Hall, plays a sombre girl who pretends to be a boy) is a requiem for lost youth. Shakespeare's upstairs/downstairs tragicomedy has a melodious strain of sadness, but everyone in this Cavalier-styled Illyria seems depressed, from the lovelorn Duke Orsino (Marton Csokas makes him a big hairy sensualist) right down to the comic servants and hangers on that vex the unwilling object of his desire, Countess Olivia (Amanda Drew).
No one is young. Even the jester (David Ryall) is a threadbare old caperer with the ghost of a singing voice. So when Rebecca Hall's shipwrecked Viola appears, full of youth and ironic intelligence, no wonder Orsino and Olivia both fall for this cross-dressing Cupid in crimson hose.
Usually, this is where the fun begins, but Hall's characteristically clear production struggles to make
it out of the minor key. His attention to the words is legendary, but beautiful lines can make listless stage directions: Hall fille spends too much time sitting 'like Patience on a monument/Smiling at grief' or standing limpid-eyed and limp-armed. She's sombre and lovely, but can't liven things up with a bit of Cupid-like playfulness.
Simon Callow brings welcome gusto as Olivia's drunken uncle, Sir Toby Belch: he staggers onstage like a half-stunned turkey and dispenses folly with the barking tactlessness of a Mitford squire. But much of the comedy falls flat on this oddly furnished stage, which has a sail-cloth for a roof and a twee row of mock-Tudor doll's houses behind: it lacks intimacy, despite jutting three-sidedly out into the audience, and feels like a big production squashed into the Cottesloe's little space.
There are benefits to taking 'Twelfth Night' seriously: Sir Andrew Aguecheek, a nonentity who is easily gulled into bankrolling his friend's revels, achieves great pathos in Charles Edwards's subtle performance. When he and Sir Toby, deep in their cups, listen to Feste wheeze his way through a ballad, the keynote is irrevocably clear: 'Youth's a stuff will not endure.' It's a heavy moral, and this 'Twelfth Night' needs more 'present mirth and present laughter' to overcome its many woes.