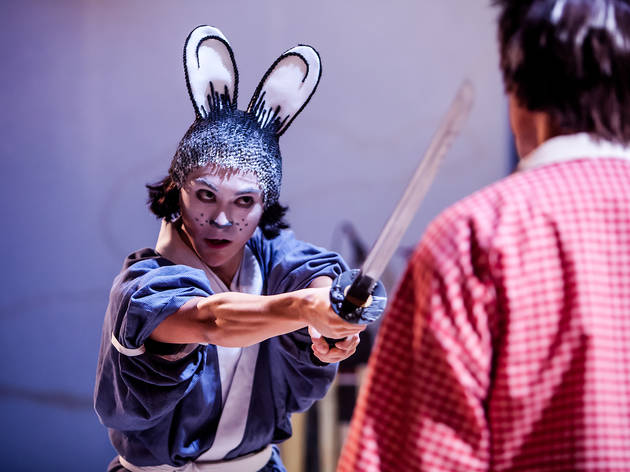 1/10
© Richard Davenport
'Usagi Yojimbo'
2/10
© Richard Davenport
'Usagi Yojimbo'
3/10
© Richard Davenport
'Usagi Yojimbo'
4/10
© Richard Davenport
'Usagi Yojimbo'
5/10
© Richard Davenport
'Usagi Yojimbo'
6/10
© Richard Davenport
'Usagi Yojimbo'
7/10
© Richard Davenport
'Usagi Yojimbo'
8/10
© Richard Davenport
'Usagi Yojimbo'
9/10
© Richard Davenport
'Usagi Yojimbo'
10/10
© Richard Davenport
'Usagi Yojimbo'
Southwark Playhouse's family Christmas show is full of surprises – the most startling of which comes at the beginning, when we're taught how to wield a sword.

Don't be alarmed, though, this isn't some horribly inappropriate Xmas shank-fest: far from it. 'Usagi Yojimbo' is an adaptation of a 30-year-old Japanese comic book about a young rabbit who learns the noble art of the samurai.

After exasperating his widowed mother, Usagi is sent off to enroll at the local samurai school, but the naughty headstrong bunny gets diverted when he encounters gruff old Katsuichi. This mountain lion turns out to be a dab hand with a sword so Usagi follows him home to persuade him to train him.

Aimed at ages seven and up, this is a simple tale about coming-of-age, friendships and honour. At its heart is an admirable message which says that without hard work you'll never achieve your dreams.

Boisterous teens will be more than satisfied by the amount of fun comic-book-style fighting, and Amy Draper's gorgeous production is also a visual delight. Ele Slade's designs drape a wall of bamboo trunks overhead, while a nifty trapdoor stage opens up to reveal different parts of a home – a cauldron, a garden, a well. The stage and bamboo also act as screens for Nina Dunn's magical line-drawn projections, which are a nice nod to the source material and mix beautifully with the live action. Stirring live music is played on stage by musician and composer Joji Hirota, whose booming drums and reed pipes transport us to the land of the rising sun.

Stewart Melton's loose, funny adaptation is well performed by the excellent ensemble who wear painted faces and headdresses with animal ears. This may not be a particularly Christmassy show, but the quietly magical 'Usagi Yojimbo' is a seasonal treat nonetheless.
Find more family Christmas shows in London
Average User Rating
4.5 / 5
Rating Breakdown
5 star:

1

4 star:

1

3 star:

0

2 star:

0

1 star:

0
This was fun and sweet play that brought to life the comic characters, Japanese culture and music very well. The stage setup was simple, but the clever and effective use of lights, floor traps, and the actors' energy and agility meant that it was easy, yet entertaining, to follow.
It was a mixed crowd, but I think we all felt it was a Tuesday evening well spent. Children from the age of 7 or so will most likely enjoy it as well.
Saw the play last night and I must say it was a very pleasant surprise. Both me and my partner enjoyed this 95 min sample of Japanese culture, the story of a young samurai growing up. Very lively, involving and full of music and cultural elements that one who has read the Shogun series will certainly recognize