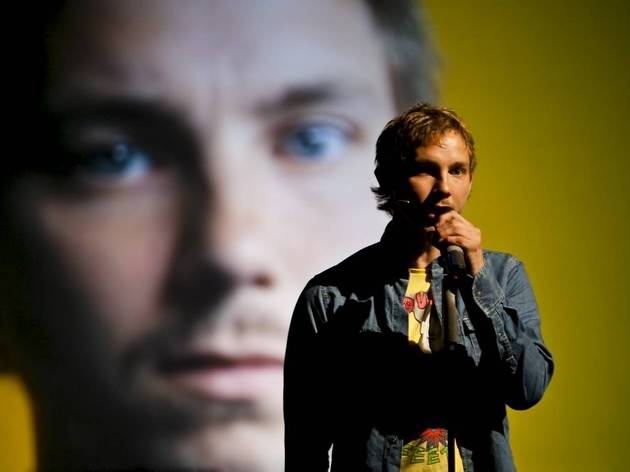 Three twentysomething friends, spinning out between over-extended youth and impending middle age, reunite for a lost night at a rave. Booze, drugs and commitment issues form a typical fug around most first plays. But there's nothing typical about the way that Kate Tempest – a young performance poet with real voice and vision – tells her story.
Instead of a conventional bicker-fest about settling down, Tempest has created a layered lyrical portrait of a shared moment that's so evanescent it's in danger of slipping away even as her characters speak. Using mics to narrate, talented trio Cary Crankson, Ashley George and Lizzy Watts pass the poetical story between them like a spliff: their hazy expansive words rise and fill the stage with an atmosphere that's thick with urban rhythms and blues.
In 'Wasted', getting high is a way for the three to reclaim their recent youth and break down the differences that time has established between them. Ted is matured but wearied by his grown-up ratio of a dull job and a happy but uninspiring relationship; his freewheeling friends may have squandered love to avoid the same fate.
As ever, getting high is also a great opportunity for hilarious gurning: 'I feel like my face is doing interpretative dance,' says Watts's Charlotte, as her eyeballs try to do 360-degree spins. Crankson's loved-up office drone Ted, taking a lurid chemical mini-break from his nine-to-five self, is especially funny and touching.
In James Grieve's buzzy, subtle production for Paines Plough, vivid, wry insights spark throughout the trio's mashed-up night. It ends with questions asked and hopes and fears momentarily expanded – but nothing essentially altered apart from their consciousnesses.
'There's more to life than getting wasted,' concludes Charlotte. But Tempest perfectly captures the vanishing appeal of being 'Wasted', in a slender, wistful three-way play that's as seductive as smoke.