'Wolfgang's Magical Musical Circus' review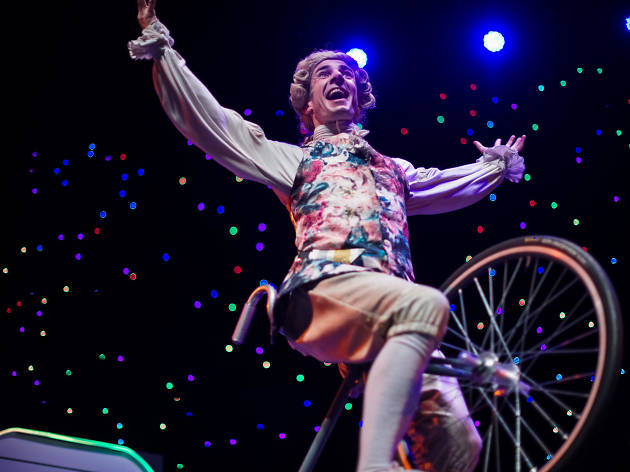 This child-friendly circus show takes a while to warm up
In slick Aussie troupe Circa's new kids' show, the unruly ghost of Wolfgang Amadeus Mozart gets up to hijinks in a young woman's open-plan living room-slash-kitchen after she puts on some of his music.

It's fair to say this scenario was basically lost on my three-year-old: he's at the bottom of the suggested age range for 'Wolfgang's Magical Musical Circus', but I'm not sure many kids are really going to grasp the well-meaning – but not exactly spelled out – attempts to turn young ears on to the life and works of the Austrian prodigy. It doesn't exactly matter, but combined with some of the more intimate tricks at the beginning being swallowed by The Pit's rake and a dearth of instantly tot-friendly characters, it's a slow start.

Anyway, fast-forward 20 minutes or so and Mozart is cycling around in a circle dressed only in his pants, while the woman tries to dress him. This is really not easy – think of the trousers – and very funny. Young kids don't necessarily understand technical skill, but when what's taking place in front of them is basically an anarchic living cartoon then you're on pretty certain territory. And that's not even the most audacious bit of married performers Kathryn and Paul O'Keeffe's show: a jaw-dropping finale involving some ill-advisedly stacked chairs dispenses with any lingering memories of the shaky start.