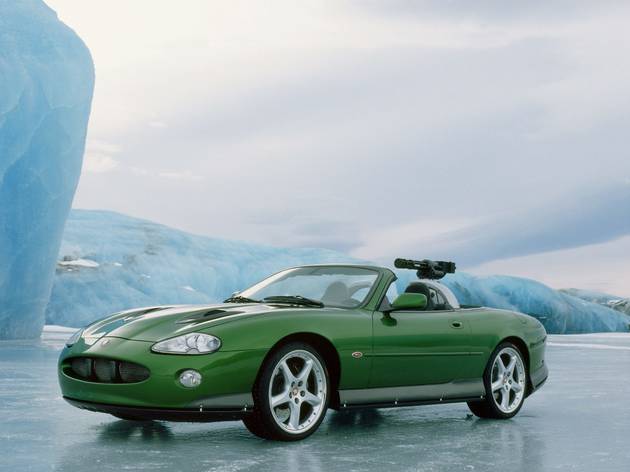 1/11
The Jaguar XKR on location in Iceland.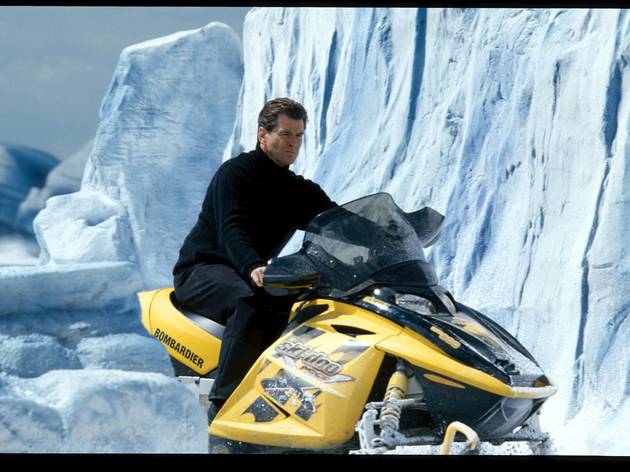 2/11
Pierce Brosnan riding the Ski-doo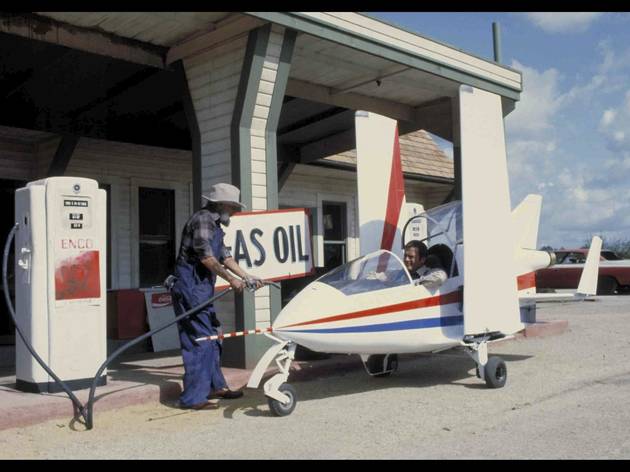 3/11
007's AcroStar jet stops to fuel up at a gas station. The world's smallest jet boasts a top speed of 496 Km/h and a ceiling of 9000 m.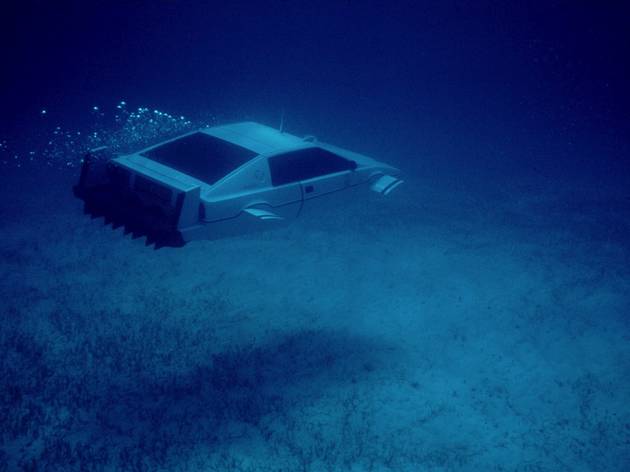 4/11
Bond's underwater Lotus Esprit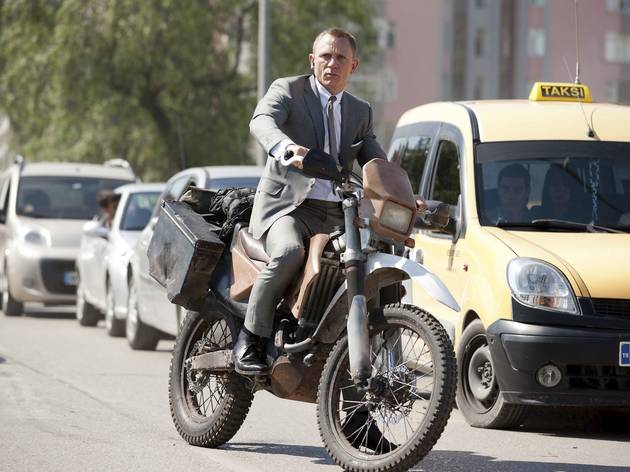 5/11
Francois Duhamel
Bond (Daniel Craig) chases after Patrice through the crowded streets in Adana, Turkey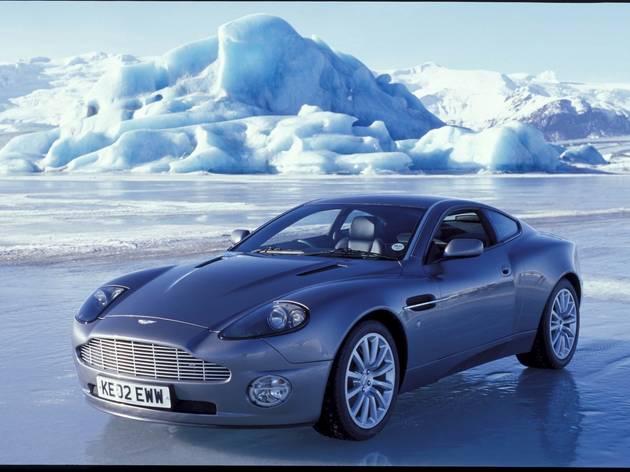 6/11
Aston Martin Vanquish on location in Iceland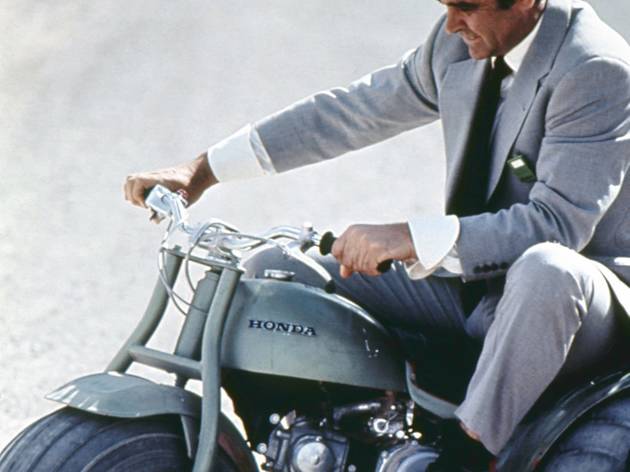 7/11
Diamonds Are Forever Hero Honda 3-Wheeler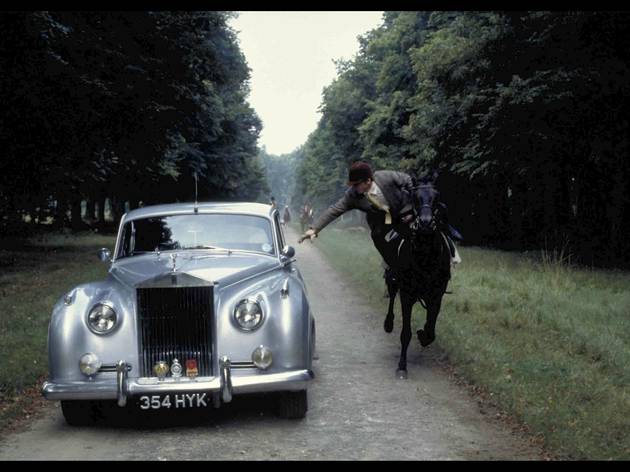 8/11
Bond (Roger Moore) attempts to escape by jumping from his horse to his Rolls Royce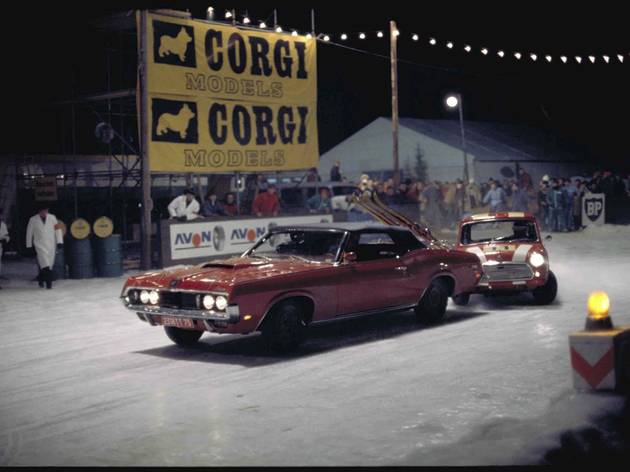 9/11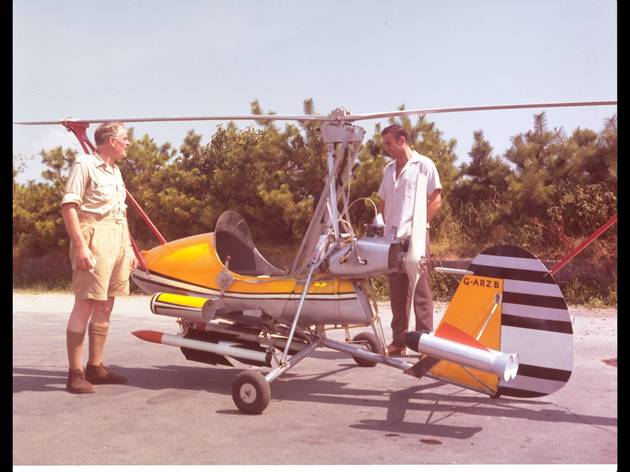 10/11
Q (Desmond Llewelyn) demonstrates Little Nellie to Bond (Sean Connery)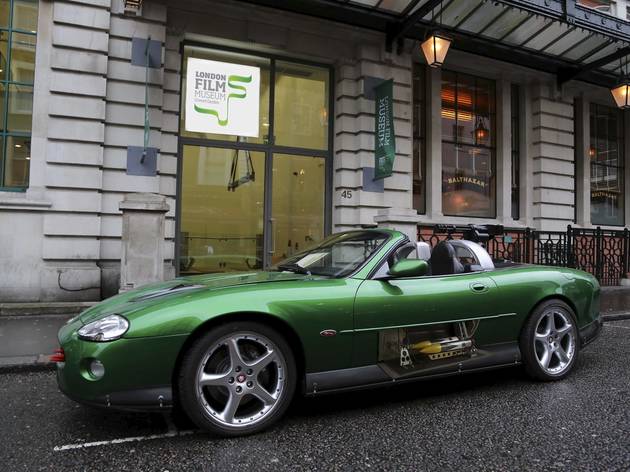 11/11
The Green Jaguar from Die Another Day outside the London Film Museum.
This exhibition is now on permanent display in the London Film Museum's exhibition space
Petrol heads, start your engines now. Following its success at the Beaulieu National Motor Museum last year, 'Bond In Motion', an exhibition of swanky vehicles from the James Bond films, is currently revving up at the London Film Museum's Covent Garden showroom. On display are cars, boats, motorbikes, sleds and jets including the Rolls-Royce Phantom III from 'Goldfinger' (1964), the Aston Martin DB5 from 'GoldenEye' (1995) and 'Wet Nellie' the underwater Lotus Esprit S1 from 'The Spy Who Loved Me' (1977). The show also features action sequence boards, vehicle concept art, props and miniature models including the 1/3 scale model of AgustaWestland's AW101 helicopter used during he filming of Skyfall ( 2012). Queue jump tickets are available online in advance.
Read more about some of the key exhibits.
Average User Rating
3.7 / 5
Rating Breakdown
5 star:

1

4 star:

2

3 star:

3

2 star:

0

1 star:

0
Had a great night at Bond in Motion thanks to The Time Out Card. Nice to get private access to this Covent Garden museum. Brightened up a rather gloomy January evening. Cant get the Bond theme tune out of my head this morning. Just love this mustang. New year's resolution. Save up !
2014 was supposed to deliver the 24th Bond film, but after the success of Skyfall, Sam Mendes was asked to direct again so the next edition has been delayed until October 2015 while he completes other work – trivial things like directing King Lear at the National! What to do in the meantime…? Go to the Film Museum in Covent Garden for an exhibition of vehicles covering 50 years and 6 actors. This isn't about the smooth, womanising aspects of our favourite spy, but purely focuses on the action sequences.
London has hosted a number of Bond exhibitions in recent years; the Imperial War Museum had an excellent show on Ian Fleming a few years back, covering the author's life in wartime naval intelligence with a bit of book and film memorabilia at the end. Some of the latter appeared again in the brilliant and extensive Barbican 'Designing 007: Fifty Years of Bond Style' exhibition in 2012 which had everything from Odd-Job's bowler hat to Daniel Craig's pants, as well as then unseen costumes and props from Skyfall. So, is there room for more Bond in London – always!
Bond in Motion begins in a small mezzanine gallery with some of the original artwork and scripts from several films, giving you an insight into the process of creating those iconic action sequences which look something like a graphic novel. There's also a scale-model of the MI6 building, Vauxhall Cross, used to design sequences in The World is Not Enough.
And so to the cars, villain, henchman or Bond, there's an impressive selection in the main gallery starting with Goldfinger's Rolls Royce Phantom III. Across the way another Rolls this time from A View to a Kill in which Bond's sidekick in murdered in a carwash. Round the corner are Bond's Aston and Zhao's Jaguar used in the car-case on ice from Die Another Day with all the gadgets visible. There's Tracy's car from On Her Majesty's Secret Service, Bond's remote controlled BMW from Tomorrow Never Dies and the little yellow Citroen from For Your Eyes Only, beforepossibly the most exciting piece of the exhibition, the submarine Lotus from The Spy Who Loved Me.
All that and still the Astons to come – there are several, including the iconic DB5 from Goldeneye, one from the The Living Daylights and two from the Daniel Craig era; a scraped and battered DBS from the frenetic opening sequence of Quantum of Solace and, more famously, the same model from Casino Royale that holds a world record for the number of somersaults (7 ¾) when Bond swerves to avoid Vesper lying in the road.
If that's not enough, there's even more to enjoy among the other vehicles – essentially anything that Bond characters have travelled in – motorbikes, a jet pack, the horse-box aeroplane from Octopussy, the little boat (Q's retirement ship) from the Thames chase in The World in Not Enough, the cello case from The Living Daylights, a submarine crocodile and, of course, Little Nellie from You Only Live Twice. As you can probably tell, I enjoyed this exhibition, and it's a rare chance to see a broad collection. Everything is accompanied by clips from the films which is a nice touch and a top-trumps style overview of specifications.
A couple of tiny grumbles though – there's no obvious curation or order, more on how the stunts were managed throughout the exhibition would have been nice, and you can't move the information screens along so have to wait until the page you were reading comes round again. But none of that really matters; this is a great opportunity for fans waiting for Sam Mendes to deliver the next instalment. Connery, Lazenby, Moore, Dalton, Brosnan, Craig – whoever is your favourite Bond and whatever your favourite film this is a comprehensive overview of 50 years of Britain's favourite action hero and the 23 times he saved the world.
Read more reviews on the Cultural Capital Blog.