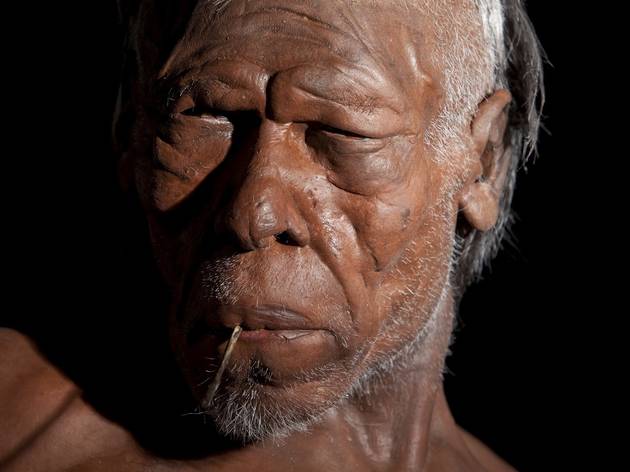 1/2
© Kevin Webb/NHM Image Resources
2/2
© Kevin Webb/NHM Image Resources
The haunting carvings in the British Museum's Ice Age Art exhibition last year gave us a real taste for prehistory, so we're thrilled about this new blockbuster at the Natural History Museum. The artefacts alone sound amazing: a hippo tooth dug up in Trafalgar Square in the 1950s, 900,000-year-old tools from Norfolk, a 450,000-year-old wooden spear (found in, of all places, Clacton-on-Sea), a 400,000-year-old Neanderthal skull, and cannibalised skeletons dating back nearly 15,000 years, their skulls carved into drinking cups. But the knowledge experts have gleaned over the last decade about our distant forebears is astounding.
The exhibition is based on the discoveries of a 50-strong team of archaeologists, palaeontologists and geologists – led by the museum's very own Professor Chris Stringer – who have been working on human activity during the Pleistocene, a massive stretch of time from 1.8 million to 12,000 years ago. Since they began in 2001, they've pushed back the date for the first human occupation of Britain from an impressive 500,000 years ago to a staggering 900,000 years ago.
It turns out modern Britons are descended from one of four different human species and a tenth wave of settlement: ancient humans used to move here when the climate was balmy (that Trafalgar Square hippo basked in Mediterranean conditions), only to be chased out again by the brutal Ice Ages.
Too much boring detail? Visit anyway to gawp at super-accurate models of Neanderthals and Homo sapiens – you might even work out where Uncle Fred's bulbous nose came from.
Average User Rating
4.5 / 5
Rating Breakdown
5 star:

1

4 star:

1

3 star:

0

2 star:

0

1 star:

0
Who'd have thought there used to be hippos and lions roaming the banks of the Thames? 125,000 years ago, this would have been a common sight. This is just one of dozens of revelations visitors to the NHM's blockbuster exhibition can uncover this summer.
The curators have done a brilliant job of making the information accessible and engaging. What could otherwise have been a great deal of flint has been brought to life with videos, maps, artists' reconstructions and more.
The real highlight comes in the final room, in the form of two life-sized (and incredibly life-like) models. One is Homo Sapiens, modern man's great-grandfather, and the other is a Neanderthal, sort of like our great-uncle. They are presented nude (so we can 'better understand their physique', according to the text - no wonder the ice age did for them). Together with several hands-on artefacts, they bring to life a period of history normally incomprehensible to most of us.
For more exhibition news and reviews in plain English, check out http://curatedlondon.co.uk

A very helpful write up of future events in LOndon - as one who only travels to the capital infrequently (although would enjoy more frequent trips) your succinct accounts of furute exhibitions makes it possible for me to plan trips and make the most of what the galleries in London have to offer. Many thanks.