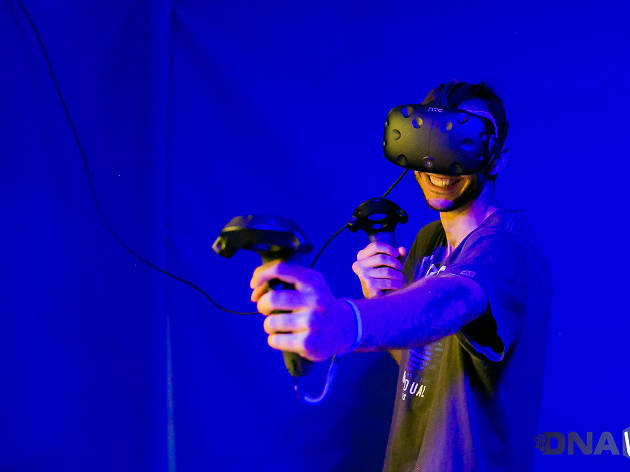 Time Out says
London's first full-scale virtual reality arcade, DNA VR, is an interactive game space filled with 25 VR experiences, each one weirder than the next. Strap on the high-tech headsets and you can conquer Everest, swim with whales and try to survive a Zombie Apocalypse. They've also converted classics like Fruit Ninja and Serious Sam to be played in a VR format. It's all held in a large venue space in Holloway, so you won't bump into fellow gamers while enjoying the your 360º experience.
Details
Average User Rating
4.6 / 5
Rating Breakdown
5 star:

8

4 star:

6

3 star:

0

2 star:

0

1 star:

0
What a fun experience!!!
Now I have to confess, I am not a huge 'gamer' by any stretch of the imagination but I was blow away by this experience. Firstly I was flying around the globe, then smashing fruit with 2 samurai swords and shooting goblins with my bow and arrow. The top experience of the night was defiantly the two player shoot em up game - I loved that you were interacting with your team mate who is in another room and we had so much fun!!!
I think the best day out here would definitely before a bucks day - a few beers, some healthy competition in the virtual world, but I would also be happy to be taken here for a first date!
The staff were all very friendly and knowledgeable and have a real passion for what they are doing, which I always love to see. The place its self can be a little hard to find, I stood outside the door pressing the bell for 10 min before I realized that the door was actually open (and just heavy).
I've dabbled previously into a little bit of VR but jumped in the deep end with Arizona sunshine, which scarred me for life, so DNA VR had big boots to fill, which it did.
DNA VR has 10/12 VR sets (HTC Vive) with a range of games to offer from walking off a skyscraper (much more scarier than it sounds), teaming up to kill robots to all sorts of arcade games. There is something for everyone.
The staff are all ready friendly, helpful and of course patient (which is important), and they even provide little paper eye covers for hygiene purposes - very fancy.
The place itself is a little hard to spot as it's right next to a kickboxing place, which you will smell way before you go downstairs to enter the rooms (it doesn't smell in the VR place don't worry).
Overall, I really enjoyed my evening and managed to go on way more games than expected within a 2 hour period, thanks to the efficient staff. I've even bought my two brothers sessions for their birthdays and they loved it! The only thing I'd mention is that if you're an advanced VR player, looking for scary games this might not be the place for you yet.
Tip: Make sure your headphones are on during the game as it makes it way more fun!
This was my first time in the virtual reality world and I seriously didn't want to leave :-)
In the space of about two hours I had the opportunity to play a whole lot of games and try out some brilliant experiences (amongst which Google Earth VR, QuiVR, Light Blade VR, Tilt Brush by Google, Space Pirate Trainer and Richie's Plank Experience). They already have an extensive list of titles, however the lovely staff members I got to chat to told me they are constantly looking to expand their selection and are even working on their own applications.
The place is so much more than a gamers' den, it's ideal for people who love exploring and experiencing new things, for creative souls and for those who want something a little different. I'm already thinking of getting a group of my friends together and going back there for a VR Escape Room experience.
With ten or so different booths, DNA VR offers a great selection of virtual reality games including an addictive archery game, classic shoot outs and a remarkably unnerving plank-walking experience.
However, if you're looking for something a little more relaxing, you can always explore the Grand Canyon on Google Earth or, in my personal favourite, try out 3D-painting using Tilt Brush.
Whatever your preference, each game offers fascinating insights into what virtual reality can achieve and it's frequently stunning. Plus, you'll be amazed how quickly you get used to the headset and the imaginary world around you.
DNA VR's super helpful staff were on hand to help throughout and the venue itself is really well set up, but it does get a bit warm after you've been fighting off killer robots, so some fans would be a welcome addition!
Nonetheless, if you've ever been intrigued by the idea of virtual reality or just want to try something a bit different, then you should definitely check out DNA VR.
Snap up exclusive discounts in London
Time Out's handpicked deals — hurry, they won't be around for long...