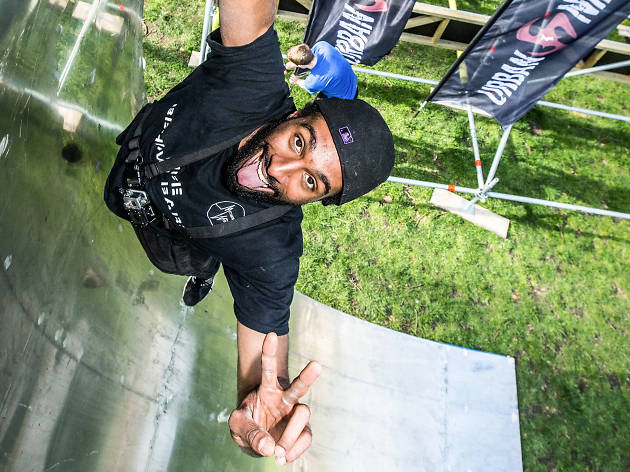 Definitely not a walk in the park, but this fitness challenge is well worth a go if you think you're 'ard enough
Inspired by the cult Japanese TV show 'Ninja Warrior', the Urban Ninja obstacle course sounds seriously hairy. With obstacles including the 'Insane Pipe Scrambler', the 'Monkey Press' and 'Core Crunch' it's not for the faint-hearted. The organisers reckon only 1 percent of competitors will actually finish and, frankly, although organiser Rob Maule promises 'no mud and no electric shocks, cold water or nasty surprises', to anyone who thinks taking the stairs constitutes a gruelling workout, it looks more like self-inflicted torture than a fun day out.
Still, it takes all sorts and Londoners love a challenge. You've probably noticed the outdoor gyms that are starting to appear in lots of London's parks, but the really hot new trend is these pop-up obstacle courses.
Urban Ninja combines 15 of 2016's top street-fitness trends and focuses on upper-body and core strength, combined with short sharp bursts of activities to test leg power. There are two levels – Tame (easy) and Insane (hard) – so it's more accessible than it sounds at first: somewhere between 30 percent and half of entrants should be able to nail the Tame stage. Each session is two hours long and contains an hour of structured practice first, with trained stewards on hand to offer tips if you're struggling.