Anna and Katy
Wed Mar 6, 10.35-11.05pm, C4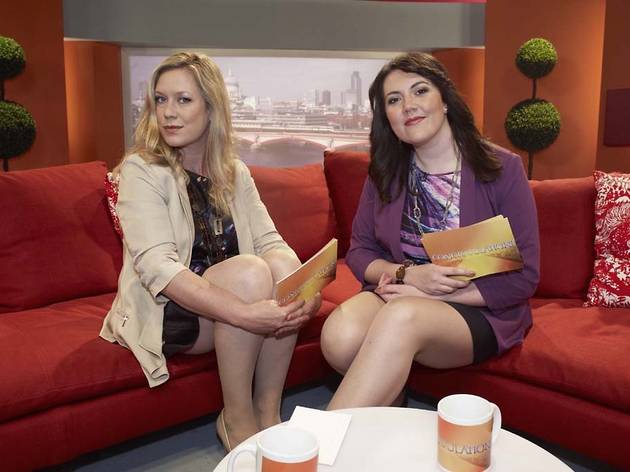 Series one, episode one
Is the sketch show dead? Obviously not in the eyes of commissioners, because here's another one. But does the format still have legs? That's a tougher question. As is always the way, this new Anna Crilly and Katy Wix offering (coming after a 'Comedy Lab' pilot in 2011) is hopelessly patchy. The 'Great British Bake Off' spoof doesn't really go anywhere and soap parody 'The Lane' doesn't even start anywhere. But elsewhere, there's some promise.

The pair are strong on detail, skewering the grammar-mangling of 'The Apprentice' ('you should have cleared that with myself') and crafting a pungently German take on 'Countdown', complete with oompah band interludes. So as a standalone show, this has its moments. All the same, we anticipate the numbing effect of seeing these sketches repeated, with minor variations, for the rest of the series and wonder if talented comedians couldn't find a better format to deliver their ideas.
Sponsored listing
Belushi's Bar Hammersmith
This Hammersmith Belushi's is one of six in London - there are more across the UK and Europe, too. It's clearly a successful enterprise, borne from accessible food, plenty of promotions on the drinks and a bit of a party vibe. Live music and the screening of big sporting events help too. A short wine list and recognisable beers on tap do good business but it's the cocktails that prove most popular when night falls. Expect classic concoctions served in jam jars, sharers served with straws and a number of shooters ranging from the well-known (tequila slammers and Jägermeisters) to the intriguing - honey pots and shots of peanut butter jelly, for example. Keenly priced breakfasts are served from 8am, and follow an American culinary theme that continues throughout the day. Expect pancakes, burgers, hot dogs, nachos, steaks, tacos, quesadillas, racks of ribs and wings.   
Venue says: "Check out our new-look menu with killer burgers, platters and much more!"
You might also like