The Syndicate
Tue Mar 19, 9-10pm, BBC1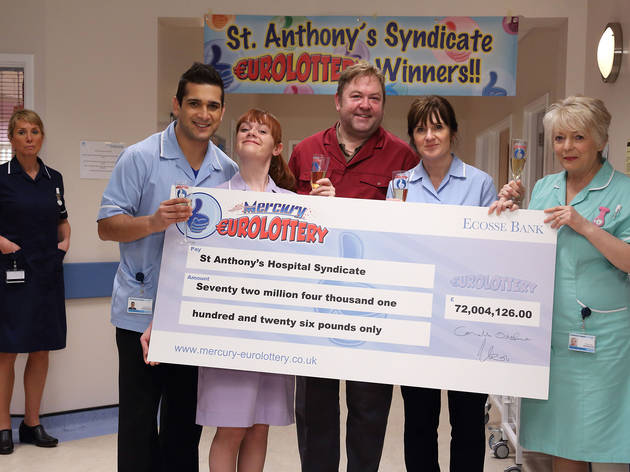 Series two, episode one
It may feature an entirely new cast, a completely different workplace, another syndicate and a sparkly new Lottery win, but the second series of 'The Syndicate' is very much more of the same. Featuring the should-they-win-any-money-or-not? character as well as overlapping with the first series in several other very obvious ways, it's hardly a refreshing approach to the brief. It wants for subtlety too, with broadly drawn characters and a host of unlikely scenarios thrown into the mix.

The lack of verisimilitude, over-reliance on contrived plot devices and the fact that it feels like it's all been done before makes this second series opener feel slightly stale. It's still enjoyable at points and the idea of the curse of sudden wealth is interesting in itself – but would winning millions of pounds really be quite as miserable as this?
Sponsored listing
Bumpkin South Kensington
This branch, which opened in October 2008, is an offshoot of the popular Notting Hill original. Spread over one floor with a bar area in front of the dining room, the setting is country-chic (with distressed wooden furniture and mismatched chairs). However, it's clear the look came from a design studio rather than second-hand shops. Wooden crates, sheaves of wheat and miscellaneous sacks nestling under the butcher's-block waiter station are a little twee, but the overall effect is as cosy as a country kitchen, and Bumpkin has a welcoming, convivial feel. The daily-changing menu is seasonal and modern, with many ingredients sourced in the UK. Starters of charcuterie and pan-fried Scottish mackerel with mixed leaves and citrus dressing were good, but overshadowed by a wonderfully comforting plate of macaroni and cheese, and an excellent ribeye steak with chips and béarnaise sauce. The only letdown was a bland grilled squash, broccoli and pumpkin-seed salad. A generous portion of sticky date pudding with butterscotch sauce and vanilla ice-cream provided a satisfyingly sweet finish. Bumpkin has a decent cocktail list and mixes great bloody marys, making this a tempting choice for weekend brunch.  
Venue says: "It's time to party! Call our events team on 0207 594 4944 to book your next event in our private dining room (or hire our entire venue)."